Пејачката Дуа Липа на "Инстаграм" објави слика со знаме од голема Албанија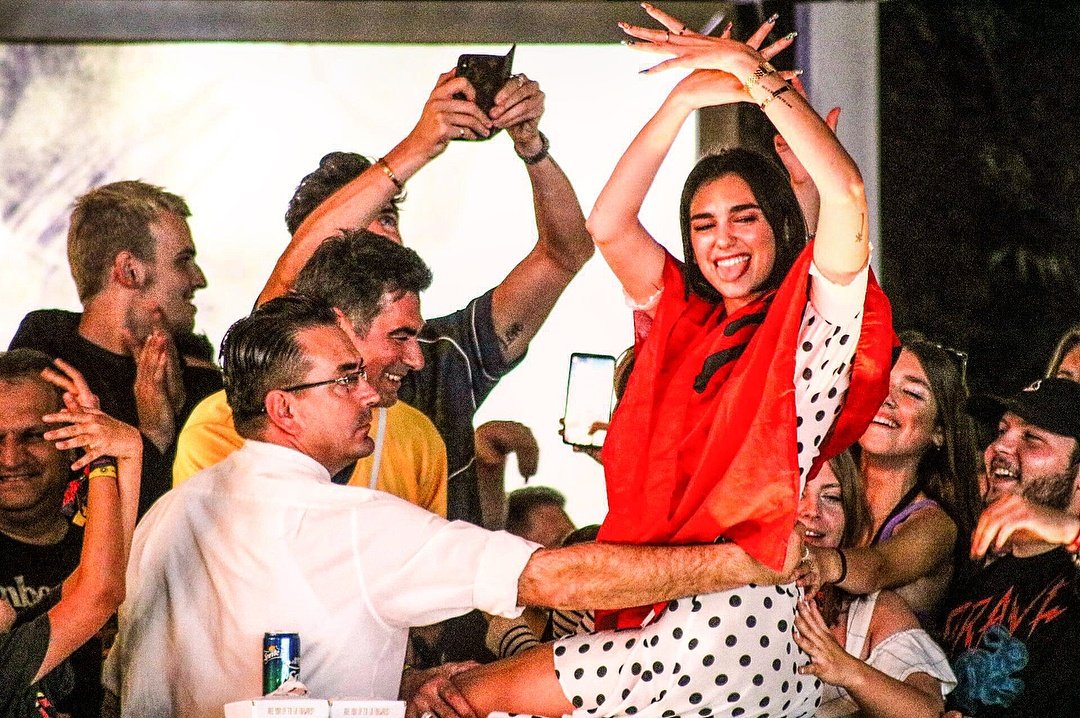 Британската пејачка по потекло од Косово, Дуа Липа, на својот инстаграм-профил објави фотографија на која е прикажано знамето на голема Албанија, кое албанските навивачи со дрон го развеаја над стадионот на "Партизан" во Белград за време на фудбалскиот натпревар меѓу Србија и Албанија во 2016 година.
На знамето беше прикажана територијата на т.н. голема Албанија со Косово, делови од Србија, Црна Гора, Грција и од Македонија.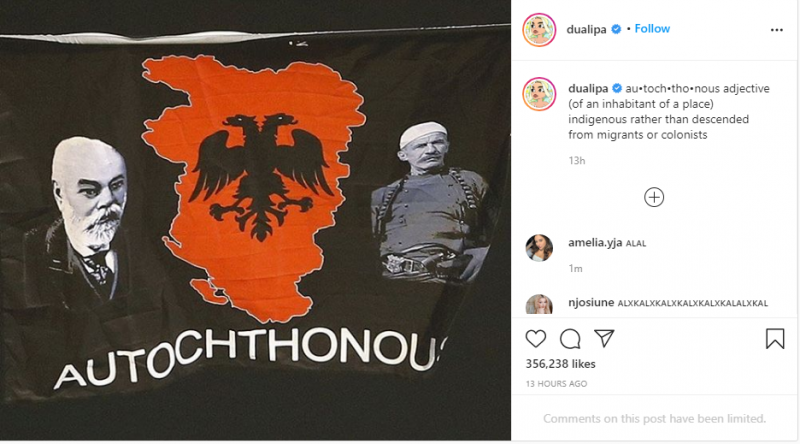 "Ав – тох – тон, придавка (за жител на место), домороден наместо да потекнува од мигранти или колонисти", напиша 24-годишната пејачка објаснувајќи ја паролата која е испишана на знамето.
На знамето се и ликовите на Иса Болетини и Исмаил Џемаили, кои се сметаат за херои во албанската историја.
Ваквиот потег наиде и на критики, како, на пример, од британскиот новинар Сем Стрит, кој остро застана против објавата на пејачката.
"Додека луѓе како Новак Ѓоковиќ се обидуваат да го обединат Балканот и добиваат само критика поради тоа, Дуа Липа седи во Лондон и прави вакво нешто", напиша англискиот спортски новинар.
While people like Novak Djokovic try to unite the Balkan region and get nothing but criticism for it, Dua Lipa sits in London and does this. https://t.co/mQpiU6jivQ

— Sam Street (@samstreetwrites) July 19, 2020
Родителите на Дуа Липа во 1992 година се преселиле од Приштина во Лондон, каде што таа се родила три години подоцна. Пејачката со светска популарност е позната по тоа што на социјалните мрежи ја промовира независноста на Косово и идејата за албанско обединување.
Инаку, фудбалскиот натпревар во Белград заврши со службена победа на репрезентацијата на Албанија од 0-3 кога поради тензиите, беше невозможно мечот да продолжи.
©Makfax.com.mk Доколку преземете содржина од оваа страница, во целост сте се согласиле со нејзините Услови за користење.

Се бара список со имиња на многу славни личности кои летале со авионите на осудениот педофил Епстајн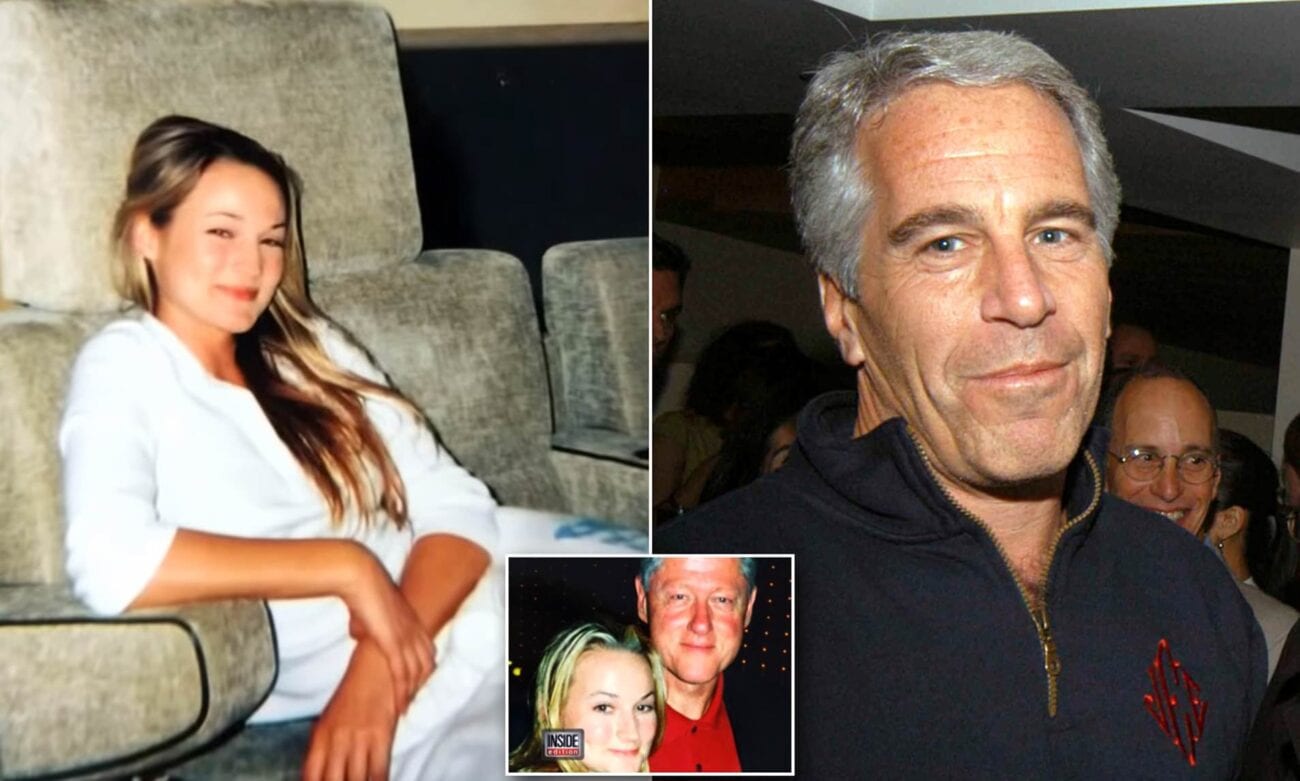 Податоци од летовите на авионите на милијардерот Џефри Епстајн, вклучително и "Лолита експрес", ќе бидат изнесени пред судот, што предизвикува страв кај богатите и славните личности кои се дружеа и одеа на забави со овој осуден педофил, кој минатата година изврши самоубиство во затвор, информираат британските медиуми.
Јавниот обвинител на Девствените Острови, каде што милијардерот имал вила и се сомничи дека извршил бројни злосторства, побара да добие документи за тоа кои биле патниците во овие воздухоплови.
Податоците се однесуваат на неговите четири хеликоптери и три авиони во периодот од 1998 година до самоубиството на Епстајн во 2019 година.
Обвинителот Денис Џорџ поднесе тужба, повикувајќи се на 22 точки, вклучително и трговија со луѓе, тешко силување, злоупотреба на деца, занемарување, присилна работа и проституција, пишува "Дејли мејл".
Џорџ, исто така, бара да види какви било "поплаки или извештаи за потенцијално сомнително однесување", како и личните белешки на пилотот. Се бараат и имиња и детали за сите кои работеле со пилотите, комуницирале со Епстајн и патниците кои патувале со него.
Пилотот Дејвид Роџерс претходно откри информација од 2009 година која покажала дека британскиот принц Ендрју, Бил Клинтон, Кевин Спејси и Наоми Кембел биле меѓу оние кои патувале со авионите на милијардерот. Сепак, тоа не значи дека тие биле свесни за злосторствата за кои беше обвинет Епстајн.
Според некои извори, ова предизвикало вистинска паника кај богатите и славните, а адвокатите на жртвите наведуваат дека побараните извештаи не вклучуваат податоци од летовите на пилот кој работел за Епстајн повеќе од 25 години.