Фотографија од Гренланд го обиколи светот – ледената покривка драматично се топи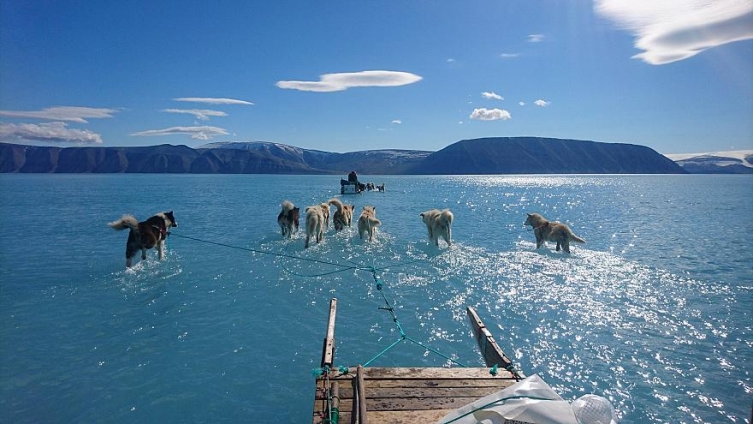 Метеорологот Штефен Олсен од данскиот метеоролошки завод бил на рутинска мисија на северозападот на Гренланд, во чии рамки требало да ги собере метеоролошките инструменти што ги поставиле неговите колеги кога наишол на сериозен проблем. Тој не можел да ги најде апаратите бидејќи наместо очекуваната бела прекривка, наишол на огромно количество вода. Сторијата за драматичното топење на ледената покривка на Гренланд ја пренесе Си-ен-ен.
@SteffenMalskaer got the difficult task of retrieving our oceanographic moorings and weather station on sea ice in North West Greenland this year. Rapid melt and sea ice with low permeability and few cracks leaves the melt water on top. pic.twitter.com/ytlBDTrVeD

— Rasmus Tonboe (@RasmusTonboe) June 14, 2019
Неговата фотографија, на која се гледа како кучињата што ја влечат санката стојат во длабока светлосина вода, ја пренесоа сите медиуми. Олсен фотографијата ја снимил на 13 јуни околу пладне по локално време. Тој на "Твитер" напиша дека кучињата во тој момент се наоѓале на 1,2 метар длабок морски мраз, кој го преплавиле стопените површински води.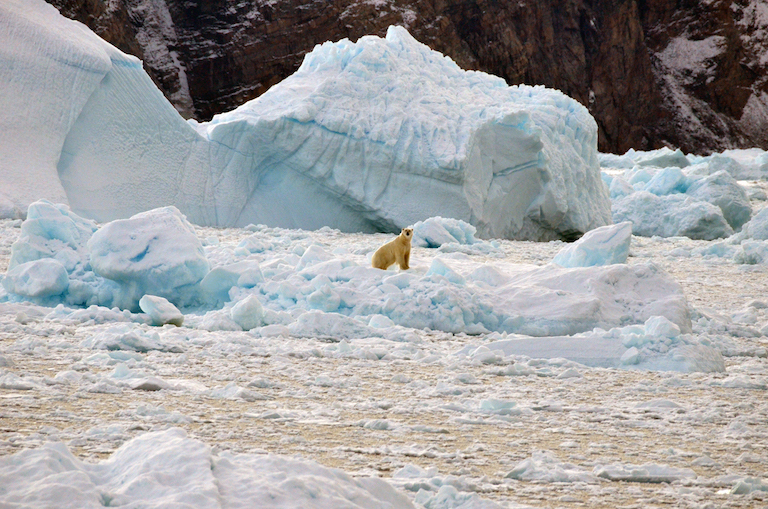 Олсон на "Твитер" предупреди дека автохтоните заедници на Гренланд зависат од замрзнатото море за превоз, лов и риболов. Се смета дека нив први ќе ги погодат последиците од топењето на ледената прекривка, но дека обемот на катастрофата нема да биде ограничен само на Гренланд или на Северна Америка.
Летната сезона на топењето на мразот на Гренланд обично трае од јуни до август, со тоа што најголем дел од ледената покривка привремено исчезнува во јули кога е најтопло. Но, годинава Гренланд уште во почетокот на јуни изгуби масивен дел од својата ледена покривка, околу 40 отсто. Се проценува дека се стопиле повеќе од 2 милијарди тони мраз само минатата недела.
Научниците со месеци предупредуваат дека годинава може да дојде до рекордно ниво на топење на мразот на најголемиот остров во светот, а првите набљудувања укажуваат дека биле во право. Тоа може да влијае на појавата на една од најголемите опасности од глобалното загревање – значителен пораст на нивото на морето. Ако тоа се случи, милиони луѓе што живеат на крајбрежните региони ќе мора да ги напуштат своите домови.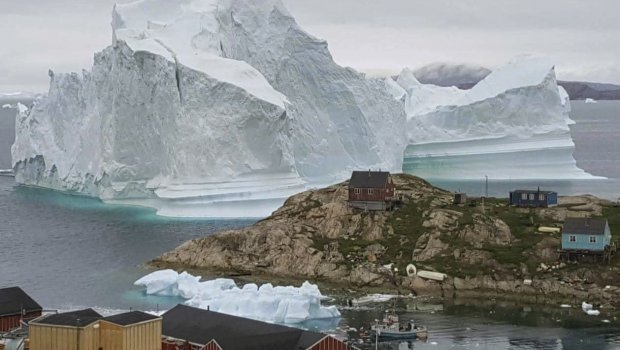 Според неодамнешно истражување, поради топењето на мразот на Гренланд, од 1972 година до денес глобалното ниво на морето се покачило 13,7 милиметри. Ледената прекривка на овој остров е најголемиот извор на вода што секоја година им се додава на океаните.
Во мај Џејсон Бокс, климатолог од Данска, предвидел дека 2019 година ќе биде голема година за топење на Гренланд. Бокс нагласил дека оваа година имало многу рана сезона на топење и дека тоа почнало три недели порано од обично, па дури и порано отколку во рекордната 2012. И снежната покривка е веќе многу пониска од просечната на западен Гренланд, а кога сите тие фактори ќе се соберат, најверојатно оваа година ќе биде година на големо топење и ќе ја надмине 2012.
©Makfax.com.mk Доколку преземете содржина од оваа страница, во целост сте се согласиле со нејзините Услови за користење.

Медитеранот се загрева побргу од другиот дел на планетата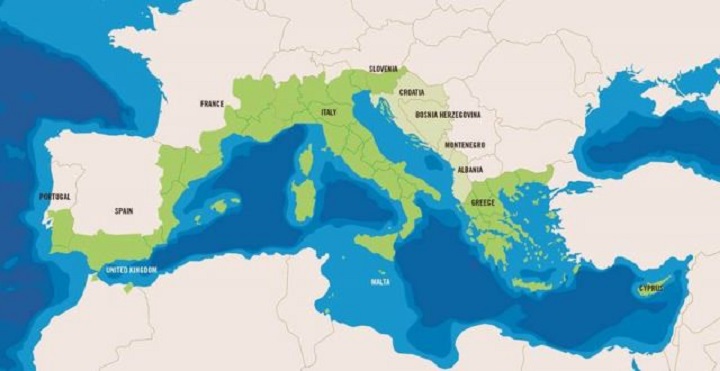 Медитеранот се загрева побргу од остатокот на планетата, а доколку не се преземе нешто, речиси 500 милиони негови жители се изложени на ризик од суши и недостиг од пивка вода и храна, се вели во неодамнешниот извештај на Меѓународниот институт за биодиверзитет и екологија (IMBE), со седиште во Франција.
Во извештајот се вели дека температурите во регионот на Медитеранот се зголемуваат 20 отсто повеќе во споредба со светскиот просек, пренесува "Ел Паис".
Овој документ предупредува дека во иднина ќе има подолги и посилни топлотни бранови, како и подолги сушни периоди.
Заменик-генералниот секретар на Унијата за Медитеранот, задолжен за енергетика и климатски промени, Граменос Мастројени, рече дека извештајот може да биде корисен за владините лидери при донесувањето одлуки.
"Ние не сме навикнати да ги вклучуваме климатските промени и природата во нашите политики и планови. Меѓутоа, доколку не го сториме тоа, ќе бидеме жртви на многу силна динамика", рече Мастројени.