Џери Ли Луис повторно се ожени во поширокото семејство
Рокенрол легендата Џери Ли Луис се ожени по седми пат, и повторно "љубовта на животот" ја пронајде во своето пошироко семејство.
Седумдесет ишест-годишниот Џери Ли Луис на 9-ти март се венчал со 14 години помладата Џудит Браун, поранешна сопруга на негов роднина, на приватна церемонија во Начез, во сојузната американска држава Мисисипи, пишува во петокот локалниот весник The Natchez Democrat, повикувајќи се на неговиот претставник за медиумите, пренесува Reuters.
Плановите за венчавката биле многу тајни, што некои членови од неговото потесно семејство ниту знаеле дека Луис повторно ќе се жени.
Авторот на легендарните хитови "Great Balls of Fire" и "Whole Lotta Shakin' Going On", предизвика скандал во 1957 година кога се ожени со Мира Гејл Браун, ќерка на неговиот братучед, којашто покрај тоа тогаш имала само 13 години Тој брак на Луис веќе му бил трет, а траел до 1970 година и од него има две деца.
Џудит Браун, којашто веќе неколку години беше негувателка на Луис, е поранешна сопруга на Расти Браун, братот на Мира Гејл.
Претходниот брак на Луис, со Кери Меккарвер, кој беше еден од неговите најдолготрајни, се заврши со развод во 2005 година, по дваесет години заеднички живот./крај/ро/сн
©Makfax.com.mk Доколку преземете содржина од оваа страница, во целост сте се согласиле со нејзините Услови за користење.

Експерт за говор на телото тврди: Меган и Хари ја кажаа вистината, но за многу работи се воздржуваа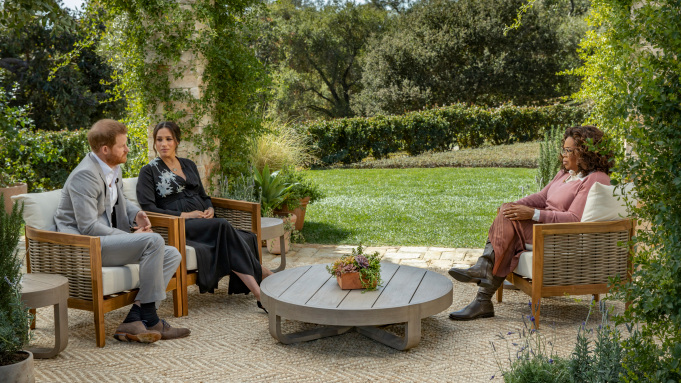 Пети Вуд, која е експерт за говор на телото, вели дека Меган Маркл за време на интервјуто што таа и принцот Хари го дадоа за Опра Винфри, и покрај тешките признанија, сепак се воздржувала од намерата да каже повеќе.
Таа за магазинот "Мери Клер" изјавила дека во очите на Маркл била видлива мешавина од емоции, дека била замислена и честопати гледала настрана.
"Има дел од неа што се смее додека се сеќава на тие настани, но има и солзи. Постојат работи што и се драги, како, на пример, свадбата. Но, некои настани ја вознемируваат. Значи, тоа е комплексен сет на емоции. Таа се обидува да ги зaдржи", рекла Вуд.
Според нејзините зборови, на почетокот на интервјуто Маркл се обидела да се заштити од предрасудите на публиката со тоа што ги прекрстила нозете на заштитнички начин држејќи ги рацете во скутот, што, како што проценува, е обид за заштита на нејзиниот идентитет и женственост.
Вуд исто така проценила дека говорот на телото на Маркл, кога зборувала со љубов за кралицата, открил и нешто покомплексно.
"На самиот почеток на интервјуто Опра ја споменува кралицата, а Меган покажа сложени, негативни вокални и гестикурални знаци за неа. Таа мрмореше. Кога рече дека кралицата е една од првите личности што ги запознала, погледна надолу и направи гримаса. Направи и движење со јазикот. Ова е идеален пример за тоа како невербалните знаци откриваат како таа навистина се чувствува", објаснила Вуд.
Исто така, продолжила таа, во описот на Меган за нејзината борба со менталното здравје говорот на телото го рефлектирал она за што зборувала – таа навистина се обидувала да го потисне сеќавањето на тој ужасен период.
"Кога плачеше, тоа беа вистински солзи", рекла Вуд.
Говорејќи за делот од интервјуто во кое Меган зборуваше за загриженоста на палатата за бојата на кожата на нејзиниот син Арчи, Вуд вели дека нејзиното тело многу се сменило и додава дека е очигледно оти за неа тој дел од интервјуто бил најстрашен.
"Го приспособи столчето, што е потсвесна желба да избега од ситуацијата. Израз на чист страв се појави на нејзиното лице. Тоа беше моментот кога Опра се обиде да ја убеди да каже кој ја коментирал бојата на кожата на Арчи. Беше толку исплашена", вели Вуд.
Во однос на принцот Хари, познавачката на невербалната комуникација проценува дека тој изгледал тажен затоа што не можел да го заштити своето семејство, на што укажува и држењето на телото, кое се чинело повлечено.
Вуд исто така вели дека и покрај тешките теми, говорот на телото на двојката ја покажува нивната љубов и посветеност еден на друг во тешки моменти.
"Анализирав стотици нивни фотографии. Таа го гледа нејзиниот сопруг кога и да зборува. Ако постои можност да се допрат, тие ќе го сторат тоа. Луѓето веројатно се прашуваат каква е состојбата на нивната врска сега. Тие се тука еден за друг и се поддржуваат. Навикнати се да наоѓаат меѓусебна утеха", заклучува Вуд.