Димитров: ЕУ јасно да каже дали е отворена за европска иднина на Западен Балкан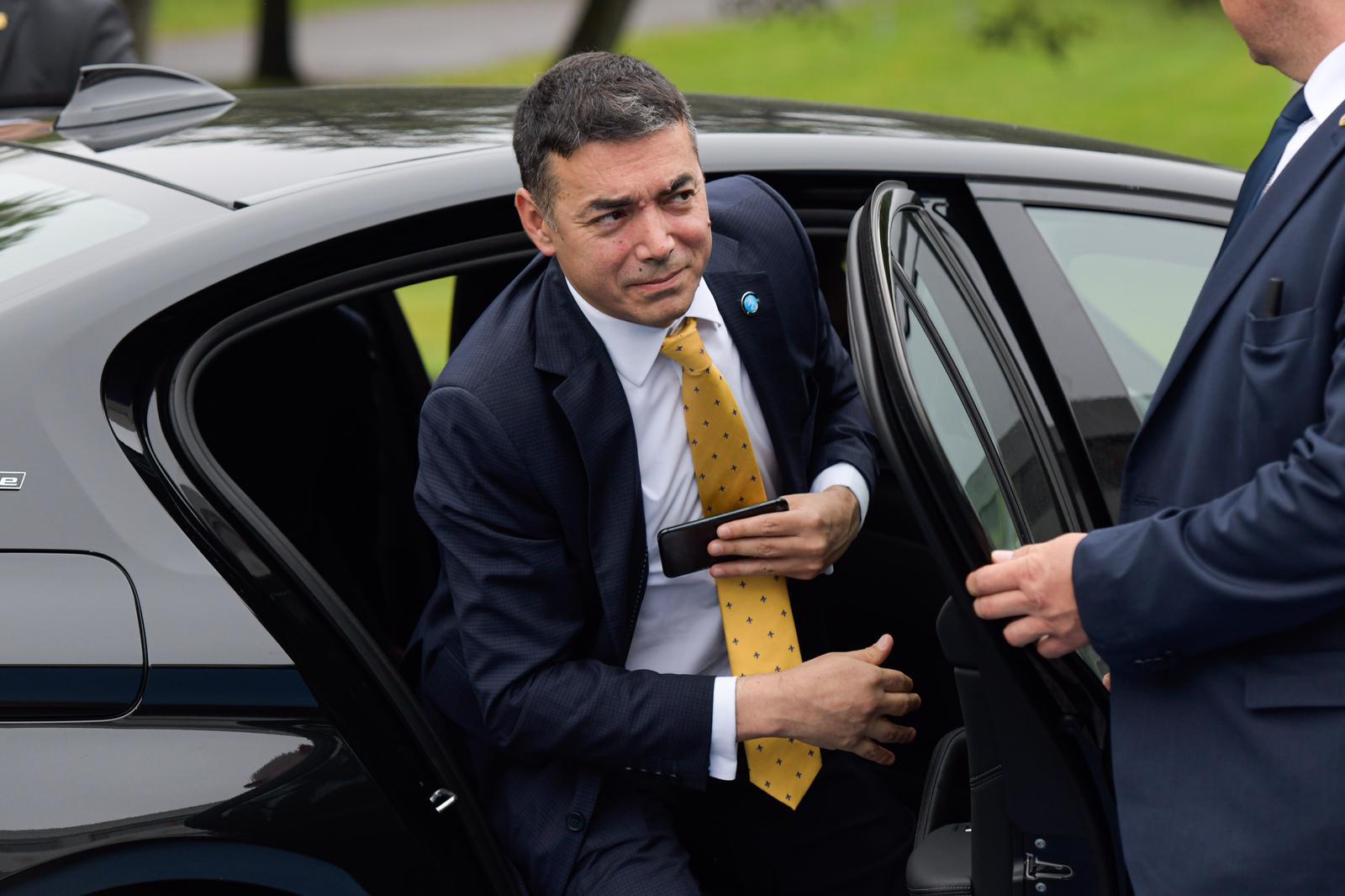 Министерот за надворешни работи, Никола Димитров, преку својот налог на "Tвитер" побара од Европската Унија да биде директна со земјите од регионот и јасно да каже дали повеќе нема консензус за европската иднина на Западен Балкан.
The least that the European Union owes the region is to be straightforward with us. If there is no more consensus on the European future of the Western Balkans, if the promise of Thessaloniki 2003 does not stand, the citizens deserve to know. 1/3

— Nikola Dimitrov (@Dimitrov_Nikola) October 18, 2019
"Најмалку што му должи Европската Унија на регионот е да биде директна со нас. Ако повеќе нема консензус за европската иднина на Западен Балкан, ако не важи ветувањето од самитот во Солун во 2003 година, граѓаните заслужуваат да знаат", порача шефот на македонската дипломатија.
Тој воедно упати благодарност до сите лидери што се бореле ЕУ да отвори пристапни преговори со земјава.
На крајот, Димитров порачува дека додека земјава очекува обвновување на консензусот, внатрешно мора да продолжи да ги брани и да се залага за вистинските европски вредности.
©Makfax.com.mk Доколку преземете содржина од оваа страница, во целост сте се согласиле со нејзините Услови за користење.

Царовска: Време е за 50-50, за силни жени кои рамноправно учествуваат во создавање на силно општество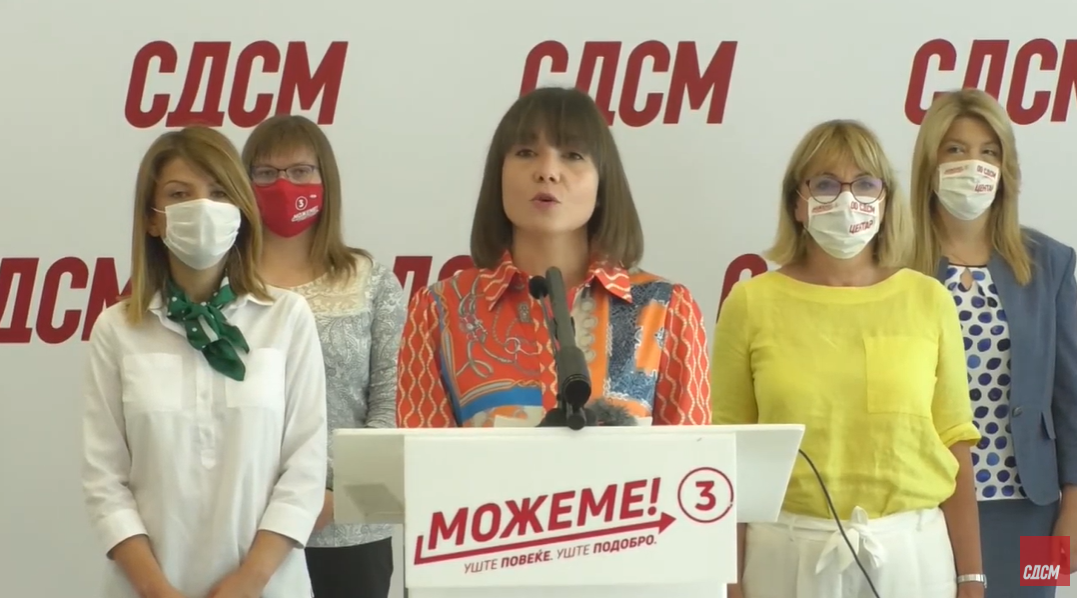 Потпретседателката на СДСМ и носителка на кандидатската листа на ИЕ 1 Мила Царовска заедно со Форумот на жени и женската младина на СДСМ на прес-конференција ги повика сите жени во државата да гласаат за коалицијата "Можеме".
"Почитувани сограѓанки, сега ви се обраќам директно вам. Ветувам дека во Собранието ќе продолжувам силно да се борам за поголема застапеност на жените во сите важни одлуки на сите нивоа во државата. Ќе се борам во име на секоја од вас, за заедно да напредуваме. Ги повикувам сите жени во нашата држава, независно за која политичка партија гласале во минатото на овие избори, на 15 јули да го дадат нивниот глас за партијата којашто во минатите 2 и пол години најправи најмногу за враќање на достоинството на жената и за унапредување на правото на жените. Време е за 50-50, за силни жени кои рамноправно учествуваат во создавањето на силно општество.
Жени заокружете три. За женска солидарност, за обединетост, за наша подобра иднина. Сите ние заедно можеме да направиме уште повеќе и уште подобро" рече Царовска.
Царовска истакна дека родовата еднаквост беше обврска и приоритет минатите години. Донесен е нов Закон за прекинување на бременоста, со кој го враќаме правото на секоја жена да решава за своето тело. Ратификувана е Истанбулската конвенција.
"Со носење на нов закон за спречување и заштита од насилство врз жените се трудиме насилството да биде казнето во секој чекор. Но, не застануваме тука. Ние рушевме стереотипи и препреки и се боревме за еднакво учество на жените секаде кај што се носат важни одлуки.
Имаме најголем број на министерки во Владата од нашата независност до денес. Имаме највисок процент на учество на жени во Парламентот и имаме во речиси сите структури на нашата партија одличен процент на жени, повисок од 40%. Дали е ова доволно? Не. Во следниот мандат продолжуваме да се бориме за еднакви права за жените и мажите, еднакви плати за жените и мажите и еднакви обврски за жените и мажите. Тоа го можеме!", рече Царовска.
Царовска за идниот мандат најави за до 40% повисока минимална плата.
"Ова директно ги засега околу 90.000 наши сограѓани од кои најголем дел се жени. Токму нив ВМРО-ДПМНЕ им се заканува дека платите ќе им ги намали за 1.500 денари. Тоа не смееме да го дозволиме. Нудиме стратегии за директна поддршка на женското претприемништво, како и на младинското претприемништво преку форма на грантови во висина од 5 000 до 15 000 евра за почеток на сопствен и нов бизнис. За 20% зголемување на поддршката за жените земјоделки", рече Царовска.
Царовска истакна дека се воведува родова еднаквост во спортот – 30% жени во органи на управување почнувајќи од 2020 година, а 50% до 2024 година како и 40% застапеност на жени на сите извршни функции кои се именуваат од страна на Владата.
"Ќе донесеме нов Закон за вознемирување на работното место (мобинг) кој ќе овозможи вистинска и ефикасна заштита на работниците од мобинг. Ќе воведеме мобилни гинеколошки клиники во руралните средини и помалите општини во кои нема гинеколози. Задолжителен бесплатен здравствен пакет за жени над 35 години кој вклучува гинеколошки преглед и мамографија.
Ќе набавиме дополнителни мамографи и мобилен мамограф за да се подобри стапката на детекција на ракот на дојката во најраната можна фаза.
До крајот на 2023 ќе обезбедиме најмалку 7.500 места за деца во градинките. Градинката ќе биде бесплатна за сите деца од семејства со ниски приходи. Со згрижување на децата во предучилишно образование не само што вложуваме во нив, туку и овозможуваме да жените се вклучат на пазарот на трудот", рече Царовска.