(Видео) Бил Гејтс сликовито ја претстави својата идеја за пожарникари против пандемија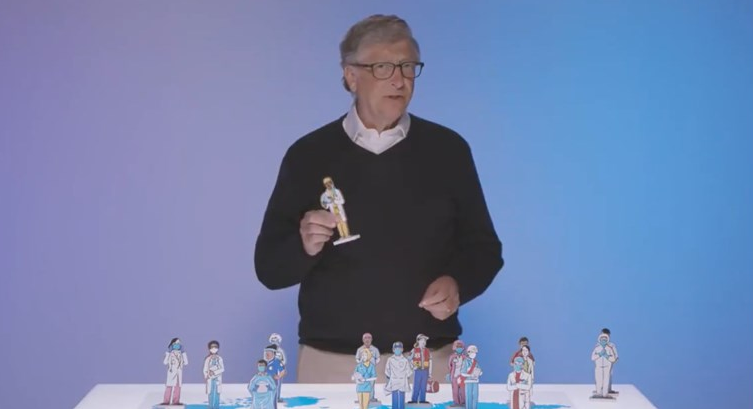 Коосновачот на "Мајкрософт", Бил Гејтс, објави видео во кое повикува на воспоставување нов систем кој во иднина ќе помогне во спречување пандемии.
Според него, системот би вклучувал глобален систем за предупредување и т.н. пожарникари против пандемија, кои би биле целосно обучени професионалци подготвени веднаш да одговорат на потенцијална кризна состојба.
When it comes to preventing pandemics, scientific tools alone aren't enough. We also need new capabilities, including a global alert system and infectious disease first responders (or what I like to call a pandemic fire squad): https://t.co/53Rf5uvjub pic.twitter.com/rTmM7STl6U

— Bill Gates (@BillGates) February 1, 2021
Гејтс исто така ја објасни својата идеја во годишното писмо што го објави на 27 јануари.
"Очекувам дека во текот на следните пет години ќе направиме огромен напредок во технологијата за развој на нови вакцини, во најголем дел поради успехот на mRNK-вакцините против Ковид-19. Исто така, верувам дека во иднина ќе видиме огромни подобрувања во дијагностицирањето и развојот на моноклонални антитела и предвидувам дека mRNK-вакцините во иднина ќе се развиваат побргу, во поголеми количини, и ќе бидат постабилни за складирање.
Тоа би бил голем чекор напред во справувањето со идните пандемии и за другите глобални здравствени предизвици. Овие вакцини нудат ветувачки резултати и за болести како што се ХИВ, туберкулоза и маларија. Напредокот во истражувањето и развојот, постигнат во борбата против Ковид-19, еден ден може да ни обезбеди алатки за конечно да ги запреме овие смртоносни болести", вели во обраќањето познатиот милијардер и филантроп.
Сепак, како што нагласува тој, кога станува збор за спречување  пандемија, само научниот напредок не е доволен.
Гејтс смета дека потребни ни се објекти на терен кои постојано ќе ги следат потенцијално опасните патогени микроорганизми. Додава и дека треба да се направат уште многу работи за да се дизајнираат нивниот изглед и функција, но исто така претставува и неколку негови идеи:
"Прво, треба да ги поставиме главните фокуси што е можно побргу. Ова ќе бара глобален систем за предупредување. 'Рбетот на овој систем ќе бидат дијагностичките истражувања. Да речеме дека сте медицинска сестра во некоја локална амбуланта на село и забележувате дека пристигнуваат повеќе пациенти со кашлање отколку што очекувате во тој период од годината или можеби дури и повеќе луѓе умираат од нормалното – во тој случај би ги тестирале пациентите за вообичаените патогени микроорганизми. Доколку ниту еден тест не е позитивен, вашите примероци ќе бидат испратени на друго место за понатамошна анализа.
Ако вашиот примерок се покаже како супер инфективен или целосно нов патоген, тогаш на сцена стапува тимот што прв реагира на појавата на заразна болест. Замислете ги како пожарникари против пандемија. Исто како и пожарникарите, тие се целосно обучени професионалци, кои се подготвени веднаш да одговорат на потенцијална кризна состојба. Моја процена е дека ни требаат околу 3.000 такви вработени во светот", вели Гејтс.
©Makfax.com.mk Доколку преземете содржина од оваа страница, во целост сте се согласиле со нејзините Услови за користење.

Папата: Средбата со исламскиот водач беше мевлем за душа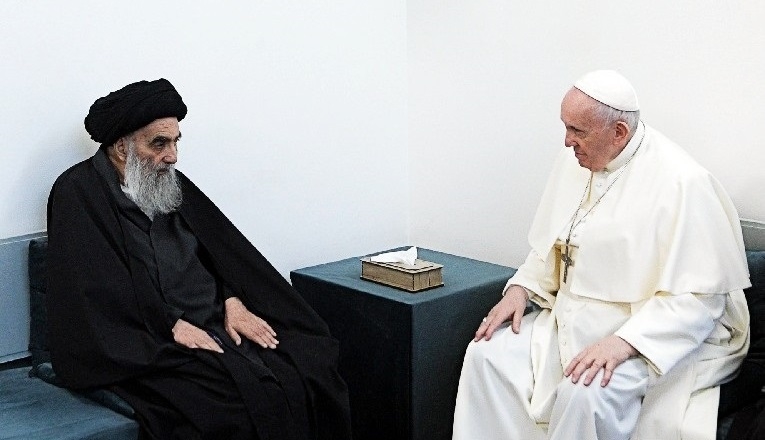 Папата Франциско се врати во Ватикан по историското тридневно патување во Ирак. Тој пред новинарите изјави дека неговата средба со големиот шиитски ајатолах Али Систани била мевлем за душата.
Папата, голем поборник за директен разговор со претставници на исламот, го опиша состанокот со Систани како разговор во четири очи со скромен и мудар човек во чија близина се чувствува почестен.
"Тој никогаш не станува да поздрави посетител, но стана двапати да ме поздрави мене", им рече папата на новинарите во авионот на пат кон Рим.
"Верувам дека ова е универзална порака", додаде папата.
Ајатолахот Систани е највисокиот водач на шиитите, втората гранка на исламот, која е мнозинство во Ирак.
Папата нагласи дека ќе има и други чекори во дијалогот со муслиманите. Тој ги отфрли критиките на сметка на неговите потези.
"Некои критичари велат дека папата не е храбар, тој не е свесен дека прави чекори надвор од католичката доктрина и дека е на чекор од ерес. Овие одлуки се донесуваат преку молитва, во дијалог и барање совет. Тоа е размислување, не каприц", заклучи тој.