(Видео) Голем пожар во трговски центар во Лагос, пожарникарите ги извлекуваат заробените граѓани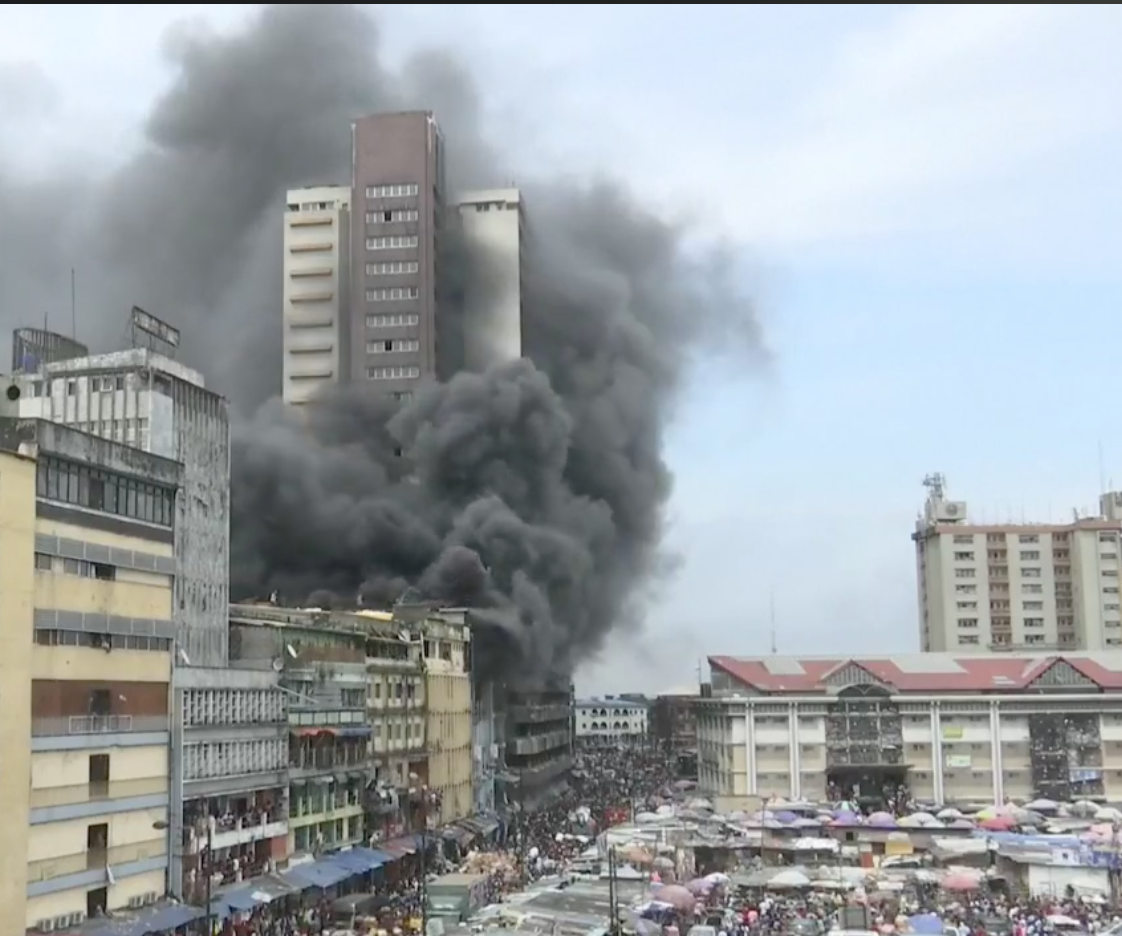 Голем пожар го зафати трговскиот центар "Балогун" во Лагос, Нигерија, при што се уништени бројни објекти и е причинета голема материјална штета.
Во времето на пожарот, во зградата имало голем број луѓе, но не може да се утврди бројот на евентуалните повредени и жртви, бидејќи во тек се напори за извлекување на заробените граѓани.
@LAG_FireService Can you guys please get to obalende or sura now cuz im on 3rd mainland. Can't tell the exact address of this place but its just beside UBA bank and its on fire… Emergency!! @shawttynatt 😥 pic.twitter.com/Fxvcqrnlfg

— Kennedy Essah (@KennedyEssah) November 5, 2019
Пожарот избувнал во средишниот дел на петкатната зграда околу 10:30 часот.
©Makfax.com.mk Доколку преземете содржина од оваа страница, во целост сте се согласиле со нејзините Услови за користење.

Објавен мачен извештај за малтретирање деца во домовите во Лондон
Британски социјални работници "изложиле ранливи деца" на сексуални престапници кои се инфилтрирале во домови за деца и во згрижувачки семејства со "катастрофални, доживотни последици врз жртвите", покажа извештајот за децениското малтретирање деца.
Работниците во лондонскиот кварт Ламбет "се однесуваа кон децата како да се безвредни" и, како што изгледа, покажаа "бесчувствителност кон ранливите деца, а беа платени да се грижат за нив", посочуваат наодите на независната истрага за сексуална злоупотреба на деца.
Авторите на извештајот имале докази дека децата биле силувани, изложени на недолично однесување и сексуално малтретирање, но навеле дека дисциплинска мерка, според жалбите на 705 корисници во три институции за социјална заштита, е изречена само на еден вработен во раководните служби.
Кога децата се жалеле, никој не верувал во нивните изјави.
Извештајот проценува дека бројот на оние што малтретираат, веројатно, ќе биде многу поголем и се препорачува на полицијата да разгледа дали постојат основи за поведување кривична истрага за случајот со момче што починало во домот во 1977 година откога претходно се пожалило на малтретирање од страна на висок вработен.
Џон О'Брајан, секретар на независната истрага за сексуална злоупотреба на деца, рече дека извештајот е најлош од сите 15 што досега ги составиле.
"Каде и да погледнете, ќе пронајдете пропусти. Тоа е единствениот извештај што морав редовно да прекинувам да го читам поради содржината", рече О'Брајан.
Клер Холанд, членка на Советот на округот Ламбет, рече дека "Советот бил одговорен за таа грижа и заштита, но не успеал, со далекосежни последици".
"Советот длабоко жали поради нивните искуства", рече Холанд.