(Видео) Најмалку 50.000 луѓе на протестите во Бангладеш против Франција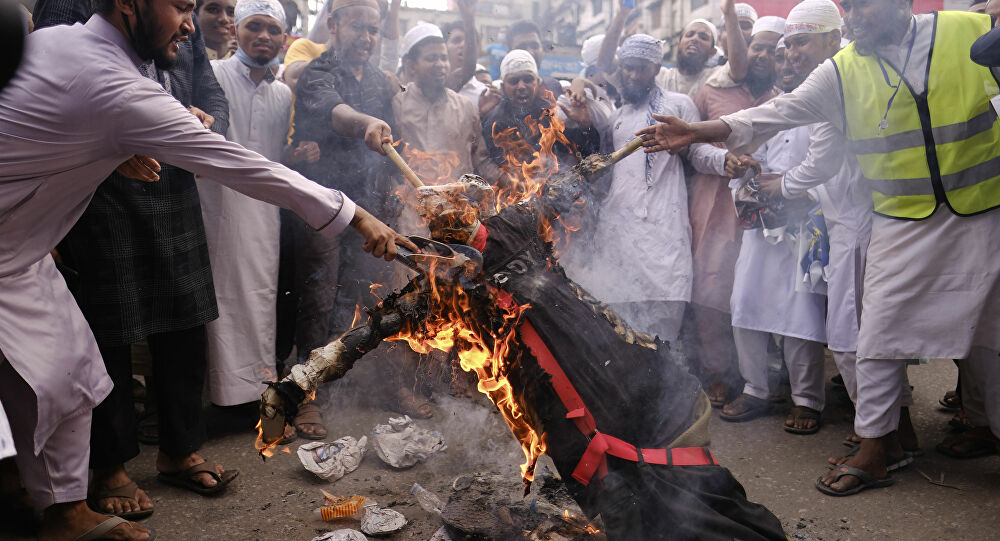 Најмалку 50.000 луѓе, според проценките на полицијата, демонстрирале против Франција во главниот град на Бангладеш, Дака, повикувајќи на бојкот на француските производи и обвинувајќи го Париз за поддршка на карикатурите на пророкот Мухамед, по изјавите на францускиот претседател Емануел Макрон за слободата на изразување.
Демонстрантите извикувале пароли како "бојкот на француски производи" и "Не клеветете го пророкот Мухамед", повторно палејќи кукла која го претставува францускиот претседател.
BREAKING – Massive Islamist march on its way to siege the French Embassy in #Bangladesh's capital city #Dhaka.pic.twitter.com/C9OLbryr1H

— Disclose.tv 🚨 (@disclosetv) November 2, 2020
Маршот, во кој учествуваат десетици илјади исламисти, е само продолжение на слични акции што се одржаа во Бангладеш минатата недела. Францускиот претседател тогаш беше наречен "сатанист", а демонстрантите ги запалија неговите фотографии. Слични протести имаше и во Пакистан.
Бесот на исламскиот свет започна со карикатура на пророкот Мухамед во францускиот сатиричен весник "Шарли ебдо", инаку познат по провокативни цртежи, но и поради одбраната на Макрон на францускиот весник и слободата на изразување.
©Makfax.com.mk Доколку преземете содржина од оваа страница, во целост сте се согласиле со нејзините Услови за користење.

Катимерини: Спорот меѓу Скопје и Софија ќе се пренесе во НАТО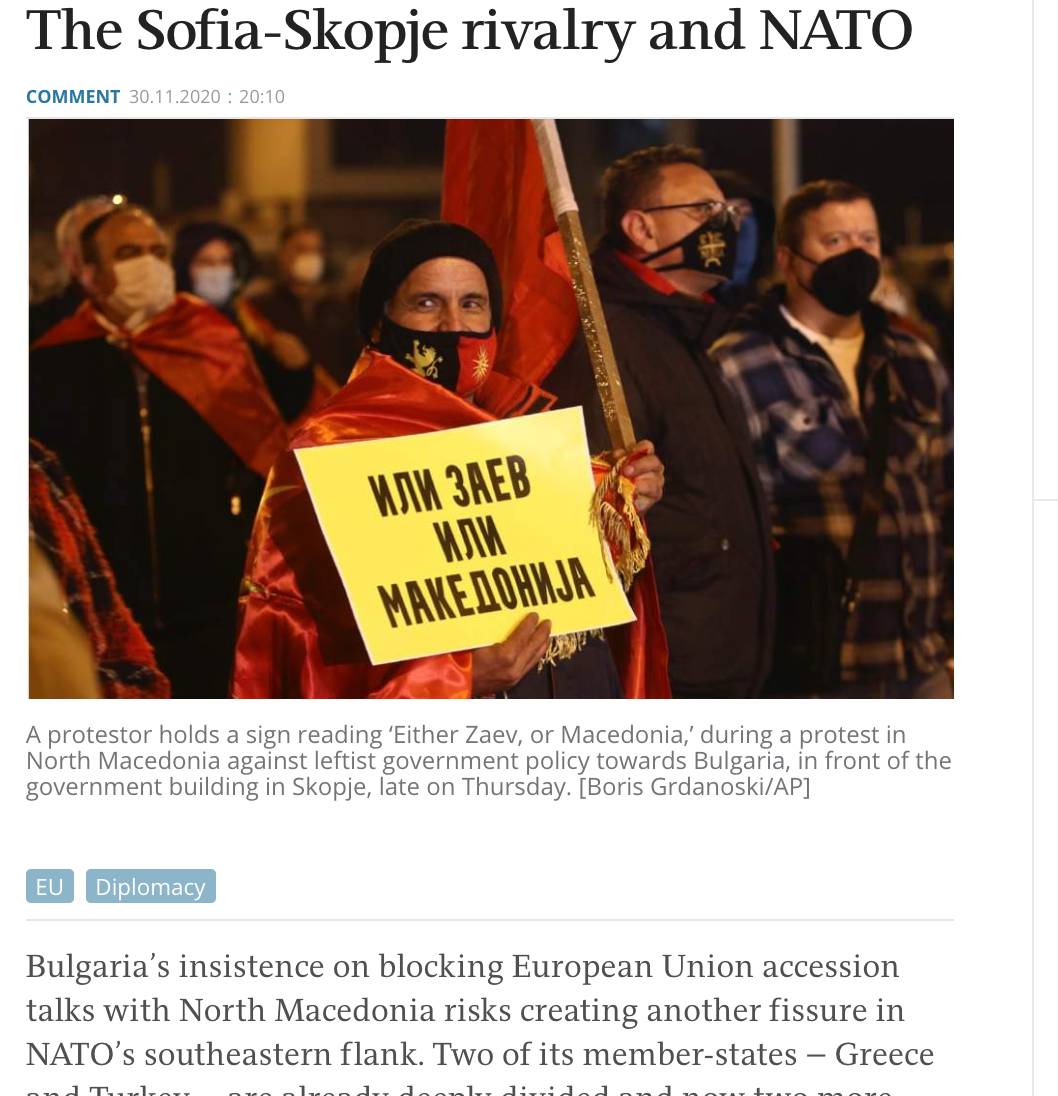 Инсистирањето на Бугарија да ги блокира разговорите за пристапување во Европската Унија со Северна Македонија ризикува да создаде уште една пукнатина во југоисточното крило на НАТО. Две нејзини земјичленки – Грција и Турција – веќе се длабоко поделени и сега се појавија уште две земји кои се во судир, поради полемика стара два века на етничка основа, пишува Ставрос Цимас во коментар за "Катимерини".
Според Цимас, и Бугарија и Северна Македонија се клучни регионални членки на алијансата. Бугарија за нејзината улога како супервизор над Црното Море и јужна Русија и Северна Македонија како тампон против понатамошно руско ширење во срцето на Балканот. И двете земји многу силно го чувствуваат влијанието на американско-рускиот конфликт на влијание.
"Меѓутоа, НАТО се чини дека е нарушен од ривалството Софија-Скопје, сметајќи го за европско прашање што треба да го решат земјите членки на ЕУ. Приговорите на Бугарија за влез на Северна Македонија во ЕУ не произлегуваат од критериумите за пристап, како што е потребата за зајакнување на демократијата и сузбивање на корупцијата; наместо тоа, тие се поттикнуваат од историски тврдења што предизвикуваат национализам од обете страни и во одреден момент наскоро ќе имаат влијание врз НАТО, освен ако не се решат овие разлики.
Антибугарската треска се зголемува во Северна Македонија, со благослов на политичкото раководство и медиумите, а ставот на Скопје кон Софија станува поагресивен. Индикативно е отфрлањето на барањето на Софија да учествува во воздушното полициско работење на НАТО во Северна Македонија, како и повлекувањето на интересот за бугарската нуклеарна централа Белене, и одбирајќи место тоа да се поддржи проектот за природен гас во северното грчко пристаниште Александрополи. Во меѓувреме, Бугарија се подготвува за избори на пролет, а политичкиот врв многу се занимава со националистичките чувства, обидувајќи се да формира нова балканска агенда инспирирана од Отоманската Империја и големите аспирации од 19 век, обвинувајќи ги своите балкански браќа дека се оддалечуваат од виситнскиот пат, се вели во коментарот.