(Видео) Пари испаднаа од блиндирано комбе во Сан Диего, луѓето навалија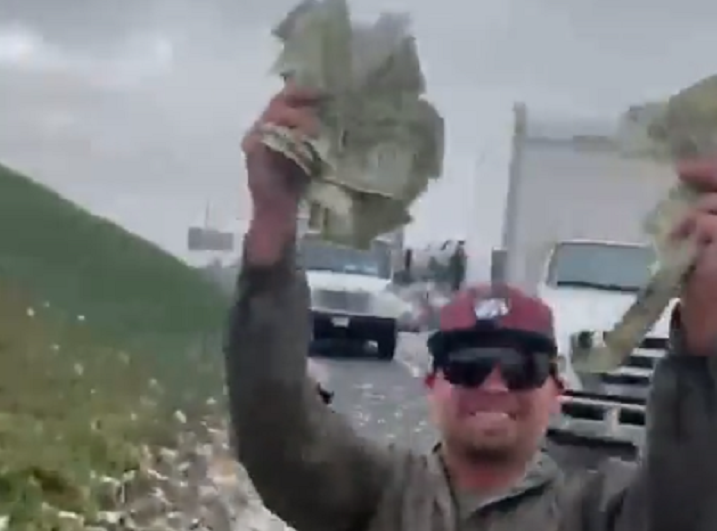 Пари кои испаднале од блиндирано комбе недалеку од Сан Диего предизвикале вистински хаос меѓу луѓето, тепачки и апсења.
Видеата објавени на социјалните мрежи покажуваат расфрлани пари и луѓе кои се обидуваат да зграпчат што е можно повеќе долари по автопатот "Интерстејт 5" во областа Сан Диего во Калифорнија, јавува Би-би-си.
Cash is scattered across a highway in San Diego after an armored vehicle was in a minor traffic incident on Friday morning:@DemiBagby pic.twitter.com/4PSNeh1gyH

— Alex Salvi (@alexsalvinews) November 19, 2021
Полицијата соопшти дека уапсила неколку лица и ги повикува сите што земале од парите да ги вратат.
Една од вратите на блиндираното возило се отворила на патот, поради што испаднале вреќи со готовина, а банкнотите се разлетале.
"Поради некоја причина, парите испаднаа од блиндираниот автомобил", изјави полицаецот од патната патрола во Калифорнија, Џим Бетенку.
"Ова е најлудото нешто што сум го видела", вели фитнес инфлуенсерката Деми Багби во своето видео.
©Makfax.com.mk Доколку преземете содржина од оваа страница, во целост сте се согласиле со нејзините Услови за користење.

(Видео) Папата падна по скали додека се качуваше на авион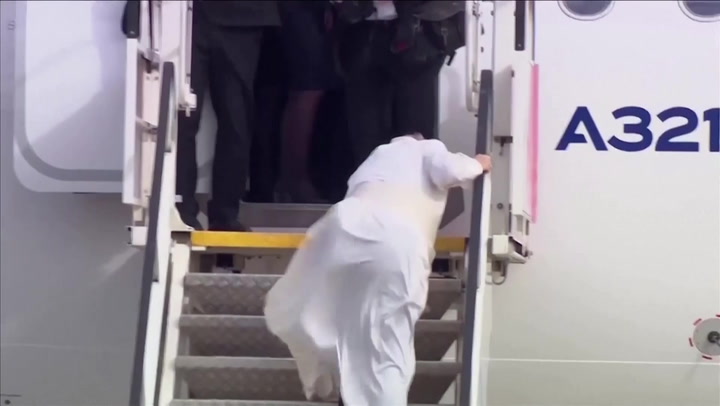 Папата Франциск се сопна на скалите додека се качуваше на авион во Грција.
На видео објавено на интернет се гледа како 84-годишникот се качува по скалите, а потоа забавува пред да го изгуби стапалото.
The Pope loses his footing as he ascends the steps to the plane after his trip to the nearby neighbouring countries.

Watch more videos from Sky News: https://t.co/WOmNhIQHZQ pic.twitter.com/h5IK9CvA6U

— Sky News (@SkyNews) December 6, 2021
На 4 декември католичкиот папа пристигна во тридневна посета на Грција, чија цел беше да ги зближи Римокатоличката и Источната православна црква. Христијанството се подели во 1054 година во она што е познато како Голем раскол.
За време на својата проповед, папата Франциск побара прошка во име на Римокатоличката црква за грешките што доведоа до нејзино распаѓање. Папата се осврна и на маките на мигрантите заглавени во Грција, опишувајќи го тоа како "ужасна модерна Одисеја".
Папата ги повика европските нации да се занимаваат со ова прашање, нагласувајќи дека тесните лични интереси и национализмот водат до катастрофални последици.
Во јули поглаварот на Светата столица беше подложен на тричасовна операција на дебелото црево, што предизвика шпекулации за неговото здравје.
Некои извештаи сугерираат дека тој би можел дури и да се пензионира како неговиот претходник, папата Бенедикт 16. Сепак, понтифот ги отфрли тие шпекулации, велејќи дека е во добра здравствена состојба и дека живее сосема нормален живот по операцијата.