(Видео) Трамп објави бизарен спот во кој алудира дека Бајден е педофил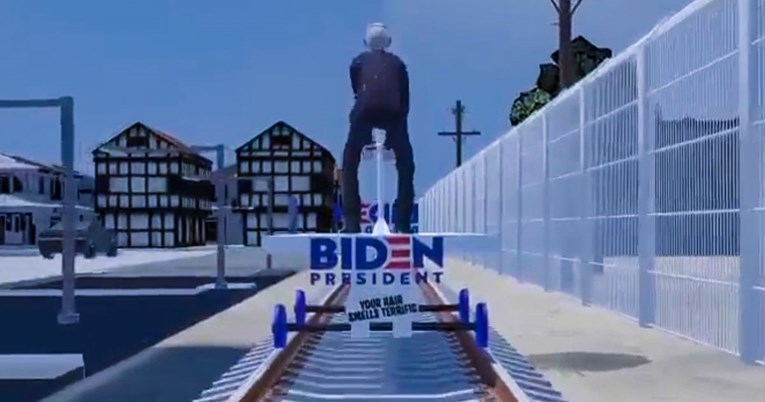 Американскиот претседател, Доналд Трамп, објави на својот твитер-профил и на фејсбук-страницата уште едно oд низата видеа кои се комбинација на предизборни спотови и исмејувачки мемови насочени кон неговиот противкандидат Џо Бајден и другите политички противници. Но, ова е уште побизарно од вообичаеното.
— Donald J. Trump (@realDonaldTrump) August 13, 2020
Во анимирано видео, кое изгледа како да е направено со 30-годишна технологија, прво се гледа воз кој забрзано се движи по пругата. На вагоните на возот има напишано "КАГ 2020", што е кратенка за слоганот на Трамп – Keep America Great ("Чувајте ја Америка голема"), и натписот Trump Pence.
Who acts like this? https://t.co/FWYXFa3IDu

— Heather Champion (@winningatmylife) December 1, 2019
Потоа, се гледа Џо Бајден како по истата пруга поминува со дрезина (шинско возило на рачен погон), а во исто време се слуша аудиоснимка од бизарниот монолог на Бајден за неговото искуство од младоста кога тој бил спасител на јавен базен.
Во тој монолог, кој стана еден вид мем во последните месеци, Бајден, меѓу другото, вели: "Сакам кога децата ми скокаат во скутот".
Исто така, на количката под натписот "Претседател Бајден" има натпис "Твојата коса мириса одлично", што е алузија на многубројни случаи кога Бајден влегувал во личниот простор на жените и девојчињата на јавни настапи, им ја мирисал косата, ги галел, ги држел рацете на нивните рамења и на грбот, им давал бакнежи, им шепотел на уво или на друг начин им покажувал нежност.
Некои од нив подоцна изјавиле дека таквите допири биле непримерни и дека се чувствувале непријатно поради што Бајден индиректно се извини во април ветувајќи дека во иднина ќе биде повнимателен во однос на кршењето на туѓиот личен простор.
Social norms are changing. I understand that, and I've heard what these women are saying. Politics to me has always been about making connections, but I will be more mindful about respecting personal space in the future. That's my responsibility and I will meet it. pic.twitter.com/Ya2mf5ODts

— Joe Biden (@JoeBiden) April 3, 2019
Бизарното видео на Трамп, направено од обожавател на Трамп и креатор на мемови, со уметничкото име Something Wicked, е видено повеќе од 6 милиони пати на "Твитер".
©Makfax.com.mk Доколку преземете содржина од оваа страница, во целост сте се согласиле со нејзините Услови за користење.

Џјинпинг: Не сакаме да водиме ни студена ни жешка војна со која било земја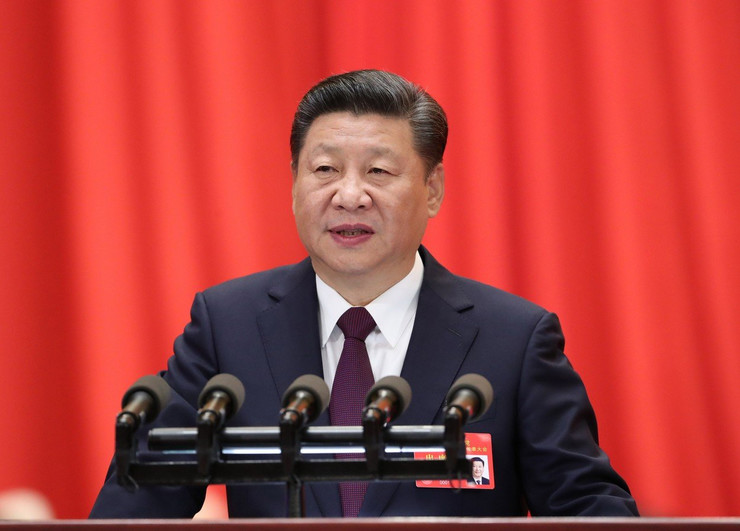 Пeкинг нема намера да води ниту студена ниту жешка војна со која било земја, порача кинескиот претседател Шји Џјинпинг пред Генералното собрание на ООН во време на зголемени тензии меѓу Кина и САД.
"Ќе продолжиме да ги намалуваме разликите и ќе ги решаваме споровите со другите преку дијалог и преговори. Ние нема да работиме само за наша сопствена корист", рече Шји во претходно снимениот говор на годишниот собир на светските лидери, кој се одржа виртуелно поради пандемијата.
Продолжените тензии меѓу САД и Кина зовриваа во времето на пандемијата и предупредуваа на желбата на Пекинг да преземе поголема мултилатерална улога и со тоа да се спротивстави на традиционалната лидерска улога на Вашингтон.
Бидејќи коронавирусот првпат се појави во Кина, Вашингтон го обвинува Пекинг за влошување на ширењето на епидемијата поради недостиг на транспарентност.
Кинескиот претседател во својот говор го повика светот да одговори на вирусот на глобално ниво и да ѝ ја препушти водечката улога на Светската здравствена организација.