Германски пилот симболично изврши лет во форма на шприц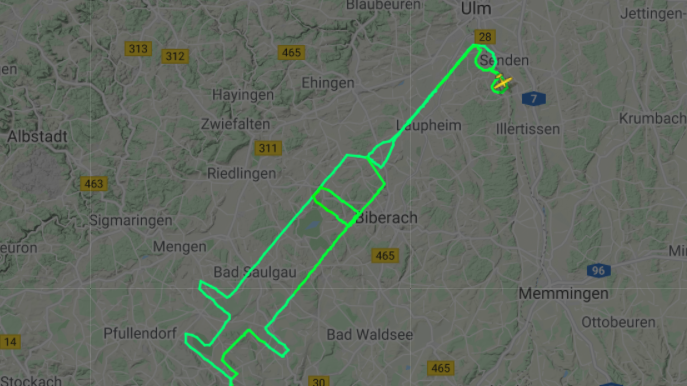 Германскиот пилот, Сами Крамер, со својот авион се вивна на небото над јужна Германија и таму "нацрта" огромен шприц, сакајќи да ги потсети луѓето на почетокот на кампањата за вакцинација против Ковид-19 во Европа.
20-годишниот пилот најпрво на ГПС уред ја одреди рутата, пред да полета со мал авион.
Летајќи на надморска височина од 5.000 метри, тој исцртал замислена рута во форма на 70 километри долг шприц, што може да се види на популарната веб-страница flightradar24.
A pilot in Germany used a Diamond DA20 Katana aircraft to send this message to the world 💉

See the playback at https://t.co/R7sQfH6OK8#Covid19Vaccine pic.twitter.com/j7HHaY1aV7

— Flightradar24 (@flightradar24) December 24, 2020
"Можеби мојот чин денес е мал знак на радост затоа што авионската индустрија е прилично погодена од оваа пандемија", рече младиот пилот.
"Сè уште има релативно многу кои се противат на вакцинацијата и моето дејствие може да ги охрабри да размислат подобро за нејзината важност и да преземат мерки", изјави Крамер за ТВ Ројтерс.
Неговиот лет траеше нешто повеќе од еден час.
Кампањата за вакцинација против Ковид-19 официјално денеска започна во Германија.
©Makfax.com.mk Доколку преземете содржина од оваа страница, во целост сте се согласиле со нејзините Услови за користење.

Трамп нема да ја напушти Републиканската партија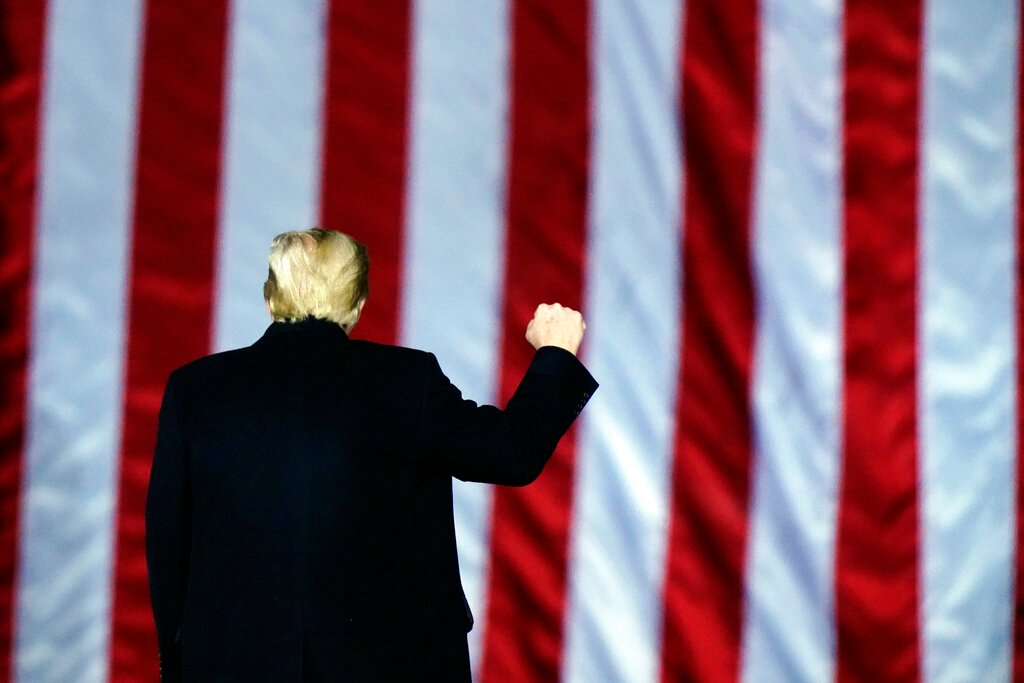 Претседателскиот комитет на кампањата "Доналд Трамп за претседател" ги отфрли шпекулациите дека се занимава со заеднички активности за собирање средства со Патриотската партија, основана минатата недела во Џорџија, пренесува "Спутник".
Комитетот рече дека контактирал со Федералната изборна комисија (ФЕЦ) од загриженост дека јавноста може да биде наведена да поверува дека активностите на Патриотската партија се одобрени од експретседателот или неговата кампања кога тоа не е точно.
На 22 јануари Мајкл Џозеф Гол објави документ до ФЕЦ во кој тврди дека кампањата на Трамп собира средства заедно со Патриотската партија.
"Ние не го поддржуваме овој напор, немаме ништо со тоа и знаеме за тоа само преку јавното известување", рече портпаролот на Трамп, Џејсон Милер во СМС-порака.
Кампањата на Трамп исто така истакна дека тој не планира да ја напушти Републиканската партија за да формира нова организација. Милер рече дека експретседателот е посветен на реизборот на републиканците на идните избори.
По неговиот пораз на претседателските избори во 2020 година, Трамп навести дека може да се кандидира за претседател во 2024 година.
"Ние се обидуваме да добиеме уште четири години. Во спротивно, ќе се видиме за четири години", им рече републиканецот на новинарите на прием во Белата куќа во декември 2020 година.
Само еден претседател на САД отслужи два последователни мандати, демократот Гровер Кливленд избран во 1884 и во 1892 година.
Шпекулациите за можно враќање на Трамп се интензивираа во деновите пред инаугурацијата на Џо Бајден, а медиумите објавија дека бизнисменот политичар сака да формира своја партија бидејќи се вознемири зашто некои републиканци одбија да ги поддржат неговите тврдења дека демократите ги местат изборите.
Без оглед дали е вистина или не, неговата судбина сега лежи во рацете на американскиот Сенат бидејќи се соочува со второто судење за импичмент.
Претставничкиот дом ја одобри постапката претходно овој месец со префрлување на процесот во Сенатот. Судењето е закажано на 9 февруари. За да биде осуден, потребно е двотретинско мнозинство. Сенаторите може да гласаат и за забрана Трамп повторно да добие јавна функција.
.