Делегациите на САД и Израел слетаа во Бахреин за официјализирање на историскиот договор за мир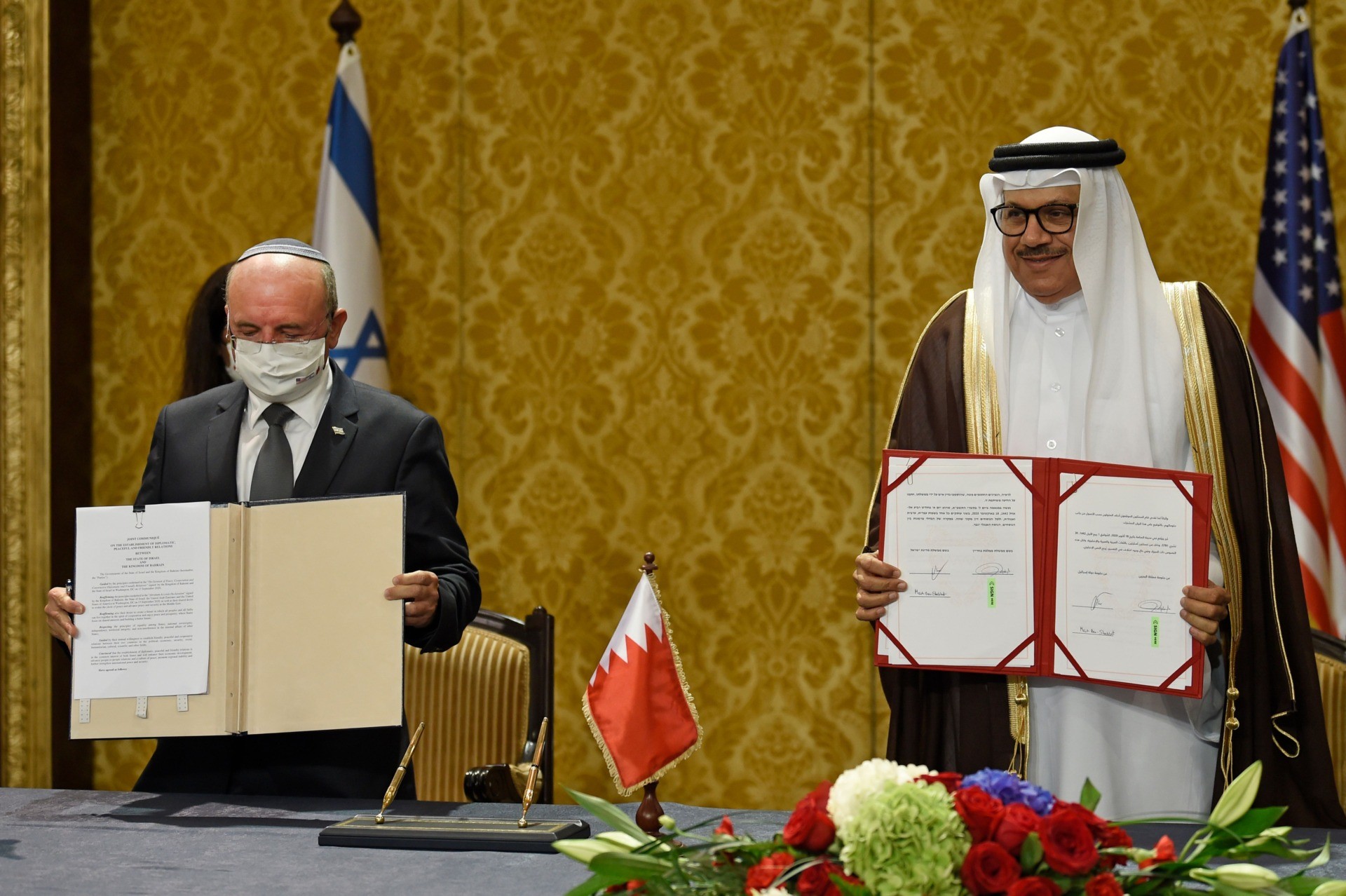 Слетувајќи во Бахреин доцна синоќа за официјализирање на новопотпишаниот договор за нормализација на односите со Израел со посредство на САД, шефот на израелската делегација на арапски јазик рече дека Израел "ги подава рацете за вистински мир со народот на Бахреин", пренесува "Тајмс оф Израел".
"Заедно ќе ја промениме реалноста во регионот во корист на нашите нации. Дај Боже, наскоро ќе ве примиме во Израел", рече израелскиот советник за национална безбедност, Меир Бен-Шабат.
Тој потоа на хебрејски цитира пасус од Стариот завет, од Битието: "Нека биде светлина! И настана светлина. И Бог виде дека светлината е нешто добро. Да донесеме светлина и да го рашириме доброто."
Заедничката американско-израелска делегација пристигна во малото царство во Заливот со првиот директен патнички лет од Израел. На чело на американската делегација се секретарот за финансии, Стивен Мнучин, и специјалниот пратеник на Белата куќа за израелско-палестинскиот конфликт, Ави Берковиц.
Министерот за надворешни работи на Бахреин, Абдулатиф бин Рашид Ал-Зајани, кој ги поздрави делегациите на пистата, рече дека поводот ја надградува историската пригода во Белата куќа минатиот месец, преземајќи ги следните чекори за спроведување на декларацијата за поддршка на мирот и Аврамските договори.
"Денеска ги ставаме темелите преку кои можеме да ја постигнеме оваа цел, воспоставувајќи практична рамка за унапредување на нашата билатерална соработка и на постојаното партнерство што го уживаат нашите земји со САД", рече првиот дипломат на Бахреин.
"Се надевам дека оваа посета претставува уште еден чекор напред на патот кон вистински мирен, безбеден, стабилен и просперитетен Блиски Исток, оној во кој сите држави, раси и вери ги решаваат разликите преку дијалог и развиваат нова реалност за соживот и просперитет за нашите деца."
Двете земји треба да потпишат заедничко коминике за кое израелските медиуми објавија дека ќе вклучува околу осум меморандуми за разбирање на различни теми, вклучувајќи правда, комуникации, визи, наука и технологија, трговија, енергија и земјоделство.
Договорот за нормализација на Бахреин, заедно со сличен договор со ОАЕ, го сочинуваат Аврамскиот договор потпишан минатиот месец во Белата куќа.
Договорот со ОАЕ помина со огромно мнозинство на гласањето во Кнесет во четвртокот, освен 13 пратеници – сите од партијата Арапска заедничка листа – кои гласаа против бидејќи договорот, наводно, го поткопува мировниот процес со Палестинците. Според стратешкиот советник на премиерот Бенјамин Нетанјаху, Арон Клајн, арапските парламентарци застанале на страната на Иран, Хезболах, Хамас и Турција во гласањето против договорот.
Клајн рече дека сè повеќе арапски и муслимански земји конечно разбираат дека е време да му се приклучат на мирот и да дејствуваат во свој интерес.
"Договорите претставуваат мир низ сила, мир низ заеднички интереси и мир за мир. Палестинското раководство, сепак, е заглавено во отфрлање со децении ", рече Клајн.
По мировниот договор од Осло од 1993 година, Палестинците упатуваа екстремни барања, вклучително и повик Израел да ги исели еврејските заедници на Западниот Брег и да го предаде Ридот на храмовите – најсветото место на јудаизмот – под контрола на Палестинците. Клајн истакна дека раководството, а не самите Палестинци, е главниот проблем.
"Многу Палестинци би сакале мир со Израел со оглед на тоа каде се движи регионот и со оглед на огромната економска корист што би ја имал. Тоа ќе ѝ помогне на нивната економија и ќе донесе огромен број работни места на палестинската арена ", рече тој.
"Историски гледано, Палестинците беа навистина наградени за нивните неконтролирани позиции. Израел беше туркан во сè повеќе отстапки. Палестинците треба да разберат дека ќе останат назад ако продолжат по патот на отпорот ", рече Клајн.
©Makfax.com.mk Доколку преземете содржина од оваа страница, во целост сте се согласиле со нејзините Услови за користење.

(Видео) Ескалираа протестите во Париз, полицијата употреби солзавец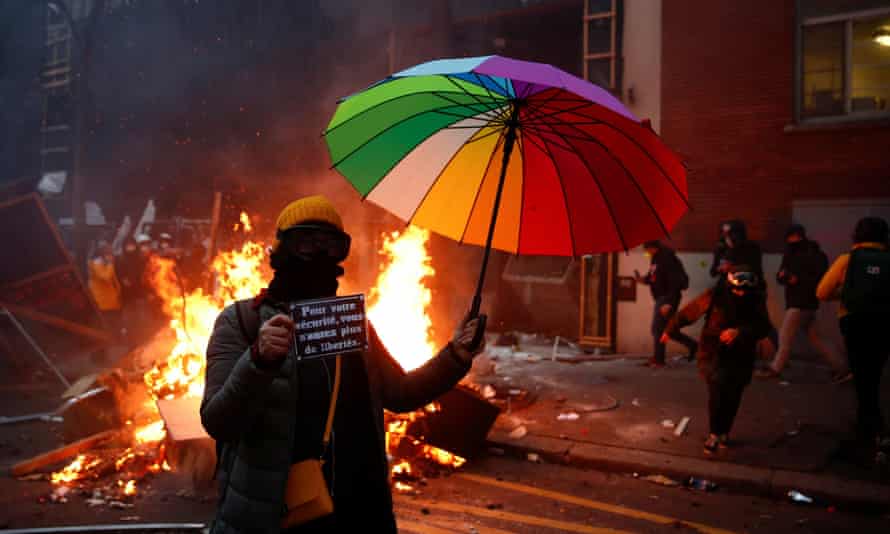 Илјадници демонстранти се собраа на улиците на Париз во знак на протест против полициската бруталност и плановите на безбедносната политика на претседателот, Емануел Макрон.
Демонстрантите сметаат дека плановите за безбедносна политика ги поткопуваат граѓанските слободи.
Полицијата употреби солзавец на протестите додека демонстрантите испукаа пиротехнички средства во нивна насока, а група млади луѓе го искршија излогот на една продавница, пренесува "Ројтерс".
Law enforcement in Paris is forced to retreat while anarchist black bloc militants run up and attack them at the riot. pic.twitter.com/XqTcWFRK76

— Andy Ngô (@MrAndyNgo) December 5, 2020
Демонстрантите носеа транспаренти "Франција – земја на полициските права" и "Повлечете го законот за безбедност".
"Се повеќе се ограничуваат слободите, нема оправдување за такво нешто", рече еден од учесниците на протестот.
На сличен протест минатата недела се случија насилни судири меѓу демонстрантите и полицијата.
Партијата на Макрон неделава објави дека ќе изврши измени во предложениот закон, со кој се ограничува споделувањето фотографии и снимки на полицајци, откако наиде на силно противење од јавноста и левицата.
Незадоволството во јавноста ескалираше кон крајот на ноември откако неколку полицајци претепаа музички продуцент роден во Африка, Мишел Зеклер, а граѓаните дознаа за инцидентот откако беше споделено видео на Интернет.
Критичарите велат дека законот би им овозможил на полициските службеници да ги злоупотребуваат своите овластувања. Многумина тврдат дека дури и изменетиот предлог-закон не претставува напредок во таа насока.