Додека исламскиот свет слави, христијаните прогласија ден на жалост за "Аја Софија"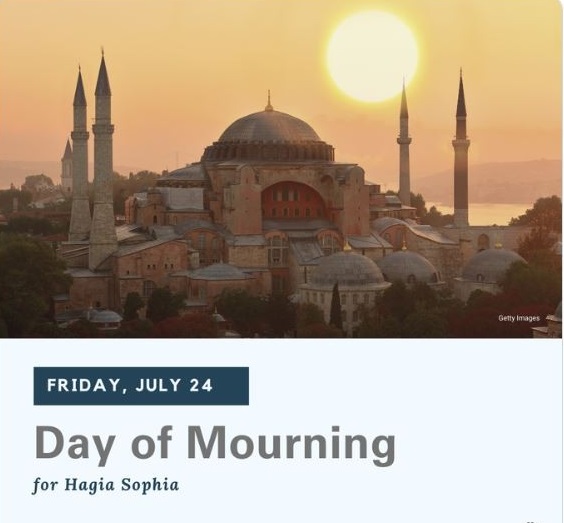 Илјадници муслимани верници се собраа пред "Аја Софија" во Истанбул утринава, подготвени за првите молитви откако турските власти донесоа одлука богатото христијанско наследство на зградата да биде преиначено, а зградата да биде претворена во џамија, пренесува Би-би-си.
"Муслиманите се возбудени, сите сакаат да бидат на отворањето", рече гувернерот на Истанбул, Али Ерликаја, додека градот со 18 милиони луѓе се подготвуваше за настанот.
Возбудената толпа, од кои дел ноќеваа пред црквата за шанса да влезат во неа и да го прослават нејзиното претворање во џамија, се собра помалку од 24 часа откако турскиот претседател, Реџеп Таип Ердоган, постави плакета за да ја потврди промената на историската зграда тврдејќи дека тоа е историско и суверено право на Турција. Ердоган често ја користеше дебатата за "Аја Софија" за да поттикне поддршка за неговата партија со исламски корени.
The @goarch is inviting all Christians and people of goodwill to join in a Day of Mourning on July 24 for #HagiaSophia. They have asked that every Church toll its bells, every flag be raised to half-mast and that the Akathist Hymn is chanted or the rosary recited in the evening. pic.twitter.com/ib6R3wDiWQ

— U.S. Catholic Bishops (@USCCB) July 21, 2020
Одлуката предизвика длабок немир кај православните христијани. Само неколку часа пред првите повици на муслиманските имами, Американската конференција на католички бискупи се приклучи на повикот на Грчката православна црква во САД да се прогласи ден на жалост поради одлуката.
Епископите на САД (УСЦЦБ) во твит ја објавија веста за денот на жалоста прифаќајќи го повикот од Грчката православна црква упатен до сите христијани и луѓе со добра волја да се приклучат во денот на жалост на 24 јули за "Аја Софија".
Во повикот се бара секоја црква да ги бие своите камбани, секое знаме да се спушти на половина копје, да се прочита Акатист или молитвата на бројницата.
Пред првата петочна молитва во "Аја Софија", Ердоган рецитира стих од муслиманската света книга, Куранот, пред да се чуе повикот за молитва од четирите минариња на "Аја Софија". Али Ербаш, шеф на највисокото религиозно тело во Турција, ја предводеше првата петочна молитва, а двајца имами и четири муезини ќе служат во другите денови.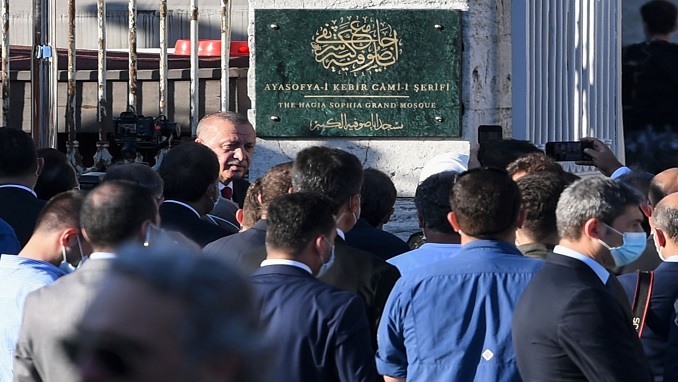 Колосалната "Аја Софија" е изградена пред 1.500 години како православна христијанска катедрала и беше претворена во џамија кога Османлиите го освоија Цариград, сега Истанбул, во 1453 година. Секуларната турска влада во 1934 година донесе одлука да ја претвори црквата во музеј.
©Makfax.com.mk Доколку преземете содржина од оваа страница, во целост сте се согласиле со нејзините Услови за користење.

Реконструкција на катастрофата: како се случи експлозијата во Бејрут што го шокираше светот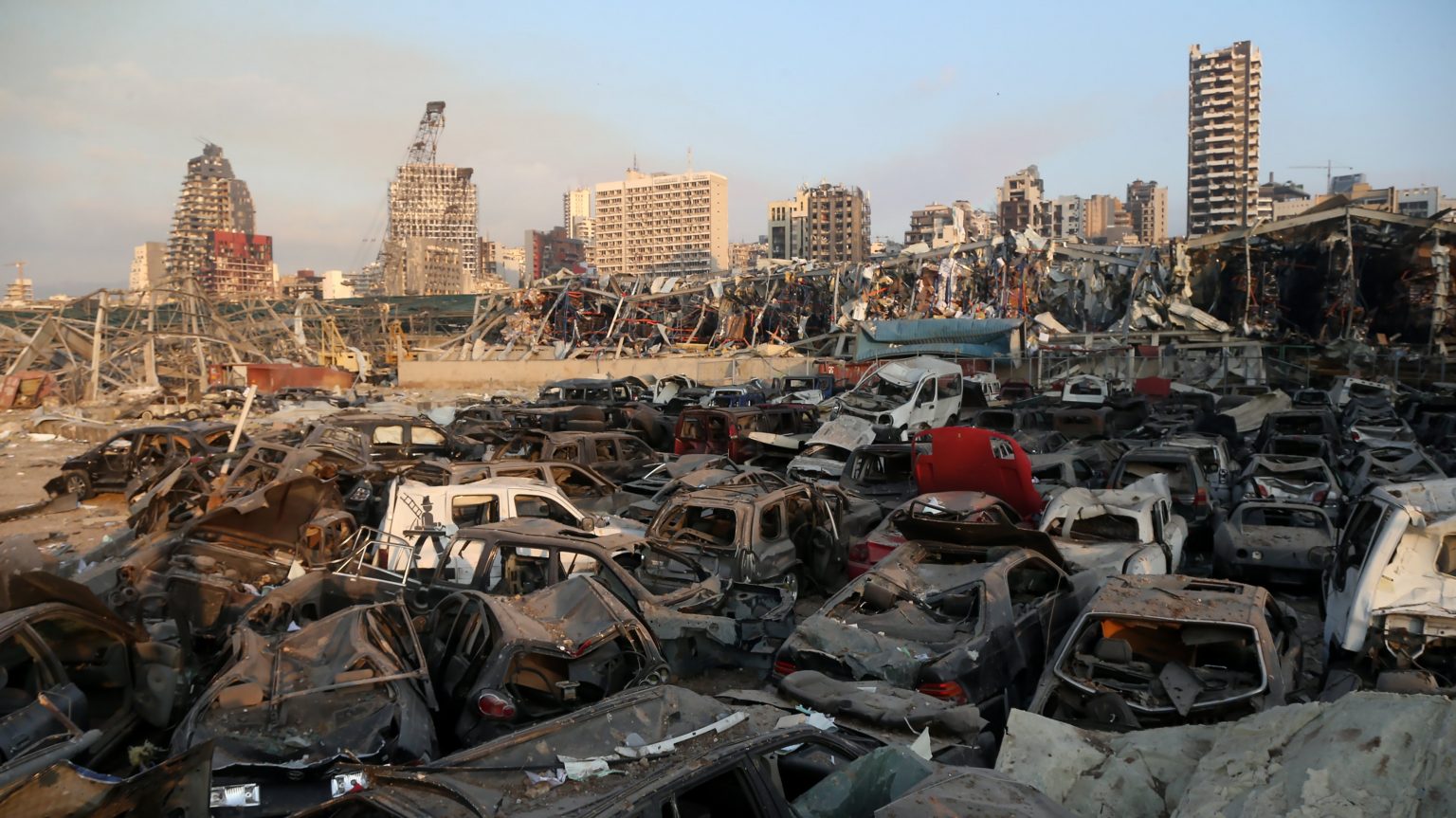 Силата на експлозијата што ја зафати либанската престолнина го шокираше светот. Повеќе од 300.000 луѓе останаа без покрив над главата, а најмалку 130 загинаа, додека илјадници се повредени во експлозијата во магацин со опасни материи во Бејрут.
Како дојде до експлозијата?
Околу 18 часот по локално време во вторникот, 4 август, жителите на Бејрут биле шокирани кога забележале голем пожар во  пристаништето, чиј пламен бил видлив од далеку.
Првите извештаи зборуваат за послаби звуци на експлозија кои доаѓале од магацин во пристаништето, а чадот полека се кревал кон воздухот.
Се верува дека во магацинот имало пиротехника, а беа објавени и видеа од местото на настанот кои ги прикажуваат пламените во различни бои. Се претпоставува дека првата мала експлозија се случила таму. Пожарот можел да избувнал поради пиротехнички средства и други експлозивни материи.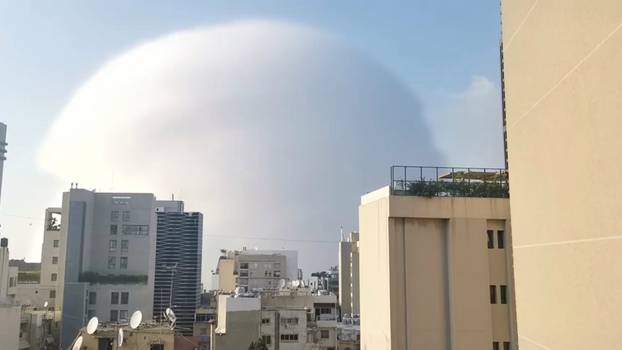 Некаде 30 секунди по првата експлозија, се случил огромен бран експлозии коишто го уништија половина од градот. Над градот се кренал огромен портокалова облак од чад. Некои стравувале дека се случила нуклеарна експлозија.
Бранот се раширил побрзо од брзината на звукот и уништил сè што се нашло пред него. Бил видлив со километри оддалеченост.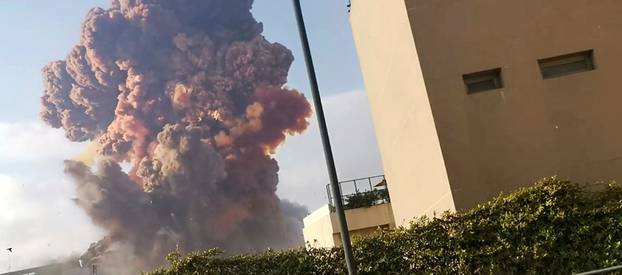 Фотографот кој ги снимил овие моменти се наоѓал на 2 километри од местото каде што се случила експлозијата. Најмногу е погодена областа во близина на пристаништето. Откорнати се покривите на магацини на стотици метри во сите правци. Во бетонските згради околу пристаништето направени се дупки. Експлозијата со разорна моќ урнала балкони, превртела автомобили, прозорците ги претворила во пепел во околината на магацинот. Стакло паѓало врз жителите кои излегле на улиците.
Експлозијата направила и голема дупка во земјата. Таа била со јачина како градот да го погодил земјотрес со јачина од 3,5 степени според Рихтеровата скала.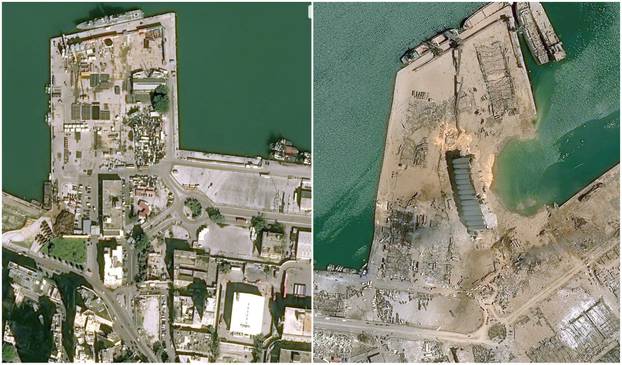 Сомнежи околу експлозијата
Многумина најпрво се сомневале дека експлозијата е поврзана со растечките тензии меѓу Израел и милитантната група Хезболах. Потоа, околу 20:30 часот по локално време, началникот на либанската внатрешна безбедност, Абас Ибрахим, изјави дека експлозијата се случила во делот на пристаништето каде што се пронајдени експлозивни материи, кои биле одземени од брод пред некое време и се чувани во магацин.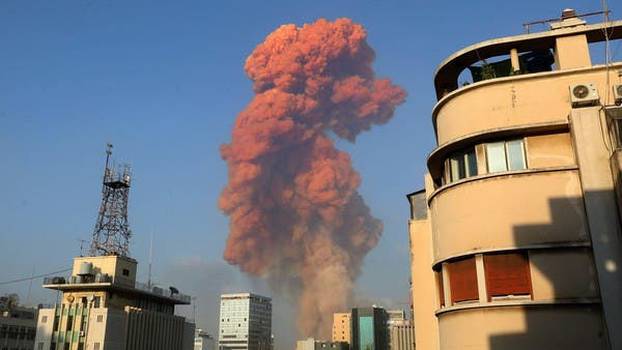 Сомневањата потоа се насочиле кон складиштата со жито каде што се чувала пченицата откако пристигнала во пристаништето. Силос кој е уништен во близина на местото на експлозијата, наводно, содржел 85% од резервите на жито во Либан, стратешки резерви на храна во земјата, којашто е опустошена од економскиот пад.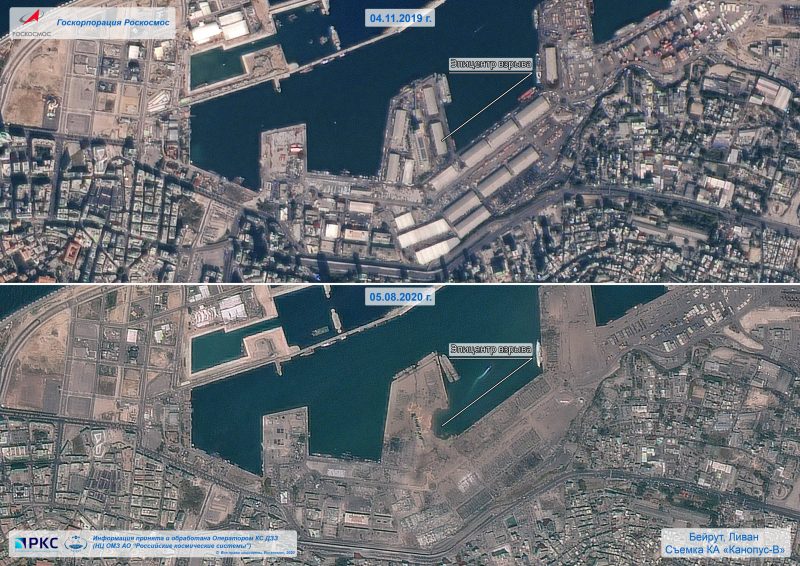 Подоцна беше објавено дека стаува збор за високоексплозивен материјал од околу 2.700 тони амониум нитрат, којшто се  користел за правење бомби, а бил складиран откако бил запленет на брод  во 2013 или 2014 година.
Многу експерти велат дека има знаци дека амониум нитратот ги предизвикал поголемите експлозии.
Локалните медиуми објавија дека либанскиот главен град изгледа како да го погодила најлошата апокалипса. И додека истрагата за тоа што точно се случило сè уште трае, експертите велат дека можело да биде и полошо.