Бојко Борисов: Однесувањето на навивачите е неприфатливо
Бугарскиот премиер, Бојко Борисов, денеска го осуди расистичкото однесување на навивачите на бугарската репрезентација, кои извеле нацистички поздрави и имитирале звуци на мајмун за време на натпреварот со репрезентацијата на Англија.
Step one of Uefa anti-racism protocol in Sofia. Announcement: "Because of racist behaviour the referee may suspend the match." Warning Bulgarian fans, who whistle derisively. "You racist b*stards, you know what you are," #eng fans chant.

— Henry Winter (@henrywinter) October 14, 2019
Борисов рече дека е неприфатливо Бугарија, за која вели дека е најтолерантна земја во светот, населена со луѓе со разно етничко потекло, да биде поврзана со расизам и ксенофобија, пренесува АП.
Тој го повика претседателот на Бугарската фудбалска асоцијација, Борислав Михајлов, да си даде оставка поради лошите резултати на репрезентацијата и додаде дека тој наредил министерот за спорт, Красен Кралев, да ги прекине сите односи со Михајлов сè додека не поднесе оставка.
©Makfax.com.mk Доколку преземете содржина од оваа страница, во целост сте се согласиле со нејзините Услови за користење.

(Видео) Суспендирани двајца полицајци кои во Мостар претепаа момче поради кршење на мерките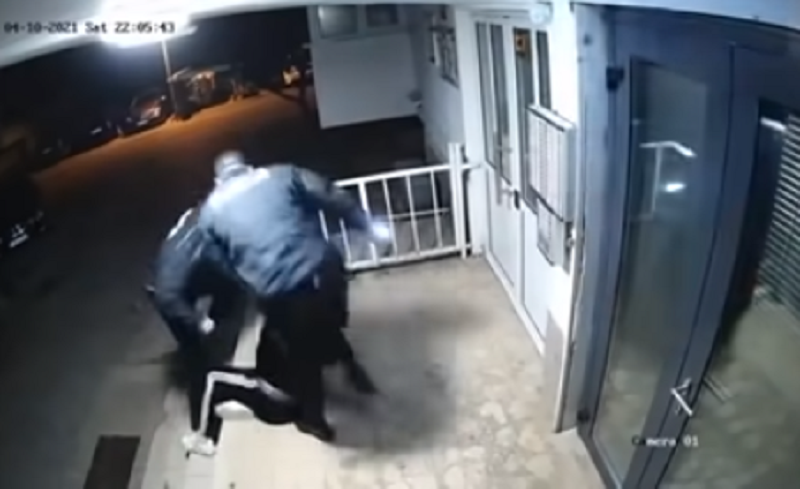 Главна тема во БиХ деновиве е видеото снимено во Мостар на кое се гледа како двајца полицајци брутално тепаат момче.
Снимката прво беше објавена од порталот Поглед.ба, а наскоро беше пренесена и од други медиуми во БиХ.
Видеото е направено вечерта на 10 април, а на него се гледа како млад човек трча кон влезот на зграда. Наскоро го стигнува еден полицаец, а потоа и друг.
Настанот најверојатно е снимен од надзорната камера поставена на влезот од зградата. Полицајците дивјачки го претепале момчето. Прво со раце, а потоа и со нозе.
Подоцна се дозна и идентитетот на жртвата на полициската бруталност, Славен Блажевиќ, кој во изјава ја раскажал својата страна на приказната и дал детали за нападот:
"Бев кај пријател во соседната зграда и во тие моменти одев кон мојата зграда. На пат кон дома забележав полициско возило како застанува малку подалеку од мене и во тој момент побрзав да влезам во зградата свесен дека го прекршив законот за забрана за движење, во обид да избегнам можна казна", рекол тој на почетокот од своето објаснување:
"Како и да е, полицијата ме фати пред зградата. Видеото покажува што се случи понатаму. Се извинив што го прекршив полицискиот час, понудив да ја платам казната, но тие почнаа да ме удираат. Потоа, ме одведоа во полициска станица. Во возилото неколку пати им реков дека не ми е добро. Во станицата ми издадоа налог на кој пишуваше дека сум го прекршил правилото за движење. Никаде не беа споменати повредите, само пишуваше дека сум ја прекршил забраната за движење од 21 до 5 часот. Откако го напишаа прекршочниот налог, ме пуштија да одам дома пеш", изјавил Славен за Поглед.ба, додавајаќи дека на пат до дома тој постојано стравувал дека повторно ќе биде зaпрен поради прекршување на забраната.
"После тоа, отидов на итен медицински преглед, сам, бидејќи не се чувствував добро. Дури и повраќав неколку пати додека одев  кон дома", објаснува тој.
Исто така за медиумите потврдил дека ангажирал и адвокат, односно дека ќе покрене приватна тужба против двајцата полицајци.
Полицијата веќе му се извини на момчето и соопшти дека полицајците се суспендирани, а случајот му е предаден на Обвинителството.
"Двајцата полицајци веднаш беа отстранети од должноста, започната е внатрешна истрага за да се испитаат сите аспекти на ваквото однесување и да се утврди постоењето на елементи на кривична одговорност на полициските службеници. Првичните информации за настанот беа проследени до Обвинителството. Ваквото однесување и вакви личности не можат и не смеат да имаат место меѓу полициските службеници", се наведува во соопштението на Министерството.
Попладнево стотици граѓани на Мостар се собраа пред две полициски згради во центарот на градот во знак на протест против полициската бруталност над младиот човек.