(Видео) Пукање во близина на Белата куќа – Трамп веднаш е евакуиран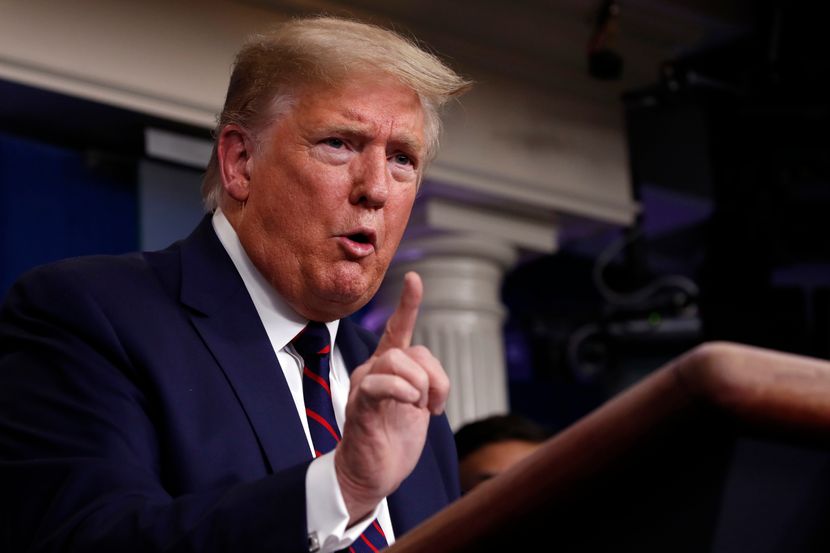 Членовите на тајната служба ја прекинале конференцијата на американскиот претседател Доналд Трамп и го извадиле од просторијата за брифинг. На новинарите им било речено да ја напуштат просторијата.
TRUMP EVACUATED from White House press briefing room by US Secret Service. An agent locked the briefing room doors from the exterior. pic.twitter.com/El9Xi4lAlE

— Jennifer Jacobs (@JenniferJJacobs) August 10, 2020
"Имаше пукање пред Белата куќа", рече Трамп, заблагодарувајќи се на Тајната служба за брзата реакција, пренесува Си-ен-ен.
Donald Trump tuvo que interrumpir abruptamente una conferencia de prensa, tras el reporte de un tiroteo a las afueras de la Casa Blanca pic.twitter.com/Nap1THl5C1

— Julio César Solís (@jcsolis82) August 10, 2020
"Се чувствувам многу безбедно со тајната служба, тие се фантастични луѓе, тие прават сé што можат, тие се високо обучени", им рече Трамп на новинарите.
Тој додаде дека не е сигурен колку блиску бил напаѓачот, но дека има доверба во тајната служба.
"Би сакал да се заблагодарам на тајната служба за нивната секогаш брза и многу ефикасна работа. Имено, имаше пукање и некој беше однесен во болница", рече Трамп.
Како што додаде, се чини дека лицето било застрелано од тајната служба "но дека, ќе видиме што се случува". Трамп рече дека не знае во каква состоба е ранетиот.
Портпарол на високата администрација потврди за Си-ен-ен дека лицето коешто пукало е во притвор.
©Makfax.com.mk Доколку преземете содржина од оваа страница, во целост сте се согласиле со нејзините Услови за користење.

Србија и Косово ќе го именуваат спорното езеро по Доналд Трамп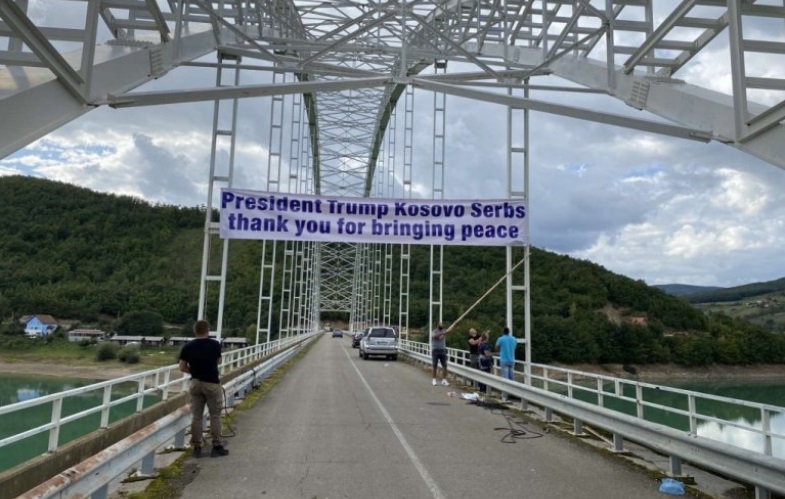 Србија и Косово во четвртокот се согласија да го именуваат езерото на спорна територија според претседателот Доналд Трамп, пренесува "Газета експрес".
Езерото, познато кај Косоварите како Ујман, а кај Србите како Газивода, е предмет на спор меѓу двете земји: околу 80 отсто од неовите води се на Косово, а 20 отсто во Србија. Во четвртокот кај езерото се појави транспарент на кој пишуваше Езеро Трамп.
"Газета експрес" дознава дека и косовскиот премиер Авдулах Хоти и српскиот претседател Александар Вучиќ изразиле подготвеност да го прифатат името.
"Како да се нарече езерото што е на Косово и на Србија е е сериозна точка на застој и покрај договорениот компромис од САД за почнување физибилити студија за создавање работни места и поголема енергија за регионот … така што двете страни се согласија за ново име – Езеро Трамп", напиша поранешниот в.д. директор на Националното разузнавање (ДНИ) Ричард Гренел на Твитер.
What to call the lake that is in Kosovo and Serbia has been a serious sticking point despite the U.S. forged compromise to launch a feasibility study to create jobs and more energy for the region….so both sides have agreed to a new name: Lake Trump. https://t.co/AgeDNZ4aBd

— Richard Grenell (@RichardGrenell) September 24, 2020
Косовскиот премиер Хоти во четвртокот потврди дека иницијативата е вистинска, дека Гренел навистина ја покренал и дека не е невообичаено Косово да прави вакви потези.
"Како знак на почит и чест за нивната одлучувачка улога за слободата, независноста и признавањето на државноста на Косово низ целиот свет, ние ги именувавме нашите најдобри булевари според најистакнатите личности на САД, како на пр. претседателот Клинтон, Џорџ Буш, сенаторот Боб Дол, секретарката Медлин Олбрајт и други. Наша традиција и култура е да го почитуваме пријателот! Ова е благородна традиција на нашите предци што секогаш ќе ја почитуваме ", напиша Хоти на Фејсбук.
Српскиот провладин весник "Информер" исто така објави фотографии и видео од езерото со натписи "Езеро Трамп" и голем транспарент над мостот на кој пишува "Претседателе Трамп, косовските Срби ви благодарат што воспоставивте мир".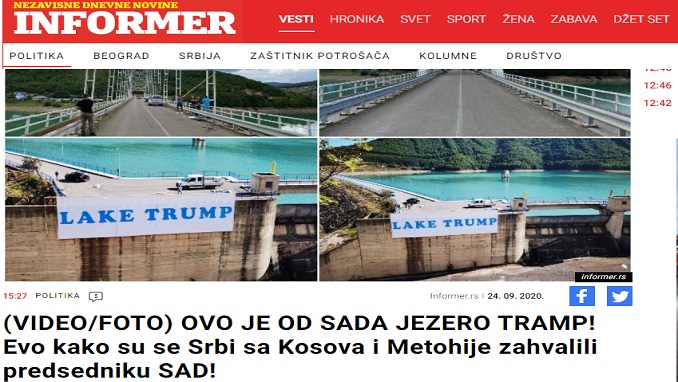 Расправиите околу вештачкото езеро, изградено пред неколку децении од компанијата "Ибер Лепенци" кога Косово беше дел од Југославија, почнаа по крајот на војната во Косово во 1999 година. Иако дел од езерото се наоѓа на српска територија, Косово тврди дека поседува сопственост на целата територија, што доведува до спорови околу тоа кој може да ги искористи неговите ресурси.
Сепак, се чини дека преговорите постигнаа голем успех откако косовските власти постигнаа договор со американскиот Стејт департмент да се спроведе физибилити студија правично и ефикасно распределување на ресурсите на езерото.
Не е првпат странска сила да именува знаменитости според актуелниот американски претседател. Во Албанија постои булевар "Доналд Трамп", а владата на Израел преименуваше повеќе места по него, главно како признание за неговата поддршка за израелскиот суверенитет и неговата одлука да ја премести амбасадата на САД од Тел Авив во Ерусалим.
Меѓу израелските локации преименувани по Трамп спаѓаат и плоштадите "Доналд Трамп" во Ерусалим и Петах Тиква, како и именување на една населба на територијата на Голанската Висорамнина како Трамп хајтс. Властите во моментов планираат и една предложена железничка станица во Ерусалим да ја именуваат "Станица Трамп".