Седми "Викенд на гордоста" во Скопје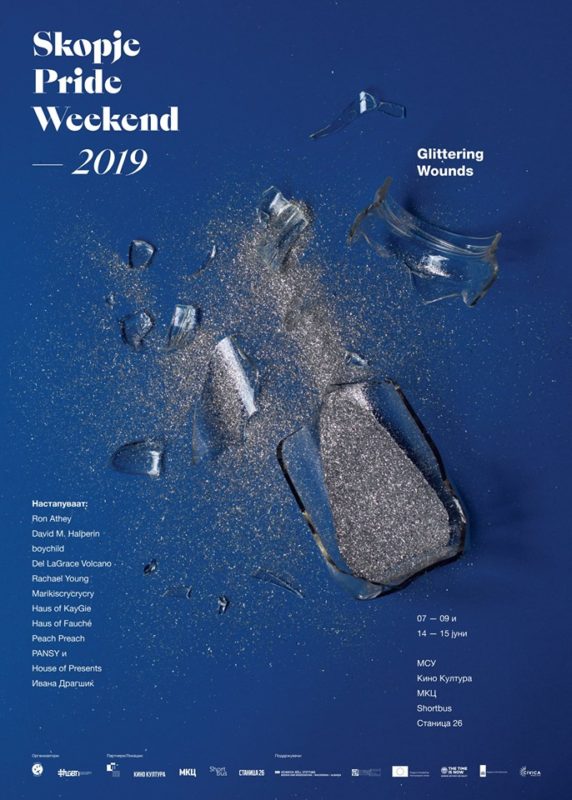 Викендов, во Скопје почнува седмиот по ред "Викенд на гордоста", фестивал за квир-култура и уметност. Почетокот е закажан во 21 часот во Музејот на современата уметност. Годинешниот фестивал се отвора со перформансот на Рон Ејти – "Акефално чудовиште", култен уметник кој во последните 40 години направи тектонски поместувања со своите перформанси во рамките на изведувачките уметности и body arts. Викендот на гордоста оваа година се одржува во периодот 7-9 јуни и 14-15 јуни.
Носечката идеја зад Викендот на гордоста 2019 е GLITTERING WOUNDS ("Светкави рани"). Со оваа идеја сакаме да ги истражиме и да ги проблематизираме современите хегемониски политички имагинации и практики на изолираниот, посесивен, децизионистички, приватизиран, рационален и самодостатен субјект и нивната испреплетеност и конститутивна зависност од нормативните рамки и репрезентации на родот, сексуалноста, расата, класата и неолибералната капиталистичка идеологија. Од друга страна, целта ни е да презентираме и да ги промовираме разни нехегемониски светоградечки проекти и историските, социјални и политички проживеани искуства на настраните и жените како извори на алтернативни социјални и демократски хоризонти засновани на релационоста, солидарноста, грижата, афективноста и трансформативноста отаде идентитетската препознатливост.
Најдобро познат по екстремното телесно осакатување, Рон Ејти, се занимава со трансцендентното и возвишеното повеќе од три децении. По "Смртта на Бог" (познатиот проглас на филозофот Ниче во исчекување на крајот на религијата во западното општество), Ејти верува дека една од улогите на уметникот е да смислува нови форми на ритуал и славење, да го повика светото како противотров за празниот индивидуализам на современиот живот. Во своето ново дело, "Акефално чудовиште", Ејти се повикува на Акефал, обезглавениот маж, кој послужи како инспирација за истоименото тајно општество на Жорж Батај во борбата против нихилизмот и фашизмот пред Втората светска војна во Франција. Безглавиот или обезглавениот маж претставува моќен симбол за радикална трансформација, водечка сила во сите перформанси на Ејти во кои се залага кон спој на човекот и боговите.
"Акефално чудовиште" е соло перформанс сочинет од проекции, читања, предавања, апроприран текст и звук.
Делата на Рон Ејти се изложени во светот во деведесеттите години, при што одредени теми, на пример, онаа за христијанските маченици, отворија филозофски дебати за природата на идентитетот преиспитувајќи ги границите на уметничката практика. Во 2013 година беше објавена монографија за неговите дела: Pleading in the Blood, уредена од Доминик Џонсон.
Во рамките на фестивалот скопската публика ќе има можност да ги виде некои од најзначајните совремни уметници и да проследи перформанси на BOYCHILD, Рејчел Јанг и Марикискрајкрајкра, промоција на постхумно издадениот превод на Огнен Чемерски на книгата "Како да се биде геј", на еден од основоположниците на квир-теоријата – Дејвид Халперин, изложба на Дел Лагрејс Волкано, спектакуларно дрег-шоу на 12 кралици од Берлин, Белград и од Скопје, како и традиционалното СРАМОТА на Пич Прич.
©Makfax.com.mk Доколку преземете содржина од оваа страница, во целост сте се согласиле со нејзините Услови за користење.

МКЦ ја почнува сезоната со "Роденден на уметноста"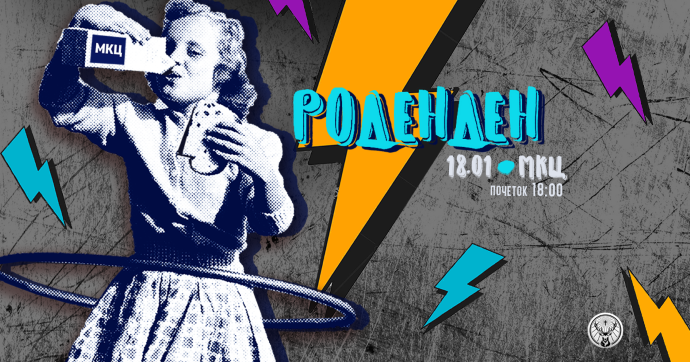 Почетокот на секоја сезона во Младинскиот културен центар се одбележува со манифестацијата "Роденден на уметноста", оваа година закажана за 18 јануари (сабота).
Настап на неформалната театарска група Импров театар, концерти, диџеј-сетови, детска работилница, предавања во Планетариум за деца и возрасни, промоција на книга.
Во склоп на целиот настан ќе се случи и официјалното отворање на реновираниот простор во МКЦ (горно Фоаје) со изложбата "Мали хумани иновации" на студентите од насоката Индустриски дизајн на Машинскиот факултет во Скопје.
Програмата ќе почне во 18 часот, со детската работилница "Играј со светлината" чии ментори се: Нина Максимовa, Дени Стојанов и Доротеј Нешовски. Целта на работилницата е на децата да им се доближи театарот на сенки, игра со светлина и бои и имагинацијата за создавање ликови. Истовремено започнуваат и серија предавања во Планетариумот, реализирани во колаборација со Скопско астрономско друштво, од кои: едно предавање за деца и две предавања за возрасни.
Потоа во кино "Фросина" ќе се одржи промоција на книгата "Македонска сага" од Сунчица Уневска, по која следува настап на Импров група. Од 20, односно 20:30 публиката ја очекува отворање на двете изложби закажани за вечерта, "Портрет и личност" на Марина Убавкова, во галеријата на МКЦ, како и "Мали хумани иновации" во новиот реновиран простор во горното Фоаје.
Музичката програма ќе почне во 20 часот со Бојан Чакра, кој ќе настапи пуштајќи мизика на плочи во просторот Ап(о)тека. Од 22 часот се отвора сала 25 Мај каде ќе настапат Dogs in Kavala, Porto Morto и The Local Blue кои ќе го промовираат новиот албум "2nd landing". Диџеј-сетовите на Ивана Драгшиќ, Теа Шалдева и Виолета Качакова ќе го заокружат овогодишниот Роденден со журка во бифе која ќе почне по полноќ и ќе трае до раните утрински часови.
Влезот е слободен.