Нордиски викенд за скопските горештини
Во организација на Културниот центар ЦК викендот од 28 до 30 август Скопје ќе има можност да погледне изложби, театар, концерти, презентации на автори од нордиските земји на неколку локации низ градот. Овој студен викенд среде август е насловен "Cool as can be"
Нордискиот викенд ќе започне во ЦК на 28 август (петок), 20 часот, со работилница и презентација на шведскиот авангарден дизајнер Anders Jaкobsen Lagombra – "Out of CK". Истата вечер ќе биде отворена и изложбата на фотографии "This use to be my playground" на Haidi Hove Pedersen од Данска. Pedersen e една од коосновачите на Koh-i-noor, независен уметнички простор во Копенхаген. Таа е интердисциплинарен уметник, чија работа го истражува животот на обичниот човек, како и јавните и приватните простори низ кои секојдневно минуваме.Во сабота, 29 август, во Детскиот театарски центар во Старата скопска чаршија, со почеток во 20 часот, ќе биде изведена театарската претстава "Pre Sang Real: Sons of Liberty 4" на актерското дуо Stina Kajaso и Lisa Charlotte Baudouin Lie (Шведска/Норвешка). Во културниот центар Точка, пак, во 21:30 часот, ќе се одржи работилница и презентација на модниот дизајнер Daniel Palillo од Финска, насловена "Trash you very much", колекција Есен/Зима 09.Неделната вечер на 30 август е резервирана за концертот на групите "Sometime" и "FM Belfast" од Исланд во Младинскиот културен центар, со почеток во 21:30 часот.
©Makfax.com.mk Доколку преземете содржина од оваа страница, во целост сте се согласиле со нејзините Услови за користење.

АКТО – фестивалот за современи уметности – продолжува во Домот на културата во Ченто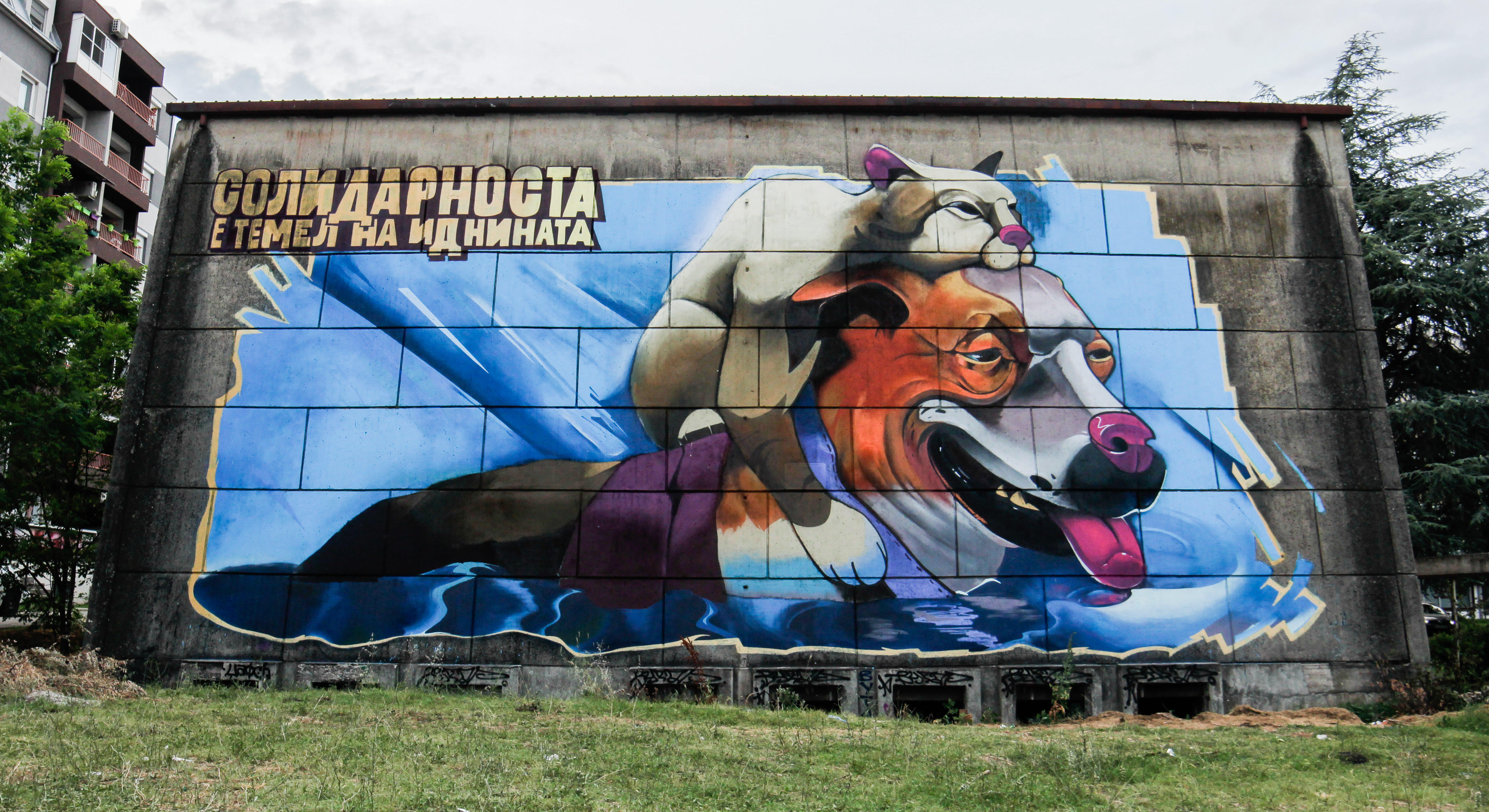 Со изработка на мурал на фасадата на Домот на културата во населбата Ченто во Скопје продолжува програмата на јубилејното 15-то издание на АКТО – фестивалот за современи уметности, во продукција на организацијата Факултет за работи што не се учат (ФР~У).
Автор на муралот е младиот уметник Владимир Милиќ и е во продукција на ФР~У во партнерство со организацијата "Културно ехо", Општина Гази Баба и Град Скопје.
По минатонеделното отворање на 15-тиот АКТО со муралот во Битола на колективот КУРС од Белград, АКТО продолжува со интервенции во други градови во државата во соработка со локалните заедници и разни партнери.
Идејата за мурал во Ченто е во правец на соработка и активирање на оваа локална заедница во продукција на културни настани за заедницата, но и во насока на зачувување и ставање во функција на Домот на култура во населбата. Муралот, пак, е развиен како неколкумесечен процес на работа на уметникот Владимир Милиќ од Ченто со пошироката локална заедница и се однесува на потенцирање на важноста на солидарноста, особено во овој дел од населбата.
Иницијативата за овој мурал се однесува на две линии на значења: едното е обновување и повторно ставање во функција на бетонскиот културен дом во Ченто и со тоа реобмислување на модернистичкото незаштитено културно наследство на Скопје, а вториот е потенцирањето на важноста на солидарноста на заедницата за време на поплавите на подрачјето на општина Гази Баба, кои се случија пред четири години.
Од Општината велат: "Да не се заборави поплавата што ја зафати нашата општина, елементарна непогода која не бираше нација, вера и политичка определба, а токму во тие моменти се покажа колку можеме да бидеме солидарни и да си помогнеме едни со други. Општина Гази Баба е мултиетничка средина, место каде што сите ние дејствуваме секојдневно и затоа мораме да ги почитуваме различностите и да си помагаме еден со друг".
Овој мурал е дел од серијата мурали што деновиве се изработуваат во уште 5 други града во земјата, и тоа во Штип, Прилеп, Велес, Кочани и Гевгелија, а веќе се заврши муралот во Битола, кој, за жал, беше нагрден со пораки на говор на омраза само неколку часа подоцна. Автори на муралите се: Јана Јакимовска, Миле Ничевски, Ненад Тонкин, Ристо Аврамовски, Филип Јовановски, Владимир Милиќ и Давор Кешкец и се реализираат во соработка со "Гласен текстилец" – Штип; БОШ-фестивал – Гевгелија; "Културно ехо" – Скопје; Центарот за современи ликовни уметности ЦСЛУ – Прилеп и "Јавен простор" – Прилеп; Народниот театар од Битола; Домот на културата од Ченто; Општина Гази Баба; Општина Велес, Општина Кочани и Домот на културата "Бели мугри" – Кочани.
Овој зафат, кој се протега на површина од 600 квадратни метри, и тоа паралелно во седум града, е концепт, кураторство и во организација на Филип Јовановски, извршен продуцент е Ненад Тонкин, а во продукцијата се вклучени и Марија Стојанова, Кристијан Караџовски, Денис Ампев, Александар Јовановски и Ивана Васева.
Покрај во Битола и Ченто, во периодот што следува муралите се сликаат во следните градови:
Гевгелија
ФИЗИЧКА ДИСТАНЦА, СОЦИЈАЛНА БЛИСКОСТ/КОМШИЈАТА И ВО АРНО И ВО ЛОШО/
Автор: Миле Ничевски во соработка со М.Ц. и во партнерство со БОШ-фестивал.
Прилеп:
НАПРЕД, САМО БЕЗ ЗАБОРАВАЊЕ!
Автор: Ристо Аврамовски во соработка со Филип Јовановски и Ненад Тонкин
Во партнерство со ЦСЛУ и "Јавен простор" – Прилеп
Штип
ЕДНАКВИ ЗАЕДНО ПОСИЛНИ
Авторка: Јана Јакимовска
Во партнерство со "Гласен текстилец" – Штип
Велес
СОЛИДАРНОСТ, МОБИЛНОСТ, ИДНИНА
Автор: Давор Кешкец
Во партнерство со Општина Велес
Кочани
СОЛИДАРНОСТА ГО ЈАКНЕ ИМУНИТЕТОТ
Автор: Ненад Тонкин
Во партнерство со Општина Кочани и Домот на културата "Бели мугри" – Кочани.
Иницијативата за исцртување мурали на јавни простори има цел на креативен начин да зборува за одредени теми што иницираат и мобилизираат не само поединци туку цели групи и заедници кон активирање и работење на заедништвото и заедничкото во градење на едно праведно општество. А токму заедништвото и заедничкото, како и културата на солидарноста, се покажаа како најургентни прашања кон кои треба сите да се фоскурираме во време на пандемијата на коронавирусот. Покрај тоа, оваа програма критички ги адресира, преиспитува и истражува прашањата поврзани со модерното визуелно и архитектонско наследство, нејзината естетика како и нивните последици во денешниот свет. Таа се манифестира преку креативни формати на акција – мурали, произведени преку активен дијалог и соработка помеѓу културните работници и организации во секоја локална заедница одделно.
Покрај муралите, годинешната програма на јубилејното 15-то издание на АКТО ќе вклучува и други содржини, кои ќе се објават дополнително.