(Видео) ОМД повикува на извинување од Амбасадата на САД поради грешната македонска химна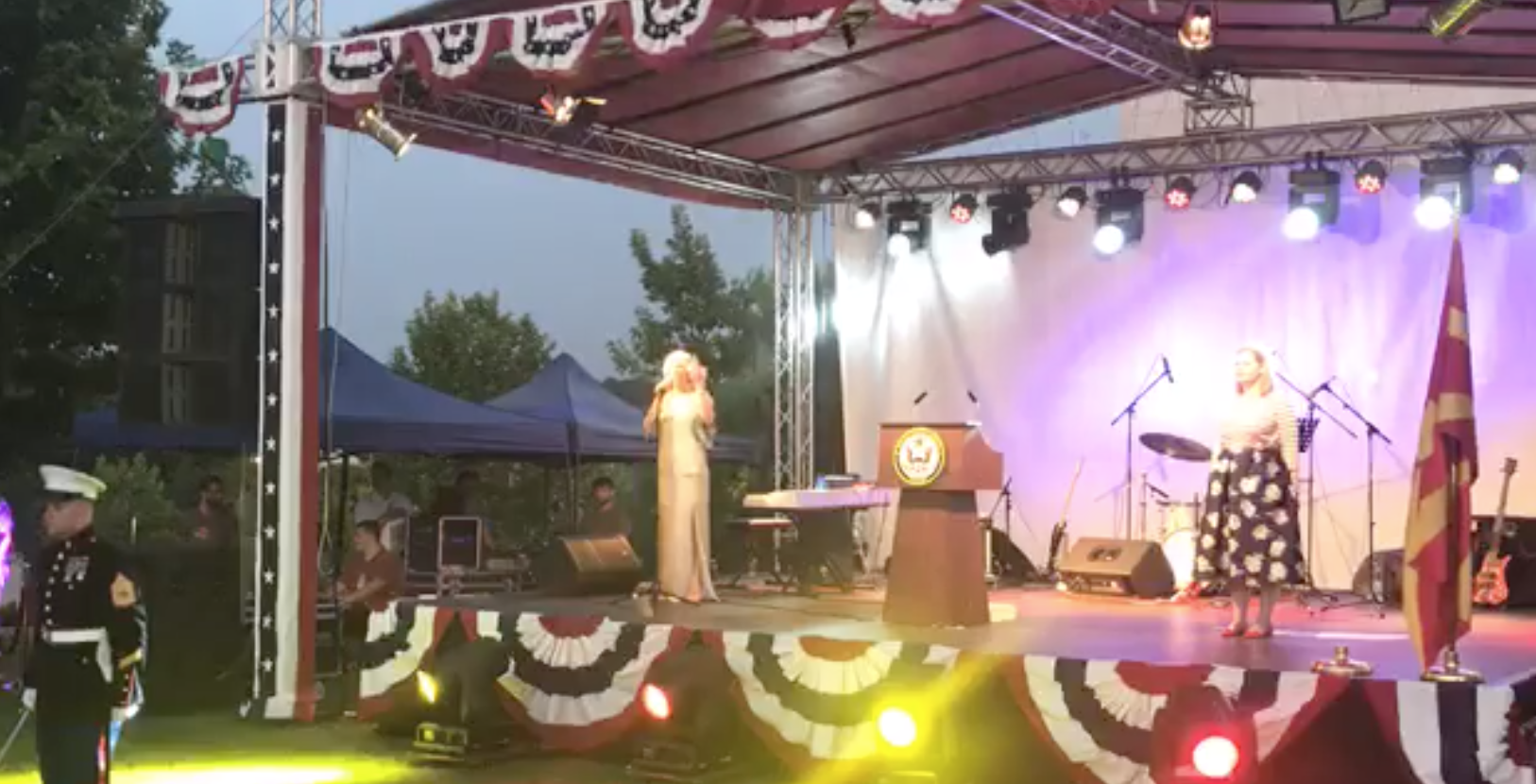 Обединетата македонска дијаспора повика на итно изјаснување и извинување од страна на Амбасадата на САД во Скопје, Македонија, за неприфатливата грешна македонската национална химна испеана од Тамара Тодевска за време на годишниот прием по повод Денот на независноста на САД, 4 јули.
"Во верзијата на Тодевска беше отстранет цел значаен дел од химната, кој се однесуваа на борците за независност на Македонија, Гоце Делчев, Питу Гули, Даме Груев и Јане Сандански. Тодевска јавно треба да се извини за оваа грешка", се вели во соопштението.
Live from the official ceremony of the U.S. Independence Day celebration at the U.S. Embassy in North Macedonia. Thank you to contacts and friends for joining us this evening.

Posted by U.S. Embassy North Macedonia on Среда, 03 јули 2019
ОМД цврсто верува дека ова не е грешка, туку намерно, поради некои повици за промена на химната на Македонија (итн. Тиранска платформа), бидејќи Бугарија инсистира на тоа овие историски личности да бидат етикетирани како бугарски во учебниците за историја на Македонија. Бугарија се закани дека ќе го блокира патот на Македонија кон ЕУ ако овие барања не бидат исполнети.
"Без формално извинување од страна на американската амбасада, ќе се гледа дека САД заземаат страна во оваа бесмислена историска дебата, која ја предизвика Бугарија.  САД треба да покажат  почит за време на државните празници, особено во земјите кои се наши сојузници во НАТО.
Во прилог на писмото до Микаела Швајцер-Блум од Амбасадата на САД, ОМД ги информираше Стејт департментот на САД, Комитетот за надворешни работи на Сенатот, Комитетот за надворешни работи на Претставничкиот дом и Конгресната група за Македонија и македонско-американската заедница", се додава во соопштението.
©Makfax.com.mk Доколку преземете содржина од оваа страница, во целост сте се согласиле со нејзините Услови за користење.

Хелсиншки бара казна за училиштето во Гостивар каде деца со војнички поздрав ја поддржаа офанзивата во Сирија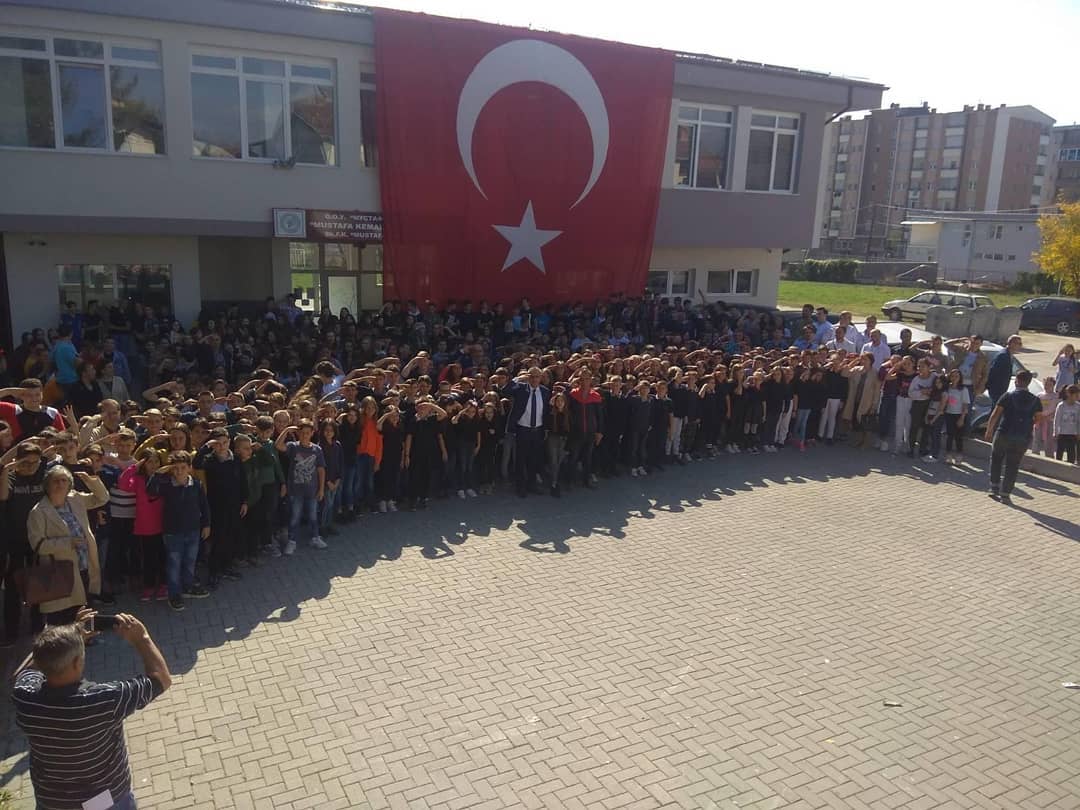 Хелсиншкиот комитет остро го осудува злоупотребувањето на учениците од гостиварското основно училиште Мустафа Кемал Ататурк за политички цели. На 17.10.2019 година, на Фејсбук страната од училиштето се појави фотографија на која стотици ученици, во придружба на настаниците и останатиот персонал од училиштето, стојат под турско знамe и упатуваат војнички поздрав за поддршка на турското воено движење, што несомнено алудира на турската воена офанзива во Сирија.
"Организирањето на ваквиот настан и иницирањето на ваквото постапување на учениците од страна на наставниот кадар и директорот на училиштето претставуваат директна повреда на чл. 11 од Законот за основното образование, кој експлицитно забранува секаков вид на политичко организирање и дејствување во основното образование. Воедно, чл. 172 од истиот Закон предвидува изрекување на глоба во износ од 1.600 евра во денарска противвредност ако се организира политичко и верско организирање и дејствување и се истакнуваат партиски и верски обележја во основното образование, односно ако се изврши повреда на чл. 11.
И со Законот за заштита на деца експлицитно се забранува злоупотреба на децата поради политичко или верско организирање и дејствување, а во член 12 став 6 од овој закон е утврдено дека: ,, Државата и институциите на системот се должни да ги преземат сите потребни мерки за да ги обезбедат правата на детето и за спречување на сите облици на дискриминација и злоупотреба без оглед на местото каде што се извршени овие дејствија, тежината, интензитетот и нивното времетраење'', се вели во соопштението.
Хелсиншкиот комитет за овој случај ќе ги извести Државниот просветен инспекторат и Народниот правобранител и ќе ги преземе сите потребни постапки за утврдување на посочените повреди на законите.