(Видео) ОМД повикува на извинување од Амбасадата на САД поради грешната македонска химна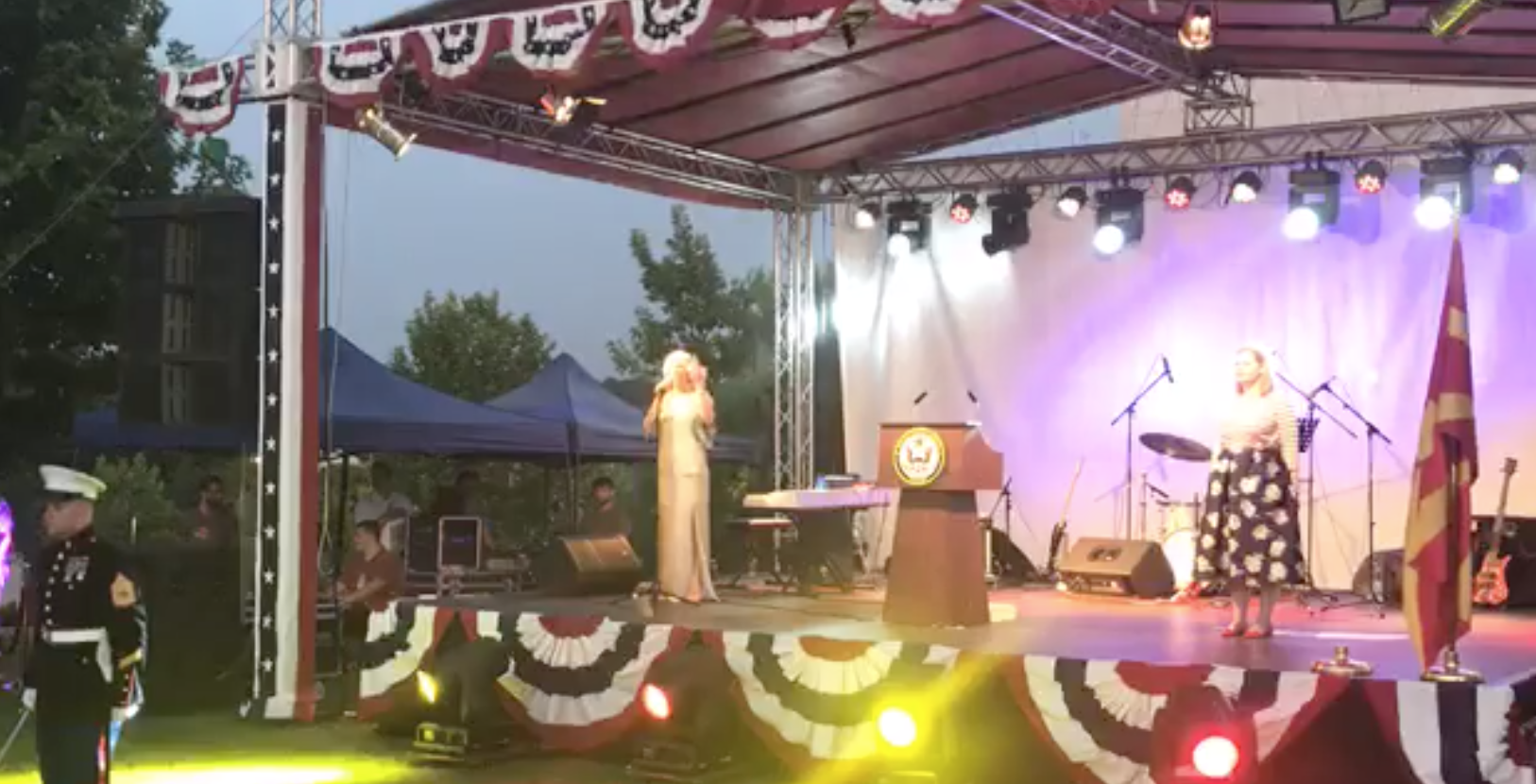 Обединетата македонска дијаспора повика на итно изјаснување и извинување од страна на Амбасадата на САД во Скопје, Македонија, за неприфатливата грешна македонската национална химна испеана од Тамара Тодевска за време на годишниот прием по повод Денот на независноста на САД, 4 јули.
"Во верзијата на Тодевска беше отстранет цел значаен дел од химната, кој се однесуваа на борците за независност на Македонија, Гоце Делчев, Питу Гули, Даме Груев и Јане Сандански. Тодевска јавно треба да се извини за оваа грешка", се вели во соопштението.
Live from the official ceremony of the U.S. Independence Day celebration at the U.S. Embassy in North Macedonia. Thank you to contacts and friends for joining us this evening.

Posted by U.S. Embassy North Macedonia on Среда, 03 јули 2019
ОМД цврсто верува дека ова не е грешка, туку намерно, поради некои повици за промена на химната на Македонија (итн. Тиранска платформа), бидејќи Бугарија инсистира на тоа овие историски личности да бидат етикетирани како бугарски во учебниците за историја на Македонија. Бугарија се закани дека ќе го блокира патот на Македонија кон ЕУ ако овие барања не бидат исполнети.
"Без формално извинување од страна на американската амбасада, ќе се гледа дека САД заземаат страна во оваа бесмислена историска дебата, која ја предизвика Бугарија.  САД треба да покажат  почит за време на државните празници, особено во земјите кои се наши сојузници во НАТО.
Во прилог на писмото до Микаела Швајцер-Блум од Амбасадата на САД, ОМД ги информираше Стејт департментот на САД, Комитетот за надворешни работи на Сенатот, Комитетот за надворешни работи на Претставничкиот дом и Конгресната група за Македонија и македонско-американската заедница", се додава во соопштението.
©Makfax.com.mk Доколку преземете содржина од оваа страница, во целост сте се согласиле со нејзините Услови за користење.

Петровска: Пронајдени се снимките од кафеаната каде беше Мицкоски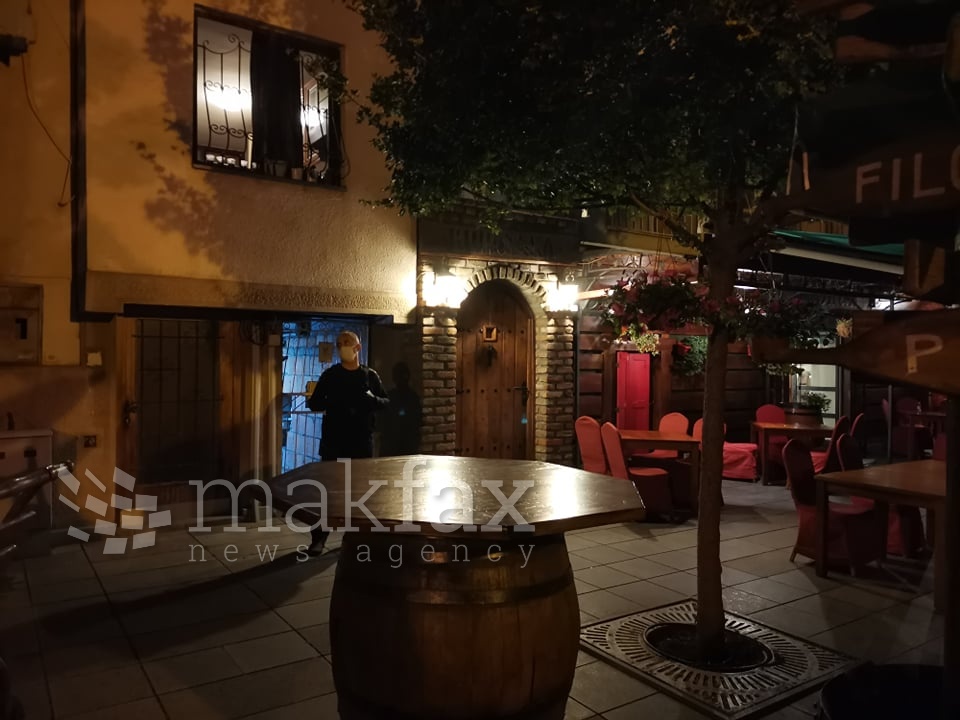 Одземен е уредот за снимање од кафаната каде седел лидерот на ВМРО-ДПМНЕ, Христијан Мицкоски, кога инспектори беа спречени да извршат увид во внатрешниот дел на објектот кој според протоколите на работа не смее да работи.
Уредот е даден на вештачење, а против сите лица, кои ќе се утврди дека го прекршиле протоколот ќе бидат поднесени кривични пријави. Пред да биде одземен уредот за снимање каде се снимките од надзорните камери, сопственикот тврдел дека истиот е украден, но не знаел да одговори кога.
Освен Мицкоски, со него бил и поранешен функционер во Владата, односно МВР, кој сега е припадник на министерството.
"Со оглед дека постоеја сомневања дека има прекршувања на мерките за заштита, а со тоа и сторување на кривично дело, непочитување на донесените мерки за заштита од пандемија, известен е јавен обвинител од кого е добиена наредба за одземање на уредот за снимање од безбедносните камери во објектот. Во непосредна близина на објектот, како и во самиот објект, забележани се полициски службеници, кои по опис на своите работни места, не требало да бидат присутни таму. Ова предизвикало сомнеж за нивната намера и со оглед дека станува збор за фреквентно место, повикани се службеници на ЕБР, како превентивно обезбедување на просторот. Ангажирањето е направено според прописите на министерството. По дадената наредба за одземање на уредот за снимање, сопственикот кажал дека тој бил украден, но дека не се сеќава кога. За ова е известен јавен обвинител и во координација со судија за претходна постапка, добиена е наредба за претрес на објектот. По направениот претрес, најден е уредот за снимање на безбедносните камери и истиот е одземен. Согласно наредбата, тој сега се вештачи за да се потврди присуството на лицата во објектот", рече дополнителната заменичка министерка за внатрешни работи Славјанка Петровска.
Според Петровска, инспекторите го забележале излегувањето на Мицкоски од внатрешноста на кафеаната, откако претходно, беа спречени да влезат во неа. Дури потоа, им било отворено по што виделе дека кујната била користена, односно, била извршувана угостителска дејност.
"Целта на надзорот бил проверка дали угостителите ги спроведуваат мерките за заштита до Ковид-19. По нивна проценка, не е побарана полициска асистенција.При обид да се изврши надзор во угостителскиот објект 'Чардак', од страна на вработени во објектот, инспекторите биле попречени и не им било дозволено да извршат надзор во внатрешниот дел на објектот со образложение дека немаат клуч од тој дел од објектот. Кога инспекторите се оддалечиле од објектот и преминале кон другите објекти, забележале дека од внатрешноста излегуваат неколку лица. Потоа, тие се вратиле во објектот и инсистирале да се изврши надзорот согласно законите. МВР по јавување на еден од очевидците, упатува полициски службеници на местото на настанот. По пристигнувањето на лицето кое се претставило како еден од сопствениците на објектот, истото го отворило горниот кат, односно винаријата 'Чардак', по што инспекторите извршиле увид во просторот, не биле затекнати гости, но во истиот имало користени садови и чаши, остатоци од храна, што упатувало на тоа дека внатрешниот дел сепак бил користен од некого", додаде Петровска.