EУ донесе одлука за почеток на преговорите со Македонија и Албанија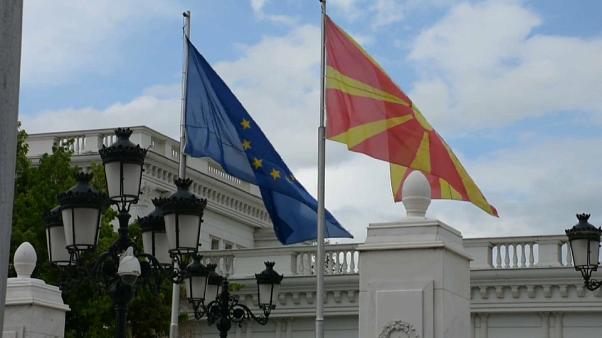 Еврoпската Унија донесе одлука за почеток на преговорите со Македонија и Албанија.
Веста на "Твитер" ја соопшти еврокомесарот за проширување Оливер Вархеји.
"Задоволен сум што земјите членки на ЕУ постигнаа политички договор за отворање преговори со Албанија и Северна Македонија. Им честитам на двете земји. Со ова е испратена силна порака за Западен Балкан: вашата иднина е во ЕУ", напиша Вархеји.
Very pleased that #EU member states today reached political agreement on opening of accession talks with #Albania and #North #Macedonia. I wholeheartedly congratulate both countries. This also sends a loud and clear message to #WesternBalkans: your future is in EU.

— Oliver Varhelyi (@OliverVarhelyi) March 24, 2020
И претседателот на СДСМ, Зоран Заев, ја сподели веста на социјалните мрежи.
"Донесена е одлука! Северна Македонија почнува преговори за членство во Европската Унија. 🇲🇰🇪🇺 Историска одлука во овие тешки времиња за нашиот народ. Нема веќе никакви пречки ниту услови. Европската комисија треба да ги спроведе подготовките, а првата меѓувладина конференција ќе се одржи најбрзо што може. Честитки граѓани, како што успеавме да се кренеме на патот до НАТО и ЕУ, така заедно ќе се справиме и со заразата која го напаѓа светот", напиша Заев.
©Makfax.com.mk Доколку преземете содржина од оваа страница, во целост сте се согласиле со нејзините Услови за користење.

Шахпаска: Се работи на зголемување на капацитетите во градинките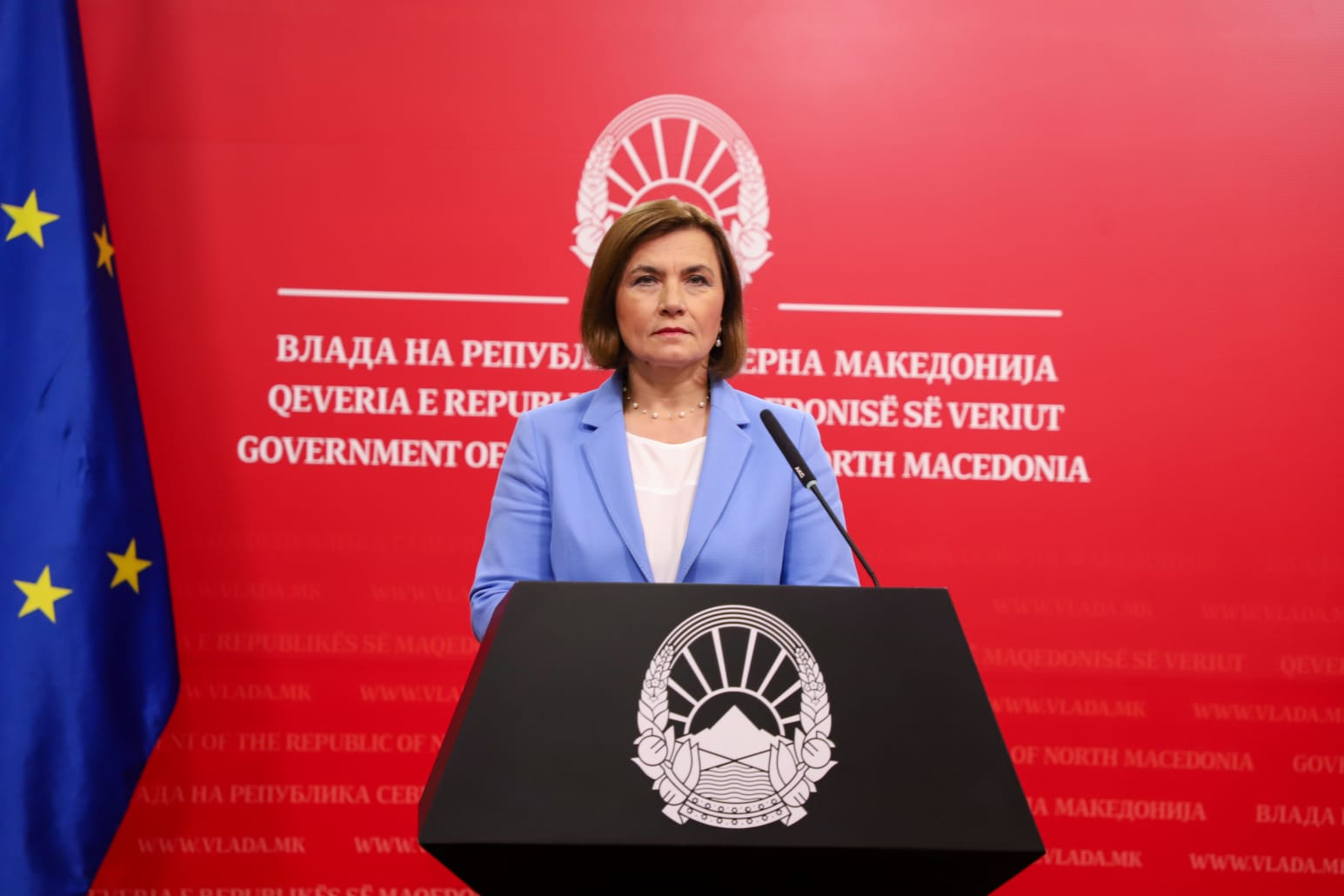 Интензивно се работи на зголемување на капацитетите во градинките, преку изградба на нови градинки по најсовремени стандарди, но и проширување на постоечките објекти, истакна министерката за труд и социјална политика, Јагода Шахпаска на прес-конференцијата по повод мандатно писмо врачено од претседателот на Владата, Зоран Заев.
Шахпаска рече дека во своето работење е целосно посветена на зачувување на секое работно место, поддршка на стопанството, на ранливите категории граѓани кои се најпогодени од кризата, но и на безбеден престој и згрижување на децата од претшколска возраст.
"Градинките ги отворивме и обезбедивме процес на безбеден престој на децата, со сведување на ризикот за инфекција од коронавирусот на минимум, согласно Протоколот усвоен од Комисијата за заразни болести. Здравјето на најмладите за нас е врвен приоритет и од тоа не отстапуваме. Но, морам да нагласам дека сите ние имаме одговорност и затоа апелирам до сите да ги почитуваат мерките за заштита од вирусот КОВИД-19, зошто само на тој начин ќе можеме да се заштитиме и да создадеме услови за сигурно работење на градинките", порача Шахпаска.
Таа додаде дека грижата за сите и социјалната правда е она што ќе ја води во текот на целиот мандат, а тоа значи изградба на општество кое ќе им овозможи еднакви можности на сите, општество кое ќе гради соживот и доверба, кое нема да дискриминира по ниту една основа, а граѓаните ќе бидат најзначајниот капитал.
Шахпаска посочи дека мандатното писмо во кое се наведени принципите врз основа на кои ќе функционира Владата, за неа значат преземање обврска за чесно, одговорно, транспарентно и отчетно работење исклучиво во служба на граѓаните.
"Се грижиме и за најранливите категории на граѓани, корисниците на социјалните права, чиј број со пандемијата е зголемен. И во услови на пандемија социјалната реформа продолжува. Искоренување на сиромаштијата, особено детската останува наша заложба", додаде таа.
Министерката за труд и социјална политика го најави започнувањето на процесот на децентрализација на социјалните услуги на локално ниво и продолжување на процесот на деинституционализација, се додека и последното лице не биде згрижено во мали групни домови кои нудат услови најблиски до оние на семејствата.
"Економски силни држави создаваат мотивирани и задоволни работници, чиј труд се вреднува, се почитуваат нивните права и се работат на безбедни работни мести. Ова е можно само преку отворен и континуиран социјален дијалог во општеството, во кој ќе бидат вклучени работниците, работодавачите и ние како Влада. Новиот Закон за работни односи ќе ги регулира сите прашања кои произлегуваат од работниот однос, јасно ќе ја дефинира сезонската работа, синдикалното организирање и работењето од далечина, како предизвик кој го наметна корона пандемијата", рече Шахпаска и нагласи дека Владата продолжува со политиките на зголемување на минималната и на просечната плата.
Таа додаде дека грижата за највозрасните граѓани, кои го граделе општеството, пензионерите ќе се потврди преку стабилен пензиски фонд кој гарантира редовна исплата на пензии на сегашните и идни пензионери и раст на пензиите во континуитет.
Притоа министерката Шахпаска се осврна и на политиките и мерките наменети за младите кои ќе придонесат за поголема вработливост преку отворање на нови работни места, но и преку поддршка и грантови за самовработување.
"Родовата еднаквост и борбата против дискриминација се високо на мојата агенда. Законот за спречување и заштита од дискриминација веќе е во собраниска процедура и убедена сум дека во брз рок ќе добиеме ефикасна и објективна Комисија за заштита на граѓаните", истакна Шахпаска.
Таа додаде дека Законот за спречување и заштита од дискриминација веќе е во собраниска процедура и наскоро ќе добиеме ефикасна и објективна Комисија за заштита на граѓаните од дискриминација.
"Борбата против родово базираното и останати облици на семејно насилство ја продолжуваме со целосна имплементација на Истанбулската конвенција. Овде сум да работам, вредно, одговорно, транспарентно, но пред се чесно за граѓаните и за нашата држава", истакна Шахпаска.