Кантер удри по Леброн: Кинеските пари пред моралот за кралот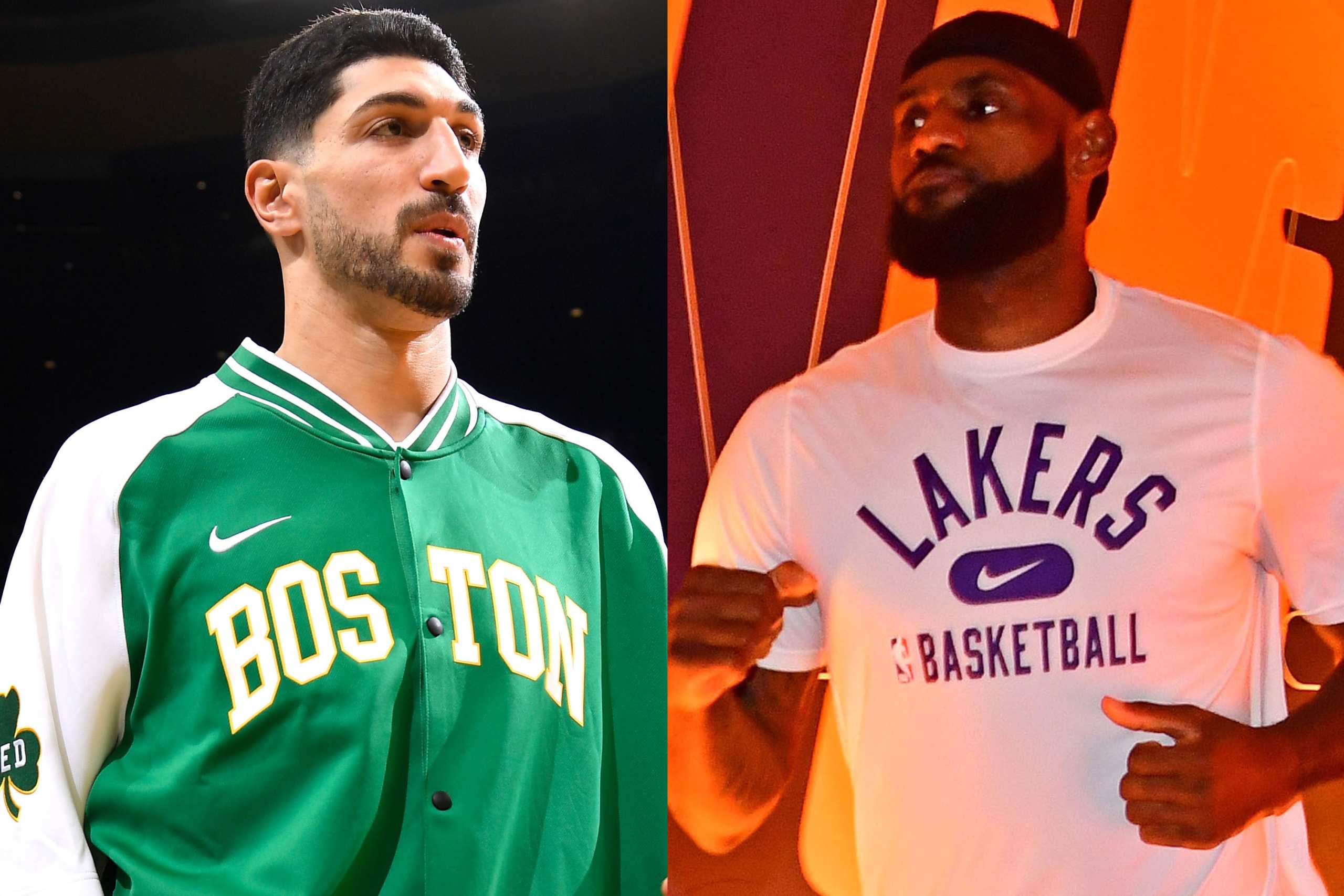 Турската НБА-ѕвезда, Енес Кантер, уште еднаш удри по "Најки" и по нивната суперѕвезда Леброн Џејмс велејќи дека кралот на НБА-кошарката ги ставил парите пред моралот откако остана тивок за сите обвинувања кон Кина.
Центарот на Бостон селтикс честопати ја критикува американската компанија за своите фабрики во Кина, каде што, според него, има робовладетелство, а сега го нападна и Џејмс, кој, иако е подготвен да зборува за неправдите кон Афроамериканците во САД и други социјални прашања, кога се работи за Кина, молчи бидејќи парите доаѓаат од таму.
"Парите пред моралот за кралот. Тажно е и одвратно како овие спортисти се преправаат дека се грижат за социјалнта правда. Кога големиот шеф (Кина) ќе каже, тие навистина молчат и дриблаат. Дали тој се едуцира за робовите што ги прават неговите патики или тоа не е дел од твоето истражување", пишува Кантер на "Твитер".
Money over Morals for the "King" 👑

Sad & disgusting how these athletes pretend they care about social justice

They really do "shut up & dribble" when Big Boss 🇨🇳 says so

Did you educate yourself about the slave labor that made your shoes or is that not part of your research? pic.twitter.com/YUA8rGYeoZ

— Enes Kanter (@EnesKanter) November 18, 2021
©Makfax.com.mk Доколку преземете содржина од оваа страница, во целост сте се согласиле со нејзините Услови за користење.

Седумка! Лео Меси со нова "Златна топка" во неверојатната кариера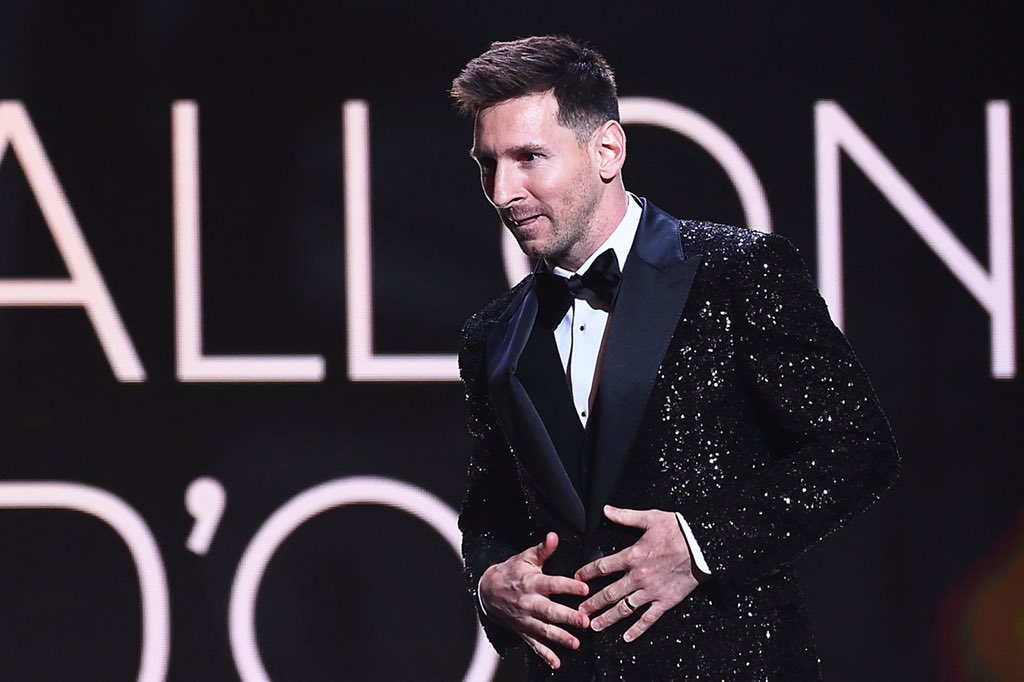 Без големи изненадувања, Лионел Меси вечерва во "Театарот Шателе" во Париз ја доби својата рекордна седма "Златна топка" за најдобар фудбалер на светот, одбележувајќи уште една фудбалска година во која честопати беше на насловните страници.
И покрај лошата сезона со Барселона, која на крајот резултираше со драматично заминување од неговиот клуб од детството и трансфер во Пари Сен-Жермен, Меси беше најдобар стрелец минатата сезона во шпанската Ла лига, а летото му беше крунисано со најголемото остварување со аргентинската репрезентацијата, победата на Копа Америка над лутиот ривал Бразил за прво репрезентативно злато во кариерата.
Во изборот на "Франс фудбал", Меси го победи својот најголем ривал за титулата, Роберт Левандовски, кој ја доби пак наградата за "напаѓач на годината", додека трет беше италијанскиот ас на Челси, Жоржињо.
"Денеска сум тука во Париз и навистина сум многу среќен. Сакам да продолжам да се борам и да стигнам до нови цели. Не знам уште колку години имам пред себе, но уживам во моментов. Благодарност до моите колеги во Барса, Париз и Аргентина", изјави Меси.
Мала контроверза на денот на прогласувањето на победникот предизвика реакцијата на Кристијано Роналдо преку социјалните мрежи во која го обвини претседателот на "Франс фудбал" за лажење, а по конечниот пласман, тој првпат беше на 6. позиција на конечниот пласман.
Покрај оваа титула, Меси победуваше во изборот на "Франс фудбал" и во 2009, 2010, 2011, 2012, 2015 и 2019 година. Со седум "Балон д'ор" тој станува убедлив рекордер пред вечниот ривал, Португалецот Кристијано Роналдо, кој пет пати беше прогласуван за најдобар (2008, 2013, 2014, 2016, 2017). По трипати оваа награда била во рацете на Французинот Мишел Платини (1983, 1984, 1985) и Холанѓаните Јохан Кројф (1971, 1973, 1974) и Марко ван Бастен (1988, 1989, 1992).
ЗЛАТНА ТОПКА, КОНЕЧЕН ПЛАСМАН, ТОП 10
1.Лионел Меси (Барселона/ПСЖ, Аргентина)
2.Роберт Левандовски (Баерн Минхен/Полска)
3.Жоржињо (Челси, Италија)
4.Карим Бензема (Реал Мадрид, Франција)
5.Н'Голо Канте (Челси, Франција)
6.Кристијано Роналдо (Јувентус/Манчестер јунајтед, Португалија)
7.Мохамед Салах (Ливерпул, Египет)
8.Кевин де Брујне (Манчестер сити, Белгија)
9.Килијан Мбапе (ПСЖ, Франција)
10.Џанлуиџи Донарума (Милан/ПСЖ, Италија)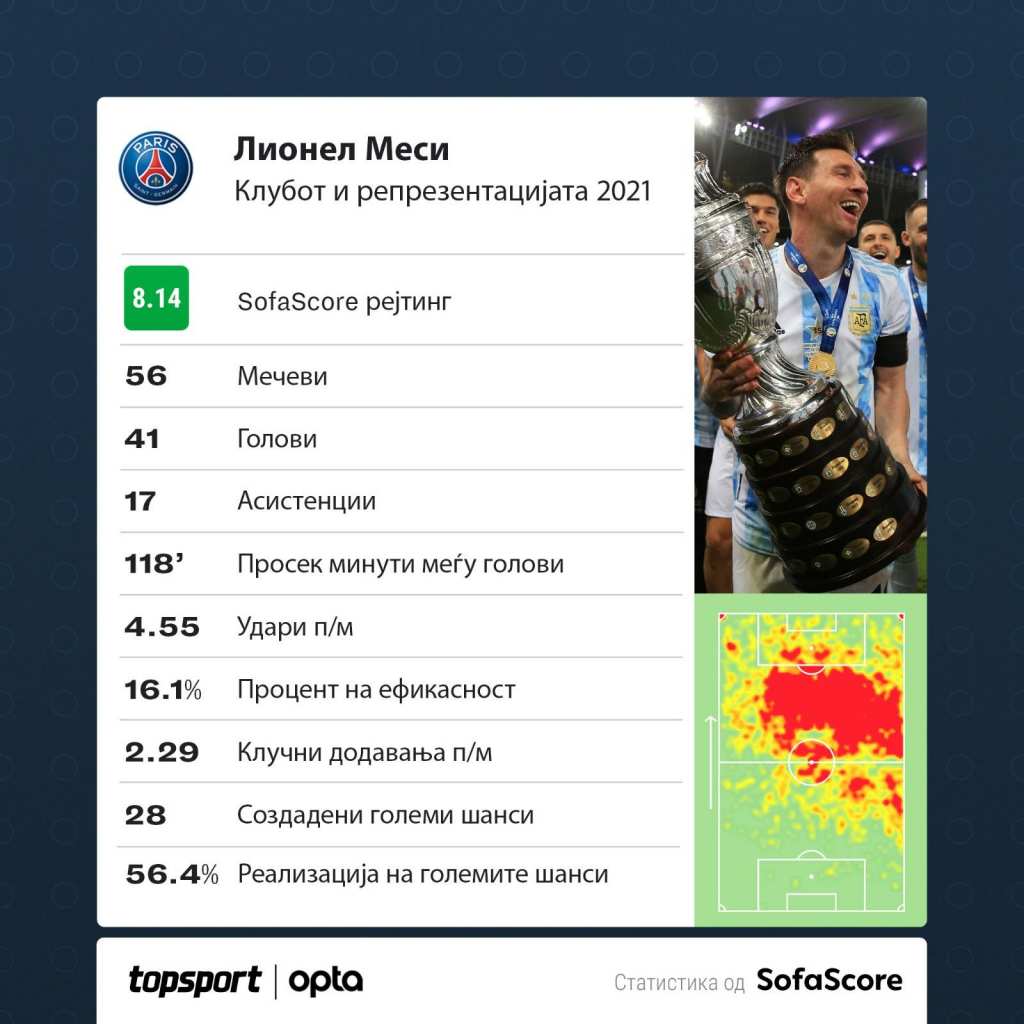 Графика: Sofascore за Топспорт.мк
When Luis Suarez gives the #ballondor to Messi! pic.twitter.com/uUHhMgtVfR

— Ballon d'Or #ballondor (@francefootball) November 29, 2021
When your dad wins an other Ballon d'Or 🙌#ballondor pic.twitter.com/UWKir71mX5

— Ballon d'Or #ballondor (@francefootball) November 29, 2021
HERE IS THE WINNER!

SEVEN BALLON D'OR FOR LIONEL MESSI! #ballondor pic.twitter.com/U2SywJmruC

— Ballon d'Or #ballondor (@francefootball) November 29, 2021