Вестбрук "фрлаше цигли" против Портланд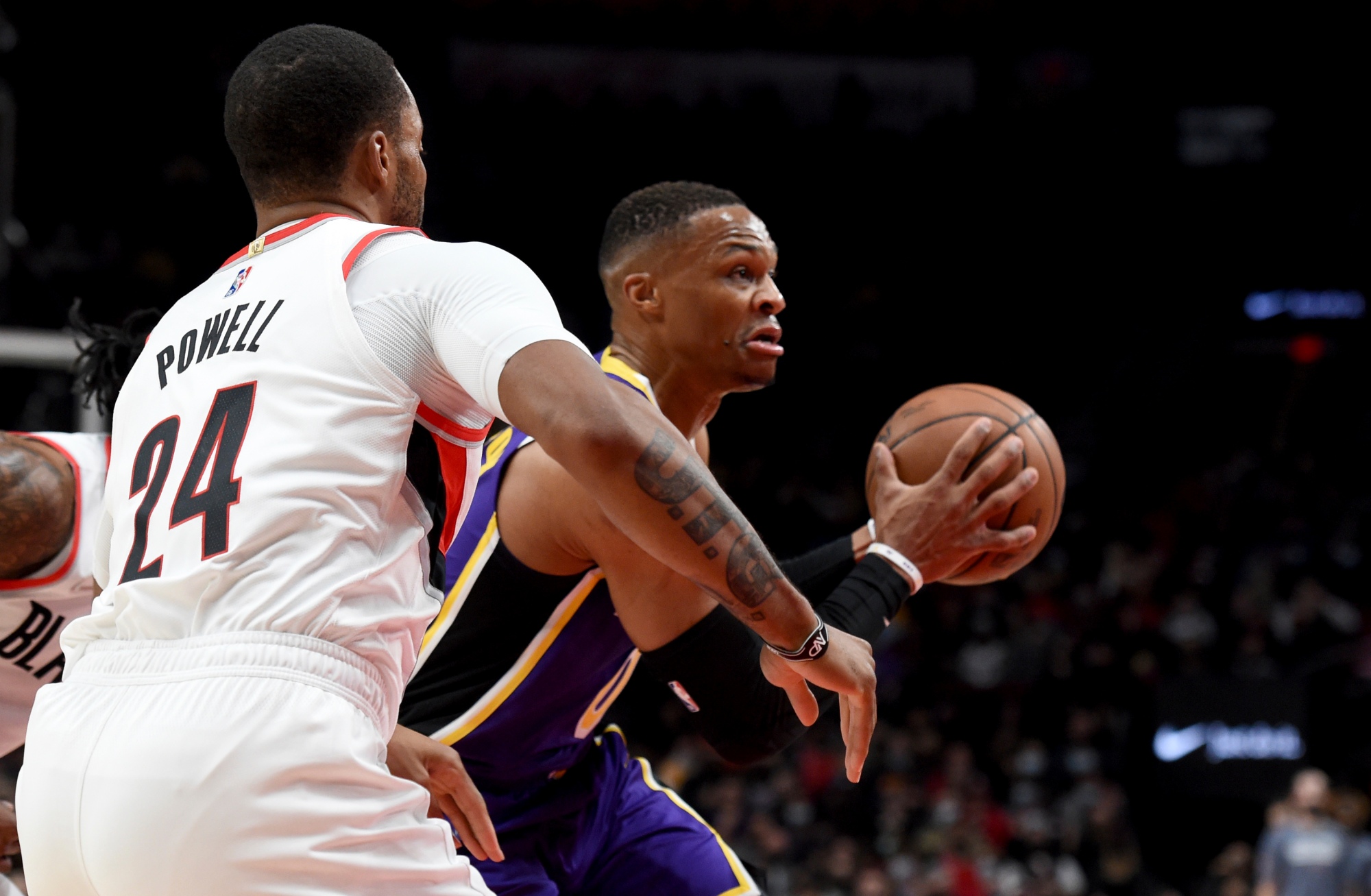 Расел Вестбрук ги разочара фановите на ЛА Лејкерс. Тој е доведен кај "езерџиите" за да го "влече" тимот кога во составот ги нема Леброн Џејмс и Ентони Дејвис, ама во оваа улога не се снајде синоќа на дуелот против Портланд кој неговиот тим го загуби со 15 поени разлика (105-90).
За 29 минути на паркетот, Вестбрук имаше шут 1/13.
Уфрли една тројка од 3 обиди, но не се прослави со шутот за 2 поени. Мечот го заврши со 8 поени, 9 скока и 6 асистенции.
Проблематично е што имаше и 6 загубени топки.
AD's out. Lakers pin their hopes on Westbrook.

LeBron: Man I can't wait to go home. pic.twitter.com/GiTsd7tYDw

— NBA Memes (@NBAMemes) November 7, 2021
Russell Westbrook

8 points
1-13 FG
6 assists
6 turnovers
29 minutes

Game salary: 539K

In a game with no LeBron and an early AD exit, Westbrook gave the Lakers NOTHING. pic.twitter.com/SRLFmtrpfJ

— Micah Adams (@MicahAdams13) November 7, 2021
©Makfax.com.mk Доколку преземете содржина од оваа страница, во целост сте се согласиле со нејзините Услови за користење.

Седумка! Лео Меси со нова "Златна топка" во неверојатната кариера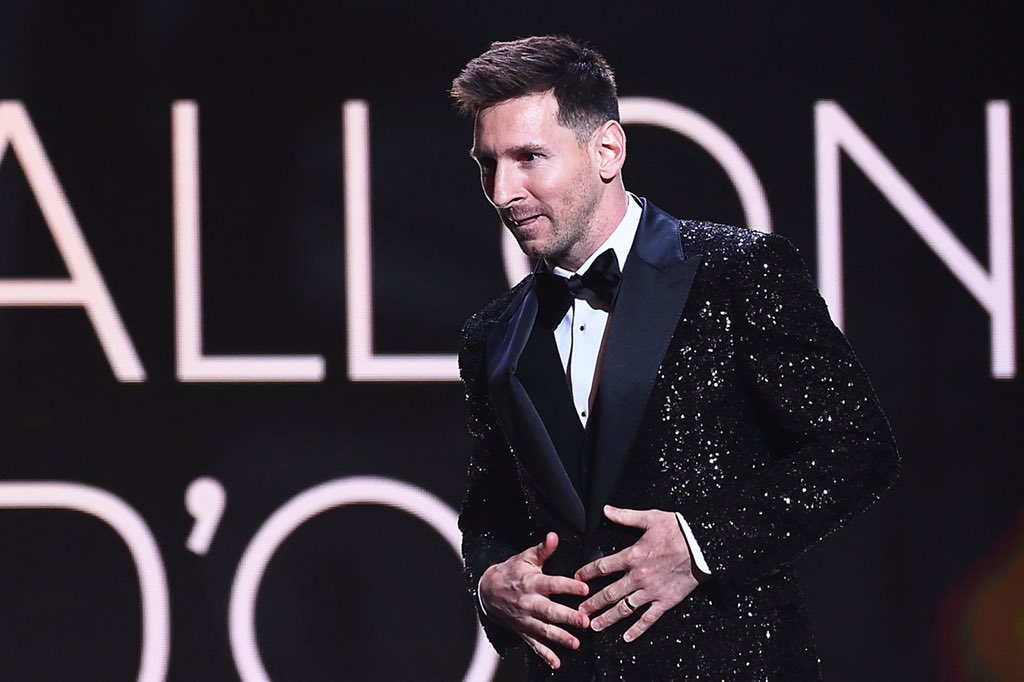 Без големи изненадувања, Лионел Меси вечерва во "Театарот Шателе" во Париз ја доби својата рекордна седма "Златна топка" за најдобар фудбалер на светот, одбележувајќи уште една фудбалска година во која честопати беше на насловните страници.
И покрај лошата сезона со Барселона, која на крајот резултираше со драматично заминување од неговиот клуб од детството и трансфер во Пари Сен-Жермен, Меси беше најдобар стрелец минатата сезона во шпанската Ла лига, а летото му беше крунисано со најголемото остварување со аргентинската репрезентацијата, победата на Копа Америка над лутиот ривал Бразил за прво репрезентативно злато во кариерата.
Во изборот на "Франс фудбал", Меси го победи својот најголем ривал за титулата, Роберт Левандовски, кој ја доби пак наградата за "напаѓач на годината", додека трет беше италијанскиот ас на Челси, Жоржињо.
"Денеска сум тука во Париз и навистина сум многу среќен. Сакам да продолжам да се борам и да стигнам до нови цели. Не знам уште колку години имам пред себе, но уживам во моментов. Благодарност до моите колеги во Барса, Париз и Аргентина", изјави Меси.
Мала контроверза на денот на прогласувањето на победникот предизвика реакцијата на Кристијано Роналдо преку социјалните мрежи во која го обвини претседателот на "Франс фудбал" за лажење, а по конечниот пласман, тој првпат беше на 6. позиција на конечниот пласман.
Покрај оваа титула, Меси победуваше во изборот на "Франс фудбал" и во 2009, 2010, 2011, 2012, 2015 и 2019 година. Со седум "Балон д'ор" тој станува убедлив рекордер пред вечниот ривал, Португалецот Кристијано Роналдо, кој пет пати беше прогласуван за најдобар (2008, 2013, 2014, 2016, 2017). По трипати оваа награда била во рацете на Французинот Мишел Платини (1983, 1984, 1985) и Холанѓаните Јохан Кројф (1971, 1973, 1974) и Марко ван Бастен (1988, 1989, 1992).
ЗЛАТНА ТОПКА, КОНЕЧЕН ПЛАСМАН, ТОП 10
1.Лионел Меси (Барселона/ПСЖ, Аргентина)
2.Роберт Левандовски (Баерн Минхен/Полска)
3.Жоржињо (Челси, Италија)
4.Карим Бензема (Реал Мадрид, Франција)
5.Н'Голо Канте (Челси, Франција)
6.Кристијано Роналдо (Јувентус/Манчестер јунајтед, Португалија)
7.Мохамед Салах (Ливерпул, Египет)
8.Кевин де Брујне (Манчестер сити, Белгија)
9.Килијан Мбапе (ПСЖ, Франција)
10.Џанлуиџи Донарума (Милан/ПСЖ, Италија)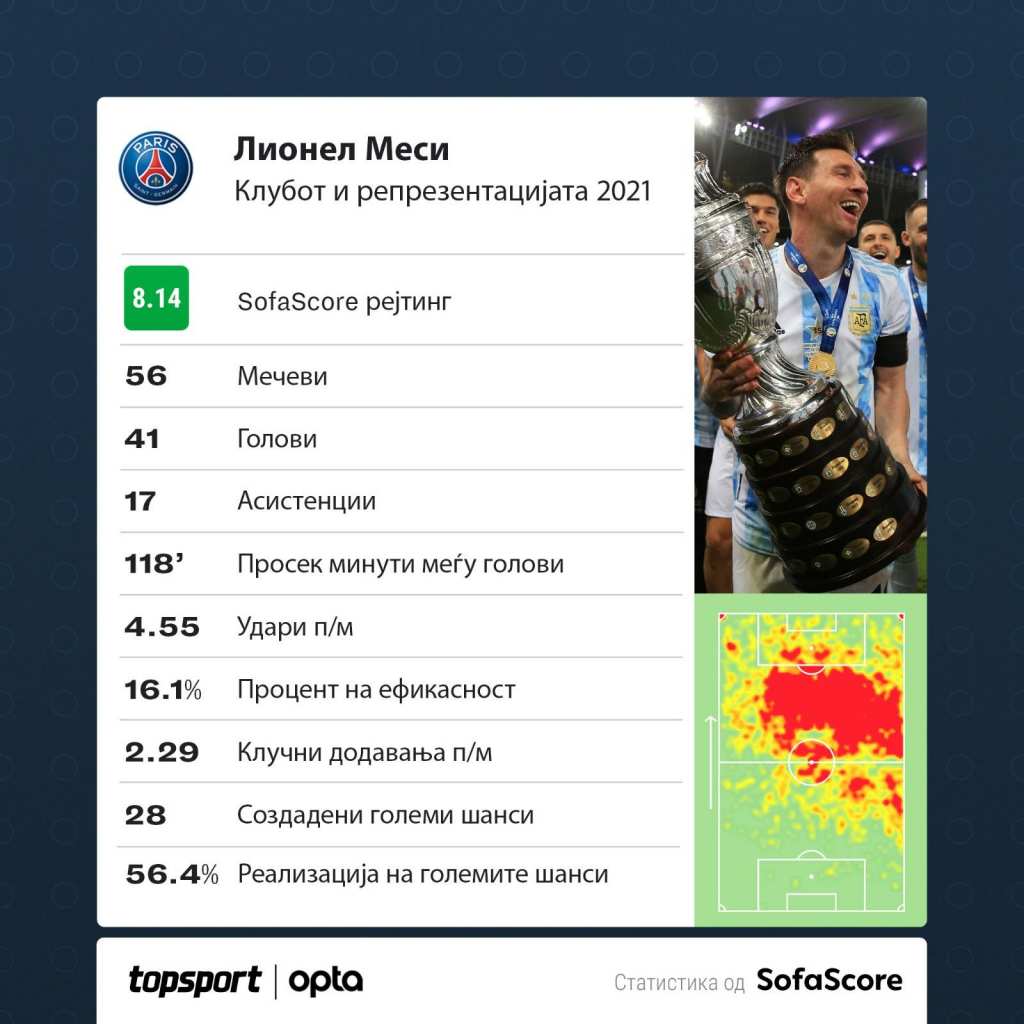 Графика: Sofascore за Топспорт.мк
When Luis Suarez gives the #ballondor to Messi! pic.twitter.com/uUHhMgtVfR

— Ballon d'Or #ballondor (@francefootball) November 29, 2021
When your dad wins an other Ballon d'Or 🙌#ballondor pic.twitter.com/UWKir71mX5

— Ballon d'Or #ballondor (@francefootball) November 29, 2021
HERE IS THE WINNER!

SEVEN BALLON D'OR FOR LIONEL MESSI! #ballondor pic.twitter.com/U2SywJmruC

— Ballon d'Or #ballondor (@francefootball) November 29, 2021