(Видео) Голем пожар во рафинерија во Тексас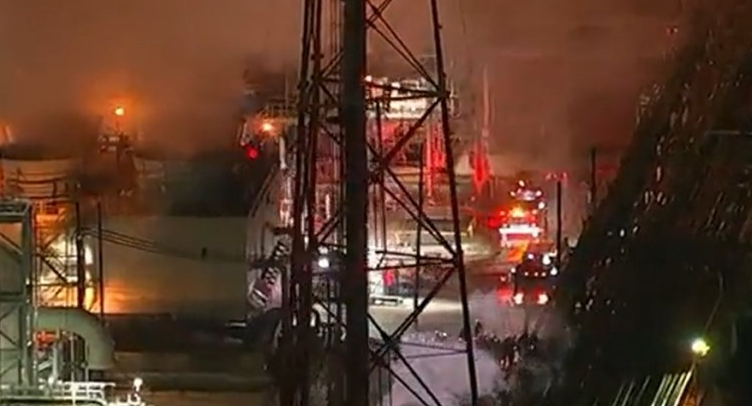 Четири лица се повредени во пожар што избувна во рафинеријата "Ексон мобил" во Тексас на југот на САД, а локалната полиција соопшти дека се случила голема индустриска несреќа.
"Полицијата е на местото на несреќата", објавија властите од округот Харис во раните утрински часови по локално време, прецизирајќи дека избувнал пожар во фабриката "Ексон мобил" во Бејтаун, град во близина на Хјустон.
Fire crews responded to a "major industrial accident" at an Exxon Mobil plant in Texas that appeared to be from an explosion, the Harris County Sheriff's Office said, adding that "some injuries have been reported." https://t.co/85Pou2T32w pic.twitter.com/G5N7VVoDf0

— ABC News (@ABC) December 23, 2021
Тројца повредени се евакуирани со хеликоптер, а четвртиот со амбулантно возило е пренесен во болница, соопшти полицијата, додавајќи дека нема податоци за загинати.
VIDEO: My brother's security camera captures the fire/explosion at #ExxonMobil in Baytown, TX. At least four refinery workers reported injured. Appears the fire started around 12:52AM. pic.twitter.com/BrIHQgu1Tj

— Vanessa Pacheco (@VanessaOnTV) December 23, 2021
Рафинеријата во Бејтаун започнала со работа во 1920 година, а хемиската фабрика во 1940 година, посочуваат од "Ексон мобил". Станува збор за четири производствени погони во кои работат околу 7.000 работници.
©Makfax.com.mk Доколку преземете содржина од оваа страница, во целост сте се согласиле со нејзините Услови за користење.

Од февруари во Австрија вакцинацијата против ковид станува задолжителна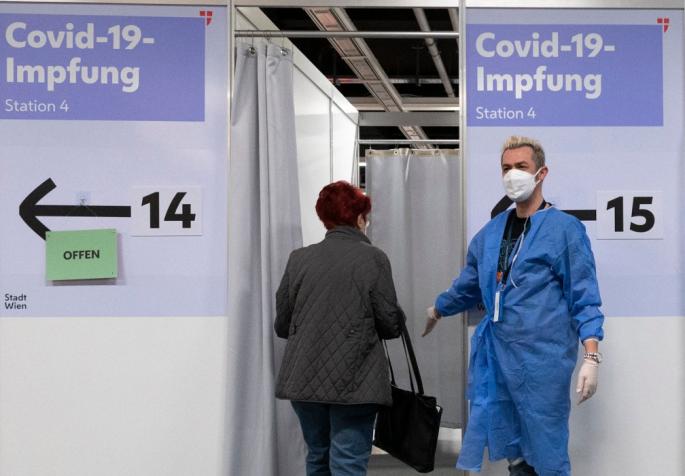 Австрискиот парламент усвои закон со кој се воведува општа задолжителна вакцинација против коронавирусот. Законот стапува на сила на почетокот на февруари.
Одлуката за задолжителна вакцинација на полнолетните граѓани е донесена со големо мнозинство. Од дадени 170 гласови, 137 пратеници гласаа "за", а 33 "против" законот.
Инаку, на седницата не присуствуваа 13 пратеници, речиси од сите парламентарни партии, од протестот против задолжителна вакцинација или болест.
За законот гласаа пратениците од владејачката Народна партија на Австрија (ОВП) и Зелените, како и од опозициската Социјалдемократска партија (СПО) и Неос.
Партијата на слободата (ФПО) гласаше против мерката, обвинувајќи ги властите и сите оние кои гласаа за задолжителна вакцинација за воведување тоталитаризам и "здравствен комунизам" во Австрија.
На барање на ФПО, гласањето беше спроведено со изговарање на пратениците, така што пратениците по изрекувањето на имињата требаше да го стават својот глас во гласачките кутии предвидени за таа цел.
Колку законот за задолжителна вакцинација го подели општеството покажува дека во периодот на јавна расправа на веб-страницата на Собранието биле испратени повеќе од 100.000 ставови на граѓани.
Пратениците на ФПО истакнаа дека ваквиот закон е без преседан во демократска Австрија и дека на тој начин владата ја изгубила довербата на граѓаните. Лидерот на ФПО Херберт Кикл најави дека нема да се вакцинира и покрај задолжителната вакцинација.
Според усвоениот закон, сите полнолетни граѓани кои се регистрирани во Австрија ќе треба да се вакцинираат против коронавирусот. Законот предвидува преоден период во кој ќе се опоменуваат невакцинираните, а од средината на март ќе почне глоба од 600 до 3.600 евра.
Бундесратот, провинцискиот дом на парламентот, треба да го потврди законот на 3 февруари, па тој веднаш потоа ќе стапи на сила.
Австриската влада во договор со опозицијата која ја поддржа задолжителната вакцинација, претходно договори лотарија за сите граѓани кои се вакцинирани.
Така, секој десетти вакциниран граѓанин ќе може да освои ваучер од 500 евра, кој ќе може да го потроши во австриски продавници, гастрономија, хотели и слично.
Австрија е првата земја во ЕУ која воведе општа задолжителна вакцинација.