(Видео) Градоначалникот на Портланд нападнат со солзавец на протест против полициска бурталност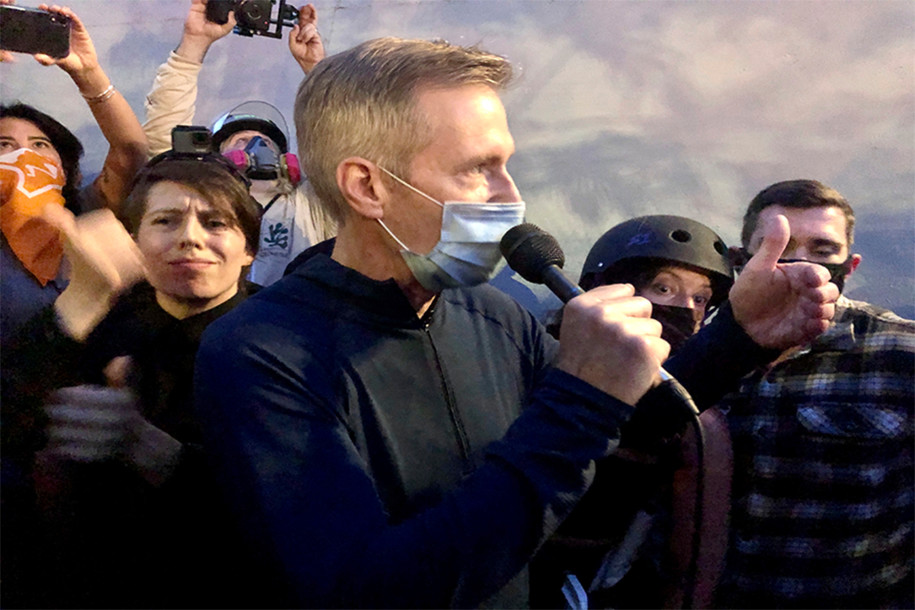 Градоначалникот на Портланд, Тед Вилер, бил нападнат со солзавец од федералните агенти за време на масовните протести во Портланд, Орегон, против расизмот и полициското насилство, што се одржаа синоќа, пренесува "Њујорк пост".
Вилер се соочи со бран исвиркувања и повици да си даде оставка кога им се обрати на демонстрантите на "Блек лајвс медр" среде немирите во неговиот град. Тој се проби до скалите на Центарот за правда во округот Мултомах за да им се обрати на илјадниците, од кои некои извикуваа: "Фрлете му солзавец на Теди" и "Врши си ја својата работа!", покажува видеото објавено на социјалните мрежи.
Според локалните медиуми, Вилер, кој е на функцијата од 2017 година, околу два часа разговарал со демонстрантите пред да му биде фрлен солзавец. Тој му рекол на еден демонстрант: "Ја имате мојата поддршка. Нема да си заминам. Ако ви фрлат созлавец вам, нека ми фрлат и мене".
#Portland Mayor Ted Wheeler is at the front line here, getting tear gassed by federal agents. There are folks out here who think this is a publicity stunt — they say the police gassed ppl long before the feds showed up. But others seem amazed. "Shit," one man said. "He's here." pic.twitter.com/3Dcc3M2QFE

— Marissa J. Lang (@Marissa_Jae) July 23, 2020
Вилер побара федералните агенти да го напуштат градот нарекувајќи го нивното присуство противуставна окупација, според локалната телевизија КАТУ-ТВ.
Агентите во маскирна униформа од одделот за внатрешна безбедност и други федерални агенти беа распоредени во Портланд минатата недела за да ги заштитат федералните споменици и зградите по речиси два месеца демонстрации поради полициската бруталност и расизам. Агентите се обвинети за употреба на прекумерна сила за задржување на демонстрантите и за апсење луѓе без доволна причина.
"Тактиките што ги користат федералните офицери се одвратни. Не ги сакавме, не ги побаравме, тие не се обучени за она што се бара. И сакаме да си заминат", рече Вилер.
Еден демонстрант го охрабри Вилер да остане цела ноќ за да биде сведок на одговорот на федералната полиција. По фрлањето на солзавецот, Вилер бил снимена како кашлаше додека се движи со демонстрантите, при што некои го пцујат.
Mayor Wheeler with eyes closed, coughing, suffering from the tear gas.

"How does it feel, Teddy?" someone shouts. pic.twitter.com/4VPOKcOIII

— Mike Baker (@ByMikeBaker) July 23, 2020
Едно лице свика: "Какво е чувството, Теди?" и избувна куса расправија помеѓу толпата и неговите безбедносни агенти пред да го напушти местото на настанот.
Вилер, кој исто така е полицски комесар, претходно изјави дега федералните агенти ги зголемуваат тензиите во градот, но во неколку наврати повтори дека нема овластување да ги контролира нивните дејства ниту да ги натера да си заминат од градот.
​
©Makfax.com.mk Доколку преземете содржина од оваа страница, во целост сте се согласиле со нејзините Услови за користење.

(Видео) Голем пожар изби на пазар во Обединетите Арапски Емирати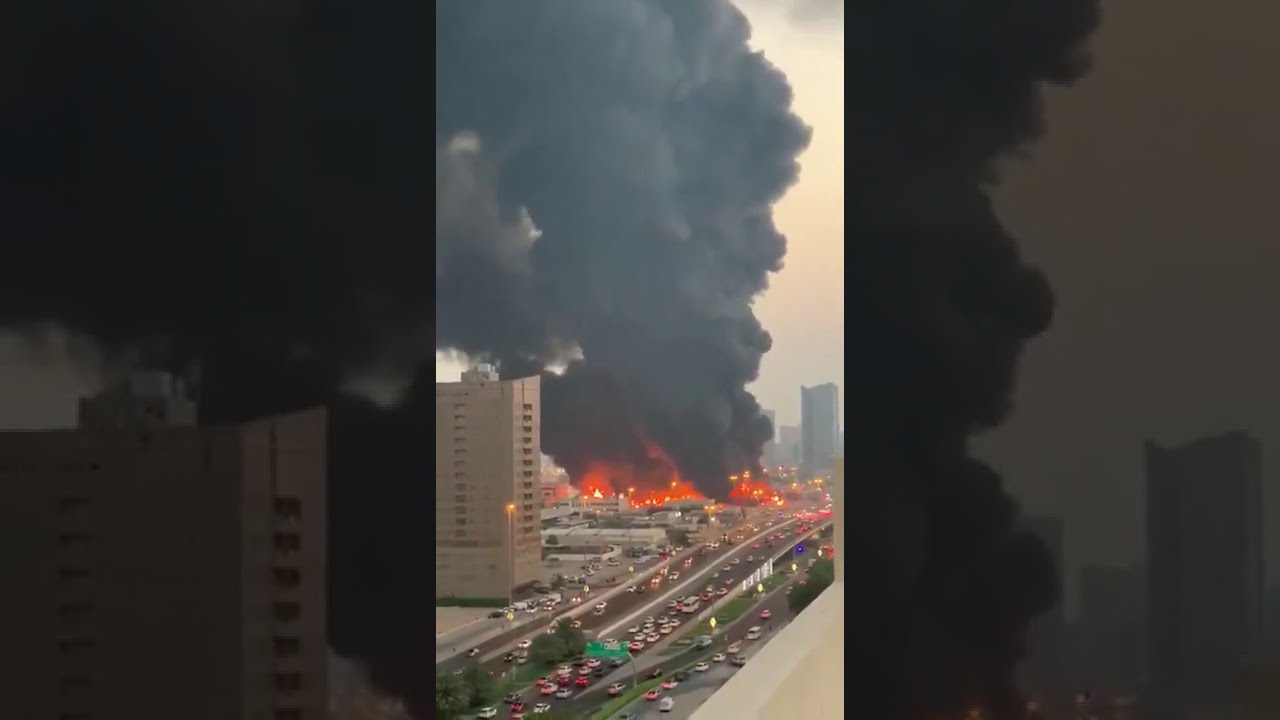 Голем пожар изби вечерва на пазар во Обединетите Арапски Емирати, пренесуваат весниците "Нешнал" и "Галф тајмс".
Локалните власти не биле достапни за коментар, ниту за потврда на овие информации.
فرق الدفاع المدني في #عجمان تكافح حريق متطور في السوق الشعبي بمنطقة الصناعية الجديدة#صحيفة_الخليج pic.twitter.com/ZHDF2EgggB

— صحيفة الخليج (@alkhaleej) August 5, 2020
Нема ниту информации за евентуални жртви ниту за направена штета.
Инцидентот се случува само еден ден по вчерашната експлозија во пристаништето во Бејрут, во која загинаа над 130 луѓе и околу 5.000 се повредени.