(Видео) Изјава на еден од првите вакцинирани Британци: "Нема смисла да умрам кога живеев толку долго"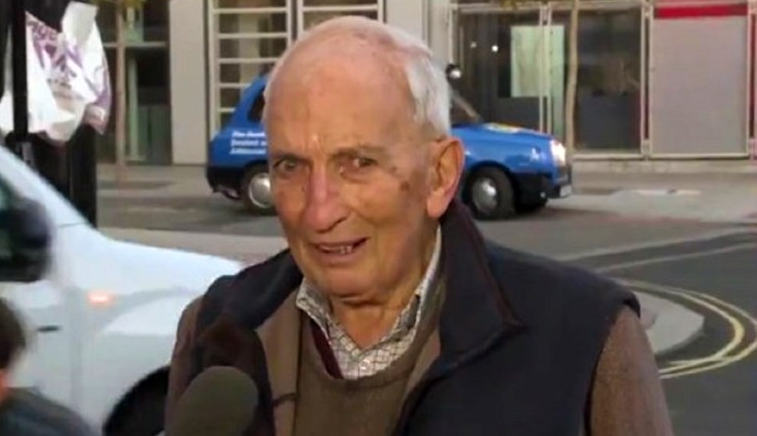 Граѓанинот на Лондон, 91-годишниот Мартин Кенион, во телевизиско интервју изјави дека првин се јавил во болница и одговорил на прашањата за тоа дали може да ја прими вакцината по што му било кажано да дојде во 12.30 часот.
Тој се пожали дека немало место каде да паркира.
"Не можев да најдам паркинг никаде, затоа доцнев. Кога влегов внатре, ме ставија уредно на списокот. Потоа отидов на ручек, што не ми се допадна многу, а потоа се вратив и ја примив вакцината. Воопшто не ме болеше, дури и не знаев дека влегла иглата сè додека не кажаа дека е готово", рече Кенион.
Just wanna hug #MartinKenyon myself and listen to his stories after this interview. I'm very happy for him and his granddaughters. 🖖🏽 https://t.co/oljz9zXoNx

— Charlie K. Perkins (@PerKerry) December 9, 2020
Тој се надева дека нема да се зарази, од, како што рече, проклетиот вирус додавајќи дека со нетрпение очекува да ги прегрне своето семејство и внуците и дека на семејството не му кажал дека ја примил вакцината.
"Немам намера да се заразам од коронавирус. Па, нема смисла да умирам кога живеев толку долго", заклучи Кенион.
Тој со своето интервју ги освои симпатиите на социјалните мрежи.
Quintessentially British. This has to be one of the best interviews of the year. #MartinKenyon 🇬🇧

"Well, there's no point in dying now when I've lived this long, is there?"

"Well of course I couldn't find anywhere to damn well park my car, so I was late!" pic.twitter.com/SpALfW6RTp

— M😷awia Bin-Sufyan MStJ BCA (@MoawiaBinSufyan) December 9, 2020
Масовната вакцинација во Велика Британија зпочна вчера, а 90-годишната Маргарет Кинан стана првата личност во светот што ја прими вакцината создадена во соработка на "Фајзер" и "Бионтек" надвор од фазата на испитување.
Првиот маж што ја прими вакцината, пак, беше 81-годишниот Вилијам Шекспир.
©Makfax.com.mk Доколку преземете содржина од оваа страница, во целост сте се согласиле со нејзините Услови за користење.

(Видео) Нови насилни протести во Холандија поради полицискиот час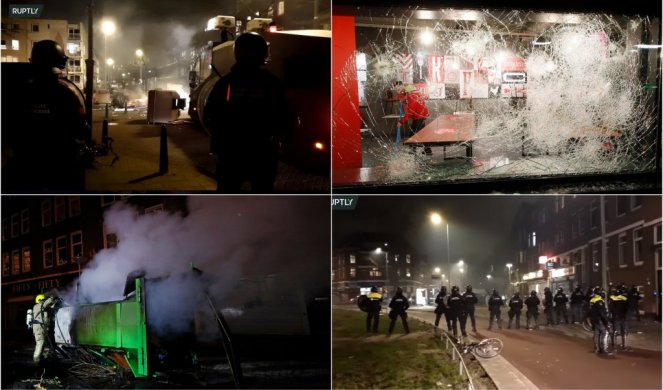 Холандската полиција уапси 70 лица откако избувнаа нови немири трета ноќ по ред за време на протестите за одлуката на владата за воведување полициски час. Сепак, причините за вандализмот виден од Ротердам до Амстердам веќе не се толку јасни, особено што демонстрантите се тинејџери, пренесува "Ројтерс".
Полицијата во Ротердам дури испукала неколку предупредувачки истрели и употребила солзавец.
Немирите започнаа минатиот викенд кога луѓето излегоа на улиците во знак на протест против новите построги мерки во борбата против коронавирусот.
In the Netherlands 🇳🇱 the situation is out of control. Police and rioters clash for second night in a row. #Rotterdam #Netherlands pic.twitter.com/NJuvjce2Es

— Based Finland 🇫🇮 (@Based_Finland) January 25, 2021
Началникот на полицијата Вилијам Велдерс изјави дека околу 70 лица биле уапсени синоќа до 22 часот, а водени топови биле користени против демонстрантите во Ротердам, додека солзавец бил употребен во Харлем за да се растера толпата.
Полицијата додаде дека напишале скоро 6.000 казни за кршење на забраната за движење во периодот од 21.00 до 4.30 часот.
Немирите на протестите од претходните денови во Холандија според многумина се најлошите сцени на насилство во таа земја во последните четири децении. Досега полицијата уапси околу 250 лица низ целата земја.