(Видео) Нетанјаху обелодени дека постои тајно складиште за оружје на Хезболах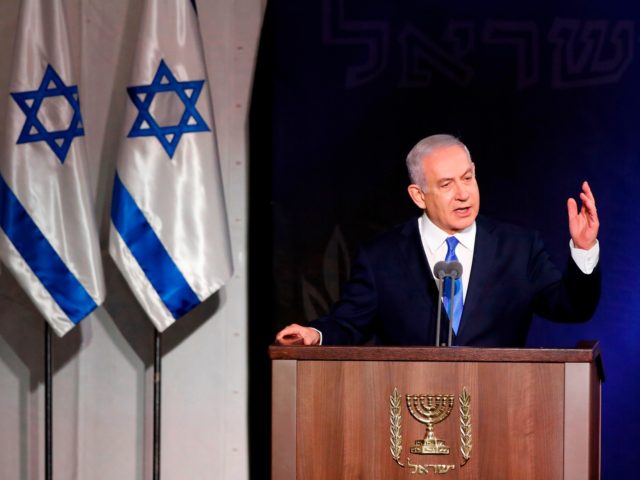 Во своето обраќање до ОН во вторникот израелскиот премиер, Бенјамин Нетанјаху, обелодени тајно складиште за оружје што му припаѓа на Хезболах во станбена област, во близина на меѓународниот аеродром во Бејрут, предупредувајќи на ризикот од уште една разорна експлозија и го повика либанскиот народ да протестира против терористичката група.
"Сите ја видовме страшната експлозија на пристаништето во Бејрут минатиот месец. Ова е пристаништето во Бејрут. Двесте луѓе загинаа, илјадници луѓе беа повредени и четвртина милион луѓе останаа без домови", рече тој осврнувајќи се на катастрофалната експлозија на 4 август кога експлодира магацин со речиси 3.000 тони амониумнитрат уништивајќи големи делови од градот.
"Сега еве каде може да се случи следната експлозија. Точно тука. Ова е населбата Јанах во Бејрут. Тоа е веднаш до меѓународниот аеродром. Тука Хезболах има тајно складиште за оружје. И тоа е сместено во станбена населба", рече тој и ја посочи неговата близина до компанија за гас.
Нетанјаху покажа фотографии од објектот за кој рече дека е фабрика за ракети на Хезболах.
"Им велам на луѓето од Јанах, сега мора да дејствувате. Треба да протестирате за ова. Затоа што ако ова нешто експлодира, тоа ќе биде нова трагедија. Му велам на народот во Либан: Израел не ви мисли лошо. Но, Иран го прави тоа. Иран и Хезболах намерно ве доведоа во сериозна опасност вас и вашите семејства. И треба да ви биде јасно е дека она што тие го прават е неприфатливо. Треба да им кажете: срушете ги овие депоа. Меѓународната заедница мора да инсистира Хезболах да престане да ги користи Либан и либанските цивили како жив штит", рече Нетанјаху.
Израелските одбранбени сили подоцна објавија информации за две дополнителни складишта за оружје во Бејрут и двете подземни постројки за производство на ракети лоцирани под големи станбени комплекси.
Нетанјаху го пофали претседателот Доналд Трамп што му се спротивстави на Иран.
"Прво и најважно, моите честитики до претседателот Трамп за повлекувањето од погрешниот нуклеарен договор со Иран. Тој нуклеарен договор не го блокира патот на Иран кон бомбата, туку го трасира патот до неа", рече тој додавајќи дека ограничувањата на договорот за иранската нуклеарна програма се само привремени и не се поврзани со промени во однесувањето на Иран.
"Нема сомнеж дека Иран сака нуклеарно оружје. Некогаш тајната нуклеарна архива, што израелските агенти ја добија од срцето на Техеран, докажува дека нема сомнеж", продолжи премиерот осврнувајќи се на рацијата на Израел во мај 2018 година во магацин во Техеран, во која оперативците на Мосад изнеле половина тон тајни документи за иранската нуклеарна програма надвор од земјата.
Тој упати остри критики кон Советот за безбедност на ООН дека не направил апсолутно ништо пред кршењето на нуклеарниот договор од Иран.
"Наместо да се спречи агресијата на Иран, нуклеарниот договор ја нахрани и ја финансира", рече тој.
Hezbollah's sickening and deliberate use of civilians as human shields on full display — PM Netanyahu reveals secret Hezbollah missile depot inside a residential neighborhood in Beirut just meters from a gas station.

— Aaron Klein (@AaronKleinShow) September 29, 2020
"За среќа, претседателот Трамп ја препозна суштината на катастрофалниот нуклеарен договор и дејствуваше. Тој ги врати американските санкции, ги принуди земјите да изберат помеѓу деловна соработка со Америка или деловна соработка со Иран и го отстрани најопасниот терорист во светот, Касем Сулејмани", рече израелскиот премиер.
Тој продолжи да ги посочува предвремените санкции на САД минатиот месец когас Советот за безбедност одби да го продолжи ембаргото за оружје.
"И Арапите и Израелците бараат строги мерки за Иран. А кога Арапите и Израелците ќе се усогласат, другите треба да обрнат внимание", рече тој.
©Makfax.com.mk Доколку преземете содржина од оваа страница, во целост сте се согласиле со нејзините Услови за користење.

Во Италија вакцинирани 60 проценти од граѓаните постари од 12 години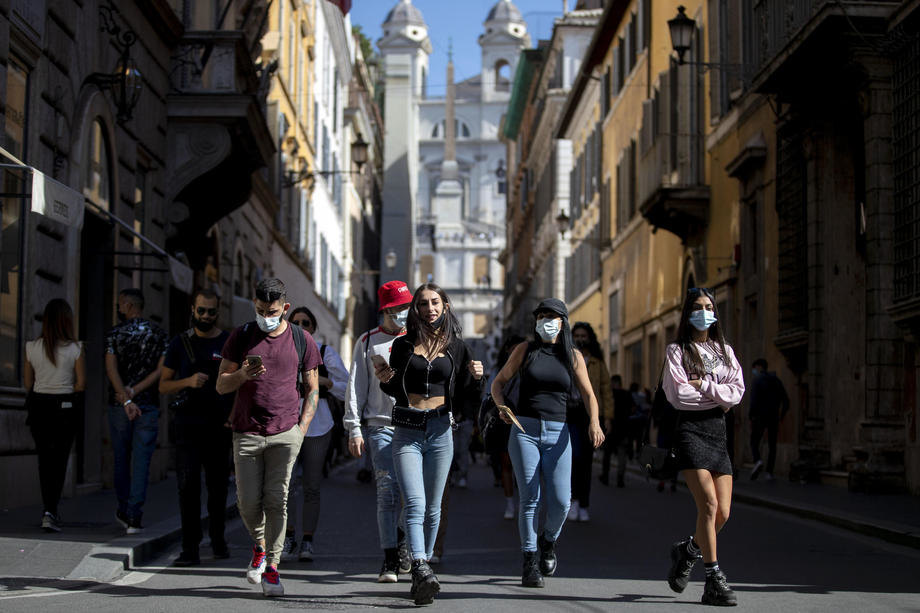 Италија досега целосно вакцинираше 60 проценти од своето население постаро од 12 години. Тоа значи дека 32,4 милиони луѓе ги примиле двете дози на вакцината против коронавирус, изјави специјалниот комесар за коронавирус Франческо Филиуоло.
Иалија сака да вакцинира 80 проценти од населението до крајот на септември со цел да се здобие со т.н колективен имунитет.
Илјадници луѓе повторно учествуваа на протестите во текот на викендот во Италија против претстојните мерки за коронавирус што треба да стапат на сила другата недела.
Од 6 август, луѓето што сакаат да јадат во ресторан или да одат во музеј, на пример, ќе треба да покажат доказ за барем една примена доза вакцина против коронавирус, потврда дека имале коронавирус или негативен тест.