Во Израел откриена мутација на делта-сојот од коронавирус, момче сместено во карантин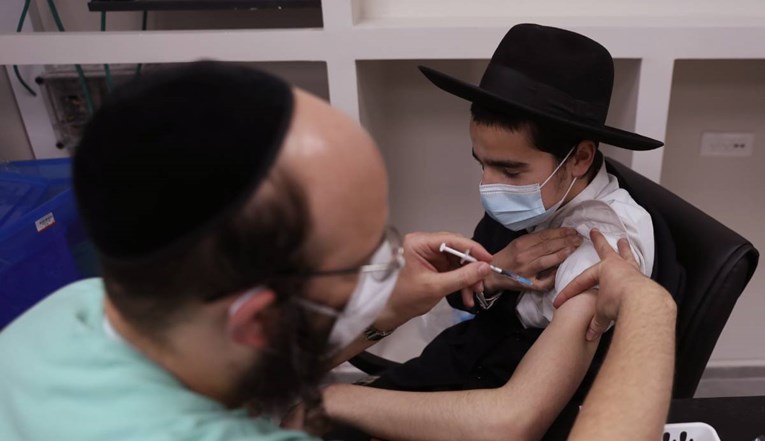 Израел го потврди првиот случај со мутација на делта-сојот на коронавирус, кој претходно беше откриен во некои европски земји, објави Министерството за здравство.
Како што беше наведено доцна синоќа, во Израел беше идентификувана варијанта AY 4.2, а преносителот е 11-годишно момче кое пристигна од Европа.
Тој беше тестиран на меѓународниот аеродром Бен Гурион во близина на Тел Авив по враќањето од Молдавија и беше ставен во карантин, а другите контакти не беа откриени.
Подваријанта AY 4.2 се појави неколку пати во Обединетото Кралство, но од таму велат дека истата е ретка и дека не претставува висок ризик од инфекција како и другите соеви.
Израел во моментов размислува за олеснување на ограничувањата за туризмот поради намалувањето на бројот на новозаразени со коронавирус.
Претходниот план за отворање на границите пропадна поради зголемувањето на бројот на заразени со новиот делта-сој.
На крајот на август и почетокот на септември, бројот на новозаразени достигна 11.000 дневно.
Израелските власти започнаа агресивна кампања за вакцинација со трета доза на вакцина фајзер/бионтек, што доведе до пад на инфекцијата.
Денеска беше објавено дека има 1.487 нови случаи на инфекција во претходните 24 часа.
©Makfax.com.mk Доколку преземете содржина од оваа страница, во целост сте се согласиле со нејзините Услови за користење.

(Видео) Папата падна по скали додека се качуваше на авион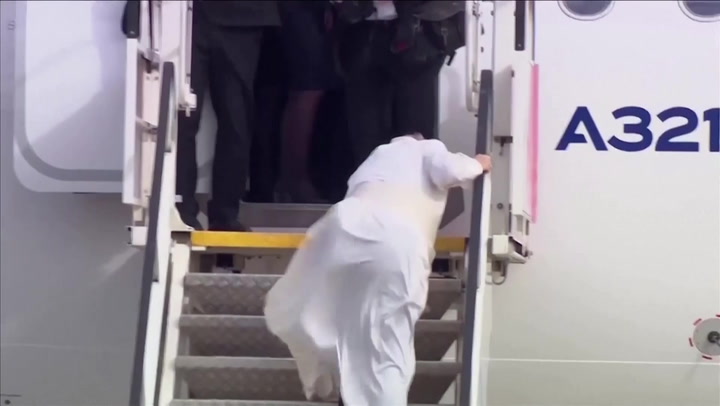 Папата Франциск се сопна на скалите додека се качуваше на авион во Грција.
На видео објавено на интернет се гледа како 84-годишникот се качува по скалите, а потоа забавува пред да го изгуби стапалото.
The Pope loses his footing as he ascends the steps to the plane after his trip to the nearby neighbouring countries.

Watch more videos from Sky News: https://t.co/WOmNhIQHZQ pic.twitter.com/h5IK9CvA6U

— Sky News (@SkyNews) December 6, 2021
На 4 декември католичкиот папа пристигна во тридневна посета на Грција, чија цел беше да ги зближи Римокатоличката и Источната православна црква. Христијанството се подели во 1054 година во она што е познато како Голем раскол.
За време на својата проповед, папата Франциск побара прошка во име на Римокатоличката црква за грешките што доведоа до нејзино распаѓање. Папата се осврна и на маките на мигрантите заглавени во Грција, опишувајќи го тоа како "ужасна модерна Одисеја".
Папата ги повика европските нации да се занимаваат со ова прашање, нагласувајќи дека тесните лични интереси и национализмот водат до катастрофални последици.
Во јули поглаварот на Светата столица беше подложен на тричасовна операција на дебелото црево, што предизвика шпекулации за неговото здравје.
Некои извештаи сугерираат дека тој би можел дури и да се пензионира како неговиот претходник, папата Бенедикт 16. Сепак, понтифот ги отфрли тие шпекулации, велејќи дека е во добра здравствена состојба и дека живее сосема нормален живот по операцијата.