Во Швајцарија уапсени две лица во врска со нападот во Виена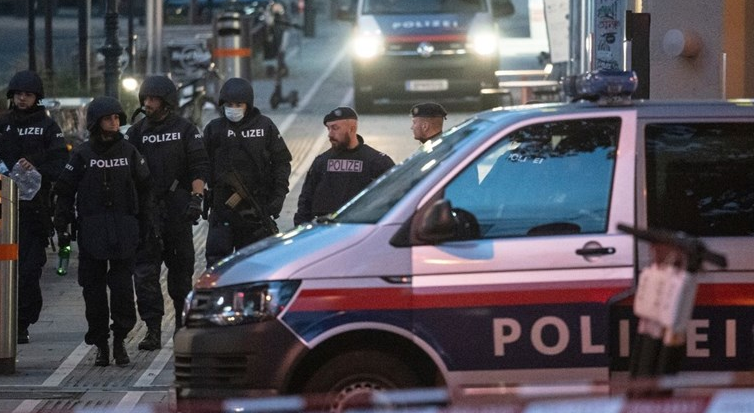 Двајца млади момчиња од Швајцарија, на возраст од 18 и 24 години се уапсени во Винтертур, близу Цирих, во северна Швајцарија, во врска со џихадистичкиот напад во Виена еден ден претходно, соопшти полицијата.
"Полициската истрага идентификуваше швајцарски државјани, 18-годишник и 24-годишник. Двајцата беа уапсени во Винтертур во вторникот попладне од единица за специјални намени во соработка со австриските власти", соопшти полицијата на кантонот Цирих.
"Евентуалната врска меѓу двајцата приведени и главниот осомничен за нападите во моментов ја испитуваат надлежните органи", додава полицијата.
#BREAKING: Police in Switzerland arrest two people in connection with terror attack in #Vienna, Austria – an 18 year old and a 24 year old. Zurich Canton Police Special Unit has made the arrest from Winterthur in joint operation with Austrian authorities. Investigations underway. pic.twitter.com/Ved2Nm3UKK

— Aditya Raj Kaul (@AdityaRajKaul) November 3, 2020
Швајцарските власти не наведоа која е причината за апсењето на двете млади момчиња.
"Главната задача е да се утврди дали тие биле вклучени во нападот", соопшти полицијата во Цирих, која тесно соработува со швајцарската федерална и австриската полиција.
"Што се однесува до нападот во Виена, Федпол (федерална полиција) и разузнавачка служба ја испитуваат неговата можна поврзаност со Швајцарија, во тесна соработка со кантонските и австриските власти", изјави за АФП портпаролката на разузнавањето, Изабел Грабер.
Полицијата во Цирих исто така извести дека формирала работна група со задача да истражи дали злосторствата извршени во Виена биле поврзани со кантонот Цирих.
©Makfax.com.mk Доколку преземете содржина од оваа страница, во целост сте се согласиле со нејзините Услови за користење.

Шведска ги отфрла препораките на СЗО, тамошните експерти велат дека маски не се потребни
Сè уште нема потреба да се носат маски во Шведска, изјави денес водечкиот здравствен службеник во оваа скандинавска земја со повеќе од 7.000 смртни случаи од почетокот на епидемијата на Ковид-19, еден ден откако СЗО издаде препораки за поширока употреба на маски.
СЗО во средата објави дека луѓето, вклучително и деца над 12 години, секогаш треба да носат маски во продавници, на работни места и во училиште, онаму каде што не е можно правилно да се проветруваат просториите, како и кога гости доаѓаат во домови во кои има слабо проветрени простории.
Шведската здравствена агенција, која стои зад шведската стратегија против целосно затворање, ги отфрли препораките за носење маски, повикувајќи се на слабите докази за нивната ефикасност и стравувањата дека маските може да се користат како изговор против изолација кога ќе се појават симптоми.
"Маски за лице се можеби потребни во некои ситуации. Такви ситуации сè уште не се појавиле во Шведска, покажуваат нашите контакти со регионите", рече Андерс Тегнел, водечкиот шведски епидемиолог, на денешната прес-конференција.
"Сите досегашни студии сугерираат дека е многу поважно да се одржува растојание отколку да се носи маска", посочи Тегнел.
Шведска денес потврди 35 нови смртни случаи од Ковид-19, со што вкупниот број на жртви достигна 7.007. Вкупно 6.485 нови инфекции се регистрирани во изминатите 24 часа.