Објавени сателитски снимки од Бејрут пред и по експлозијата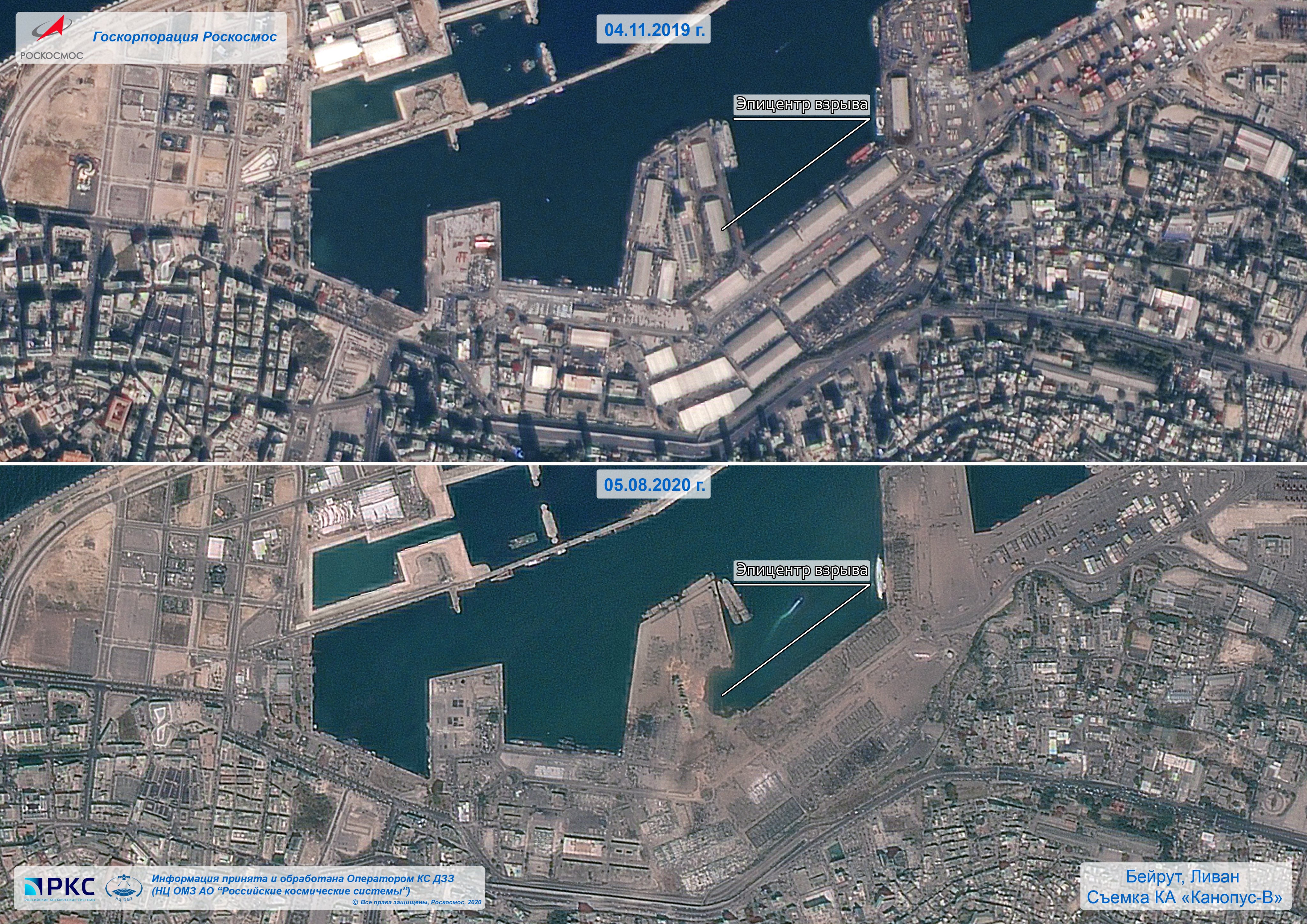 Руската вселенска агенција "Роскосмос" објави сателитски фотографии од пристаништето во Бејрут пред и по вчерашната експлозија. Покрај нив, фотографии објави и една израелска и една француска компанија.
Последствия взрыва в порту Бейрута 4 августа 2020 года. Фотография с российского спутника дистанционного зондирования Земли «Канопус-В» pic.twitter.com/JW5A6J4fy0

— РОСКОСМОС (@roscosmos) August 5, 2020
Првата фотографија е од 4 ноември 2019 година, на неа се гледаaт голем број магацини, хангари и други објекти во близина на водата. Другата фотографија е направена денеска и на неа видливи се само контурите на предметите во пристаништето.
Before/After satellite image over Beirut, #Lebanon 🇱🇧 taken by Pléiades satellites🛰
Before: 25 Jan. 2020
After: 5 Aug. 2020
Copyright @Cnes/@AirbusSpace pic.twitter.com/YdgJ8UY2PF

— Airbus Space (@AirbusSpace) August 5, 2020
Фотографиите ги направил рускиот сателит "Канопсус-В", пренесе "Спутник".
#Lebanon: #ISI #satellite image from #today reveals the severe damages caused by the explosion in #Beirut port.#BeirutExplosion #beirut_بيروت #beirutblasts pic.twitter.com/vLLGI8HAjI

— ImageSat Intl. (@ImageSatIntl) August 5, 2020
Фотографиите од вселената ги објави компанијата "Ербас спејс", како и израелската компанија "Имиџ сат интернешнал".
"Ербас" објави фотографии од францускиот сателит "Плејада". На нив се гледа дека сите магацини во пристаништето се уништени, а од станбените згради останале само урнатини.
#Líbano | El crucero Orient Queen, se hundió en el puerto de Beirut tras resultar dañado por las explosiones registradas allí este martes. Dos personas que se encontraban a bordo murieron y otras siete, integrantes de la tripulación, resultaron heridas. pic.twitter.com/qaNhSs70jn

— Óscar Peraza (@_OscarPeraza) August 5, 2020
Израелската компанија на своите објавени фотографии обележала размери на кратерот кој останал по експлозијата, како и површината зафатена од потресот. Исто така објавила и фотографија од крузерот "Ориент квин", кој од силината на ударот се превртел.
©Makfax.com.mk Доколку преземете содржина од оваа страница, во целост сте се согласиле со нејзините Услови за користење.

Швајцарија: Легитимноста на Лукашенко нема потреба од признавање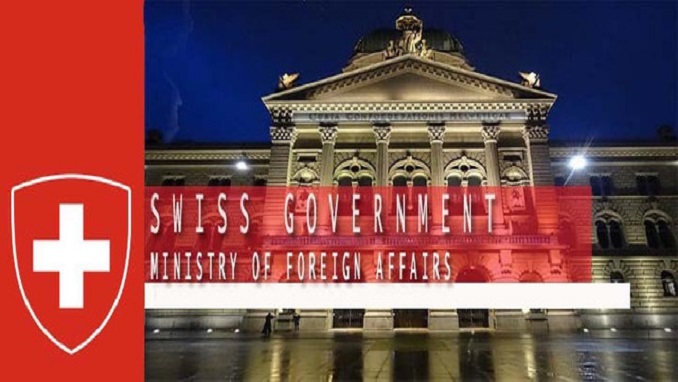 За инаугурацијата на белорускиот претседател Александар Лукашенко не е потребна посебна изјава за признавање или непризнавање од Берн, бидејќи принципот на Швајцарија е да ги признава само државите, а не нивните влади, изјави за ТАСС Министерството за надворешни работи на Швајцарија.
Одговарајќи на барањето да се разјасни позицијата на Швајцарија за признавање или непризнавање на Лукашенко за претседател на Белорусија, портпаролот на швајцарското Министерство за надворешни работи, Пјер-Ален Елтшингер, изјави дека не е практика на Швајцарија или да ги признава или да не ги признава владите.
"Како принцип, Швајцарија признава само држави. Резултатот од изборите, сепак, треба да ја претставува волјата на народот", рече Елтшингер.
Лукашенко во средата по шести пат положи заклетва како претседател на Белорусија. За прв пат во историјата, датумот на церемонијата не беше објавен однапред. По церемонијата, голем број земји изјавија дека не го признаваат легитимитетот на Лукашенко.
Високиот претставник на ЕУ за надворешна политика и безбедност, Џозеф Борел објави дека ЕУ смета оти инаугурацијата и новиот претседателски мандат на Лукашенко нема доволен демократски легитимитет и затоа ги преиспитува своите односи со републиката.
Протестите на национално ниво ја зафатија Белорусија по претседателските избори на 9 август. Според официјалните резултати на Централната изборна комисија, Лукашенко победи со огромно мнозинство од 80,10 отсто од гласовите.
Неговиот најблизок ривал на трката, Светлана Тихановскаја, се најде на второто место со 10,12 отсто од гласовите. Таа одби да ги признае резултатите, ја напушти Белорусија и отиде во Литванија. Откако резултатите од излезните анкети беа објавени доцна на 9 август, во центарот на Минск и другите белоруски градови избија масовни протести.
За време на постизборениот период, митинзите прераснаа во жестоки судири меѓу демонстрантите и полицијата. Како одговор, белоруските власти ги осудија тековните превирања и побараа да се запрат овие неодобрени протести.