Рекорден број на заразени во Франција, Италија, Турција и Шведска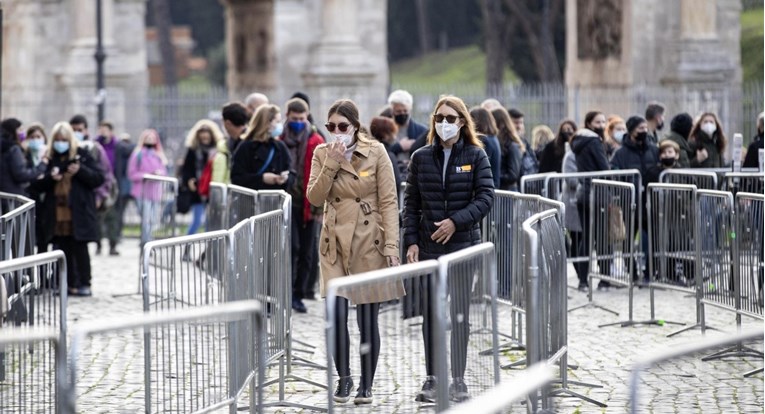 Франција, Италија, Турција и Шведска денеска забележаа рекорден број случаи на инфекција со Ковид-19, поттикнати од позаразниот, но помалку смртоносен, омикрон.
Францускиот министер за здравство Оливие Веран во средата им рече на пратениците дека се регистрирани околу 335.000 случаи на инфекција со Ковид-19, што е нов рекорд.
"Суперсоничен" раст во Франција ќе продолжи и во наредните денови и нема индикации за промена на трендот, изјави портпаролот на француската влада Габриел Атал.
Бројот на починати од ковид во Франција во последните 24 часа изнесува 246, што е најмногу од почетокот на пандемијата, со што вкупниот број на починати достигна 97.670.
Во Италија, пак, во средата се регистрирани рекордни 189.109 случаи на зараза, а претходниот ден се потврдени 170.844 случаи, соопшти Министерството за здравство.
Од ковид почина 231 лице, а на ден претходно 259, а од почетокот на пандемијата во Италија се регистрирани 138.276 смртни случаи и 6,76 милиони заразени.
Во средата, 13.364 луѓе беа хоспитализирани во италијанските болници со Ковид-19, што е зголемување од 12.912 порано.
132 нови пациенти се хоспитализирани на одделенијата за интензивна нега, што е помалку од 153 во средата.
Бројот на пациенти во одделенијата за интензивна нега се зголеми од 1392 на 1428.
Турција во средата потврди 66.467 нови случаи на Ковид-19, што е рекорден број за земјата, соопшти Министерството за здравство.
Пријавени се 143 смртни случаи.
Бројот на заразени дневно во Турција е повеќе од двојно зголемен за нешто повеќе од една недела.
"И покрај зголемениот број на луѓе заразени со омикрон, нема загрижувачки пораст на хоспитализираните", објави министерот за здравство Фахретин Коча на Твитер.
Покрај Италија, Франција и Турција, Шведска потврди рекорден број новозаразени во вторникот (4 јануари) – 17.320
©Makfax.com.mk Доколку преземете содржина од оваа страница, во целост сте се согласиле со нејзините Услови за користење.

(Видео) Канадските камионџии се собираат на протест поради задолжителната вакцинација – можни насилства и хаос
Канадската полиција се подготвува за насилство пред утрешниот собир на камионџии во Отава на протест против задолжителната вакцинација.
Постои загриженост поради паралелните групи за кои разузнавачите сугерираат дека исто така ќе се појават на протестот.
Камионџиите протестираат против новото барање кога влегуваат во Канада да бидат целосно вакцинирани од 15 јануари. Америка го наметна истиот услов за камионџиите кои влегуваат во земјата.
Truck you, Trudeau. pic.twitter.com/FDamVZJ019

— Ezra Levant 🍁 (@ezralevant) January 23, 2022
Групата ја повикува канадската влада да ја прекине употребата на сертификати за вакцини, да се откажат казните поврзани со коронавирусот и да ги вратат вработените кои биле отпуштени поради кршење на правилата за ковид.
Канадската алијанса за камиони проценува дека околу 15 проценти од камионџиите во Канада – дури 16.000 – не се целосно вакцинирани.
Многумина со екстремно десничарски ставови се приклучија на протестот. На онлајн видео се гледа човек кој изразува надеж дека собирот ќе се претвори во канадски еквивалент на бунтот на 6 јануари 2021 година во американскиот Капитол од страна на поддржувачите на поранешниот претседател Доналд Трамп.
🇨🇦 The truckers from the US had no issues crossing the border! Just a few more trucks to add to the mix ✊👏#TruckYouTrudeau #ConvoyForFreedom2022 #TruckersForCanada pic.twitter.com/NVcZg7lPQT

— Elisa 🇬🇧🩸 (@JustLaElisa17) January 26, 2022
Доналд Трамп Јуниор во вторникот се појави на социјалните мрежи за да ги поддржи протестите на канадските возачи на камиони против "тиранијата" и ги повика Американците да го следат нивниот пример.
На состанокот во Отава полицијата откри дека се подготвуваат низа сценарија, вклучително и насилни протести. Полицијата соопшти дека се очекува да пристигнат меѓу 1.000 и 2.000 демонстранти, но велат дека ситуацијата се менува од час во час
Камионџиите пристигнуваат од различни делови на земјата, а на протестот во главниот град на Канада в сабота треба да се сретнат со противниците на задолжителната вакцинација.