(Видео) Се огласија сирените за напад, истрелани ракети кон Ерусалим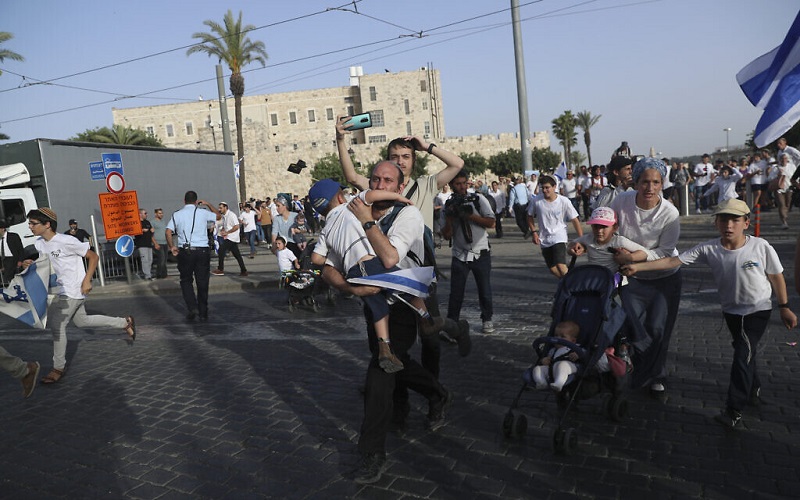 Неколку минути откако стапи на сила ултиматумот на палестинската милитантна организација Хамас, кој беше испратен до израелската влада за да ги повлече своите безбедносни сили од областа околу џамијата Ал Акса, сирените предупредија за ракетен напад во Ерусалим, пренесува агенцијата "Ројтерс".
Набргу потоа одекнале детонации, по што се огласи и претставникот на военото крило на Хамас, Абу Обеидa и потврди дека ракетните напади биле одговор на, како што рече, злосторството и агресијата што Израел ги прави во Ерусалим, објави АП.
Watch | Palestinian resistance factions in the #Gaza Strip launch a fresh round of rocket fire into the Israeli settlements in occupied Jerusalem. pic.twitter.com/AKzJ8A6xgq

— Quds News Network (@QudsNen) May 10, 2021
"Ова е порака што непријателот мора добро да ја разбере", рекол Обеидa, заканувајќи се со нови напади доколку Израел повторно им нареди на своите безбедносни сили да упаднат во џамијата Ал Акса или да извршат протерување на Палестинците кои живеат во источен Еурслим.
Набргу откако беа активирани сирените од Појасот Газа, во Ерусалим се слушнало лансирање на ракета, а потоа и на втора.
Locals flee after rocket siren activated in Jerusalem
MORE: https://t.co/Ze4pT8tVsq pic.twitter.com/9OFZ2ZHHQQ

— RT (@RT_com) May 10, 2021
Во меѓувреме, како што објави "Ројтерс", европскиот комесар за надворешни работи Жозеп Борел повикува на мир во источен Ерусалим, откако повеќе од 300 Палестинци беа повредени во судирите со израелската полиција околу џамијата Ал Акса.
#BREAKING Israel Army;

Strikes Hamas targets in Gaza, Hamas says commander killed#BreakingNews #Israel #Hamas#BreakingNews pic.twitter.com/qQLsJAwfJZ

— International Leaks (@Internl_Leaks) May 10, 2021
"Ситуацијата што настана поради најавата за протерување на палестинските семејства од источен Ерусалим предизвикува сериозна загриженост. Таквата акција е незаконска и е во спротивност со меѓународното хуманитарно право. Само поттикнува зголемување на тензиите", предупреди Борел, а пренесе "Ројтерс".
Засега нема информации за можни жртви во ракетните напади или материјална штета, но израелската армија потврди дека кон Ерусалим биле истрелани седум ракети.
Израел исто така ги јакне силите на Западниот брег и Појасот Газа, од каде милитантите испукаа ракети кон југот на еврејската држава.
Израелската армија потврди возвратен ракетен напад врз Појасот Газа, посочувајќи дека во тој напад загинале тројца припадници на Хамас, пренесе "Харец". Деветмина Палестинци, вклучително и три малолетни лица, загинале во израелските напади врз појасот Газа, изјави портпаролот на палестинското Министерство за здравство.
Според "Јерусалем пост", меѓу убиените припадници на Хамас е и еден од командантите, кој бил мета на израелската армија.
#عاجل حريق في ساحات المسجد الأقصى واشتعال الأشجار pic.twitter.com/OUH7CxPdvi

— وكالة شهاب للأنباء (@ShehabAgency) May 10, 2021
Исто така, според извештаи на локалните медиуми, во меѓувреме е пријавен пожар во џамијата Ал Акса во Ерусалим.
©Makfax.com.mk Доколку преземете содржина од оваа страница, во целост сте се согласиле со нејзините Услови за користење.

Зеленски до Бајден: Кажете ни јасно дали одиме во НАТО или не?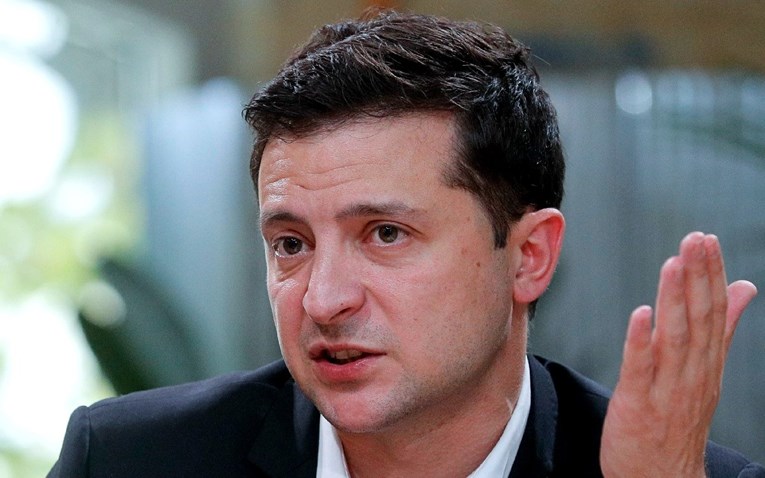 Претседателот на Украина Володимир Зеленски рече дека сака јасен одговор "да" или "не" од американскиот претседател Џо Бајден за планот на Украина за влез во НАТО.
"Ако зборуваме за НАТО и Акциониот план за членство, јас навистина би сакал да добијам од Бајден детали " да " или " не ", рече Зеленски, осврнувајќи се на статусот што Украина долго го бараше.
"Треба да добиеме јасни датуми и веројатност за тоа", рече Зеленски на денот на самитот на лидерите на НАТО во Брисел. Киев изрази незадоволство затоа што не беше поканет на тој состанок.
Во заедничкото интервју за повеќе познати агенции, Зеленски рече дека добил ветување дека Бајден нема да ја користи Украина како договор за средба со рускиот претседател Владимир Путин оваа недела. Тој ги повика Соединетите Американски Држави да и дадат економска поддршка на Украина и апелираше до Бајден и Меѓународниот монетарен фонд (ММФ) да ги разберат проблемите на Украина пред да постават "нефер барања за реформи".
Зеленски побара од членките на НАТО да го забрзаат пристапувањето на Украина во НАТО, по дополнителните тензии со Москва оваа година околу акумулацијата на дополнителни руски трупи и воена опрема во близина на украинските граници. Според него, повеќето руски трупи допрва треба да се повлекуваат. Украинскиот претседател проценува дека околу 11.000 војници се повлечени а остануваат уште 95.000.
Бајден и Зеленски разговараа телефонски минатата недела, а Бајден го покани украинскиот колега на состанок во Белата куќа следниот месец. Зеленски рече дека жали што не се сретнал со Бајден во живо пред средбата меѓу американскиот и рускиот претседател.
"Тој (Бајден) рече:" Никогаш нема да тргувам со украински интереси ", вели Зеленски, пренесуваат медиумите.