"Твитер" ѝ забрани на кинеската амбасада во САД пристап до профилот поради твитот за Ујгурите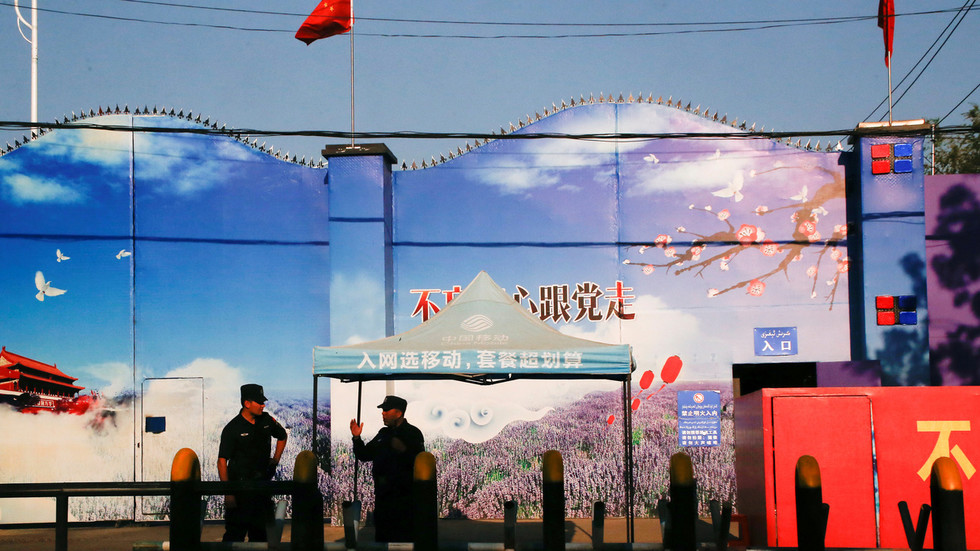 "Твитер" ѝ забрани на кинеската амбасада во САД пристап до профилот поради наводна повреда на неговата политика против дехуманизација со твит во кој Кина ги брани своите активности во Сјинџијанг, пренесува РТ.
Ова се случува само неколку недели по суспендирањето на американскиот претседател Трамп од платформата. Платформата забранува "дехуманизација на група луѓе врз основа на нивната религија, каста, возраст, попреченост, сериозни болести, национално потекло, раса или етничка припадност".
Технолошкиот гигант го заклучи @ChineseEmbinUS, официјалниот профил на кинеската амбасада, за наводно кршење на политиките против дехуманизацијата кога одбила да избрише твит за одбрана на политиките на владата во врска со Ујгурите муслимани во регионот Сјинџијанг. Портпаролот на "Твитер" во средата потврди дека профилот е сè уште е заклучен.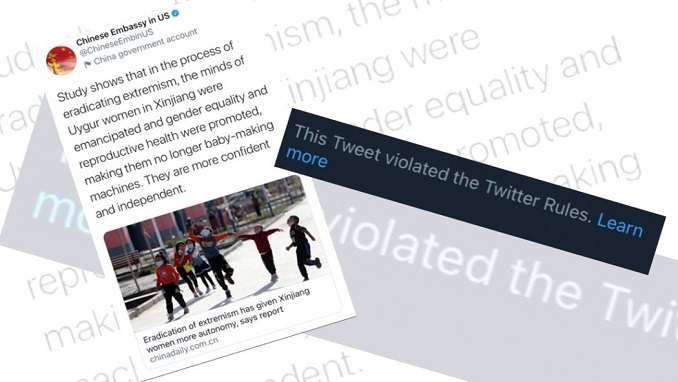 Твитот, во кој се вели 'жените Ујгури веќе не се машини за правење бебиња, благодарение на работата на кинеската влада за искоренување на екстремизмот во Сјинџијанг' и наместо тоа станале 'посамоуверени и независни', од 8 јануари беше скриен зад известувањето "овој твит веќе не е достапен".
Сепак, "Твитер" бара амбасадата рачно да го избрише твитот за да ѝ го отклучи профилот. Амбасадата твитна неколку пати по објавувањето на навредливиот пост, кој остана видлив најмалку 24 часа пред да биде цензуриран.
Кинеските медиуми претходно го критикуваа одговорот на "Твитер" на твитот како лицемерство зашто и други твитови, кои остануваат видливи, исто така ја бранат кинеската политика во однос на Ујгурите.
Една објава содржи графикон, кој прикажува како се зголемува бројноста на малцинството повеќе од 25 отсто од 2010 до 2018 година, а друг ги објаснува деталите на политиката на Пекинг за планирање на семејството во Ксинџијанг.
Does #Xinjiang really have forced sterilization policy? Find out what real scholars in #Xinjiang have to say:
🔗https://t.co/WbVtkxihr3 pic.twitter.com/cs4ARqeAkD

— Hua Chunying 华春莹 (@SpokespersonCHN) January 8, 2021
Кина ја бранеше својата ујгурска политика како спротивставување на екстремизмот во регионот, а САД во ноември ја тргнаа ознаката "терористичко" од Источното туркистанско исламско движење (ЕТИМ) – милитантна верска организација.
"Твитер" им дозволи на критичарите на Пекинг, вклучувајќи го и поранешниот државен секретар на САД, Мајк Помпео, кого кинеската влада неодамна го санкционира за мешање во внатрешните работи на Кина, да ја обвинуваат Кина за спроведување геноцид во регионот наводно со насилна стерилизација на жените Ујгури.
Иако "Твитер" е забранет во Кина, владата одржува профили таму и на другите западни социјални мрежи наменети за странска публика. Платформата нема историја на заклучување на профилите на кинеската влада предизвикувајќи шпекулации дека времето на овој потег сугерира обид да се покаже фер поради зголемена цензура.
©Makfax.com.mk Доколку преземете содржина од оваа страница, во целост сте се согласиле со нејзините Услови за користење.

Макрон нема да го стави Париз под карантин за викенд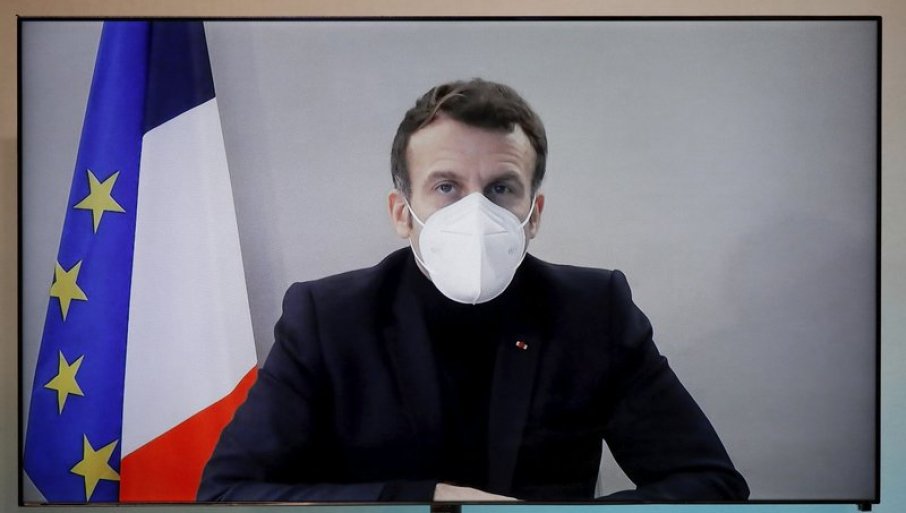 Францускиот претседател Емануел Макрон ќе го поштеди регионот на Париз од карантин за време на викенд, со цел што е можно повеќе да ја задржи отворена француската економија, иако бројот на смртни случаи не опаѓа, пренесува "Ројтерс".
Два извори блиски до Макрон велат дека премиерот Жан Кастекс денес може да воведе заклучување во северната област Па-де-Кале, како што тоа веќе го стори во француската ривиера, но не и во главниот град и околината, додава "Ројтерс".
"Ако можеме да го избегнеме карантинот за време на викенд во Париз, ќе го сториме тоа. Секој викенд што го добиваме е важен", им рече Макрон на министрите.