Фрација е најквалитетна држава за живеење
Според истражувањето на американскиот магазин "Интернешнл ливинг" или "Интернационално живеење", Франција петта година со ред се прогласува за најквалитетна држава за живеење
Како што објави американскиот магазин, "Интернешнл ливинг" за квалитетот на животот во светот, веќе петта година по ред се наоѓа Франција, а на листата по неа следуваат Австралија, Швајцарија, Германија и Нов Зеланд. Во првите десет според општите показатели се наоѓаат Луксембург, САД, Белгија, Канада и Италија, а Бугарија се наоѓа на 44 место на годишната листа. Според цените на производите за просечен живот оваа држава се наоѓа на средината заедно со Аргентина, Камбоџа и Мадагаскар. Таквата листа се подготвува 30 години. Најскапо се живее во Ирак и Авганистан.Од балканските земји Романија е на 53 место на листата на "Интернешнл ливинг". Ваквата листа се подготвува 30 години. На списокот на американското списание за 2010 година учествуваат 194 држави. Класификацијата се врши врз основа на национални извори и статистички податоци на меѓународните организации. Земјите се класифицираат и според критериумите како "слободно време и култура", "економија", "животна средина", "здравство", "инфраструктура" и "клими".
©Makfax.com.mk Доколку преземете содржина од оваа страница, во целост сте се согласиле со нејзините Услови за користење.

Адвокатот на Трамп: Во лаптопот на синот на Бајден има фотографии од малолетни девојчиња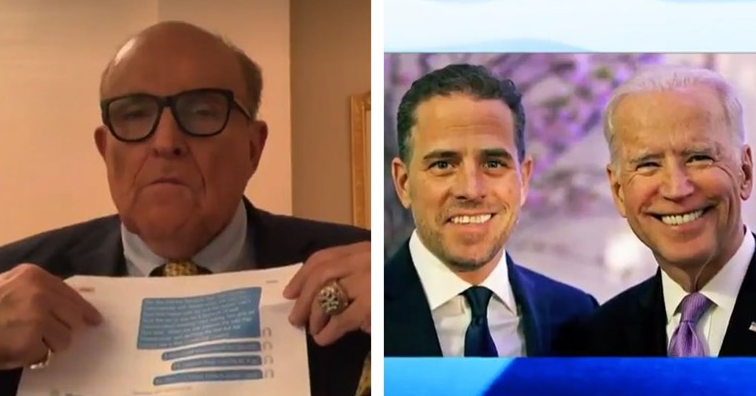 Голем скандал со електронската пошта на синот на поранешниот американски потпретседател и актуелен кандидат за претседател, Џо Бајден, избувна кога конзервативниот таблоид "Њујорк пост" објави ексклузивен извештај со содржината на електронските пораки, со бомбастични обвинувања против Бајден Јуниор, но и против татко му.
Харддискот со овие непроверени пораки, кои наводно доаѓаат од лаптопот што Хантер Бајден го оставил на сервис, но заборавил да си го подигне, до "Њујорк пост" ги доставил адвокатот на американскиот претседател, Доналд Трамп, и поранешен градоначалник на Њујорк, Руди Џулијани.
DEVELOPING: @RudyGiuliani displays a "very, very sensitive" alleged text message from Hunter Biden, which he claims to have handed over to the Delaware state police. @gregkellyusa https://t.co/VlT7z8drtO pic.twitter.com/nzbzAb9QbF

— Newsmax (@newsmax) October 20, 2020
Покрај обвинувањата за корупција, засновани на толкувањата на преписката на Хантер Бајден со деловни партнери во Украина и Кина, Џулијани сега отиде чекор подалеку тврдејќи дека на неговиот лаптоп пронашол многубројни фотографии од малолетни девојчиња, како и преписка на Хантер и Џо Бајден, каде што синот му се жали на таткото дека неговата партнерка на нивниот заеднички психијатар му рекла дека тој се однесувал сексуално несоодветно кон 14-годишно девојче.
Џулијани во интервју за конзервативниот портал "Њузмакс" изјави дека го предал лаптопот на полицијата во Делавер. Јавниот обвинител на таа сојузна држава, од каде што потекнува Бајден, изјавил дека полицијата го проследила материјалот до ФБИ и дека има континуирани прашања во врска со веродостојноста на овие тврдења што ФБИ ќе ги испита.
Трамп во меѓувреме побара од јавниот обвинител да ги испита обвинувањата што произлегуваат од електронската пошта со сомнително потекло за потенцијално нелегалните финансиски активности на Хантер Бајден, како и можниот судир на интереси и корупција на неговиот татко Џо Бајден додека тој бил потпретседател на Соединетите Американски Држави (2008-2016 година).
Од друга страна, многу американски медиуми и опозициски политичари изразија сомневање дека контроверзните електронски пораки биле хакирани и проследени до Џулијани како дел од новата кампања за мешање во изборите во САД – исто како во 2016 година кога американската разузнавачка заедница откри дека руски разузнавачи ја хакирале електронската пошта на претставникот на Демократската партија и шеф на кампањата на Хилари Клинтон, Џон Подеста, а потоа ги проследиле до "Викиликс", така што нивното излегување во јавноста, заедно со ширењето дезинформации и теории на заговор на социјалните мрежи, ги одвратило Американците да гласаат за Клинтон.