(Видео) Вербална пресметка меѓу Дачиќ и косовската делегација на Советот за безбедност на ОН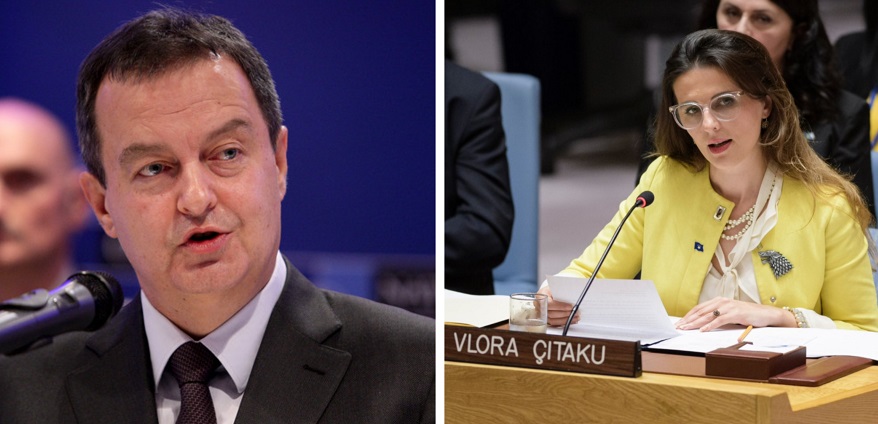 Српскиот министер за надворешни работи, Ивица Дачиќ, по завршување на седницата на Советот за безбедност на Обединетите нации, имал жестока вербална пресметка со делегацијата на Приштина, пренесе "Танјуг".
Пред да излезе од салата, Дачиќ ја продолжил расправијата со амбасадорката на Косово во ОН, Влора Читаку, поради нејзиниот говор за угнетувањето на Албанците на Косово и Метохија, како и за прославата на 20-годишнината од, како што рекла, ослободувањето на КиМ.
Расправијата ја пренесе токму Читаку, која на својот профил на "Твитер" објави дека по завршување на седницата Дачиќ ги навредувал членовите на косовската делегација. Во еден момент на видеото се слуша како Дачиќ им вели: "Вие сте глупави колку што сте тешки".
After today's #UNSC session on #Kosovo, as I was speaking with the #US & #UK delegations, the Serbian FM came after me shouting, spewing insults towards me & the #Kosovo delegation

"The ones you are sitting with are your colonizers" he said (referring to #USA & #UK) pic.twitter.com/HBRa6bfO7I

— Vlora Çitaku (@vloracitaku) June 10, 2019
"По денешната седница на СБ на ОН, додека разговарав со делегациите на САД и Велика Британија, српскиот министер за надворешни работи дојде до мене викајќи и ме навредуваше мене и косовската делегација", објави Читаку на "Твитер".
"Тие со коишто седиш се ваши колонизатори", рекол Дачиќ, напиша Читаку.
Овој коментар на Дачиќ се однесувал на говорот на Читаку, а во кој рекла дека во случајот на Србија и Косово станува збор за деколонизација.
Српскиот министер рекол дека бил фрапиран од оваа изјава.
"Колку некој треба да нема срам за во СБ пред големи колонијални сили кои имале свои колонии ширум светот, и пред африкански, јужноамерикански и азиски земји кои се ослободиле од колонијализмот, да користи еден таков израз. Тоа е чист безобразлук", рекол Дачиќ.
Ја повикал Читаку да му докаже дека албанските споменици на Косово постоеле и во 13 и 14 век.
"Кога ќе ми донесе еден историски споменик од албанско потекло од 13 или 14 век од Косово. Кога ќе ми покаже еден споменик од тој период, тогаш би можел да кажам дека Албанците биле тука и тогаш. Но, да се каже дека Србите се колонизатори, дека владееле, а не живееле на Косово, тоа е безобразно", рекол Дачиќ.
©Makfax.com.mk Доколку преземете содржина од оваа страница, во целост сте се согласиле со нејзините Услови за користење.

Полицајци во Грција нелегално издавале пасоши на криминалци, покрената е истрага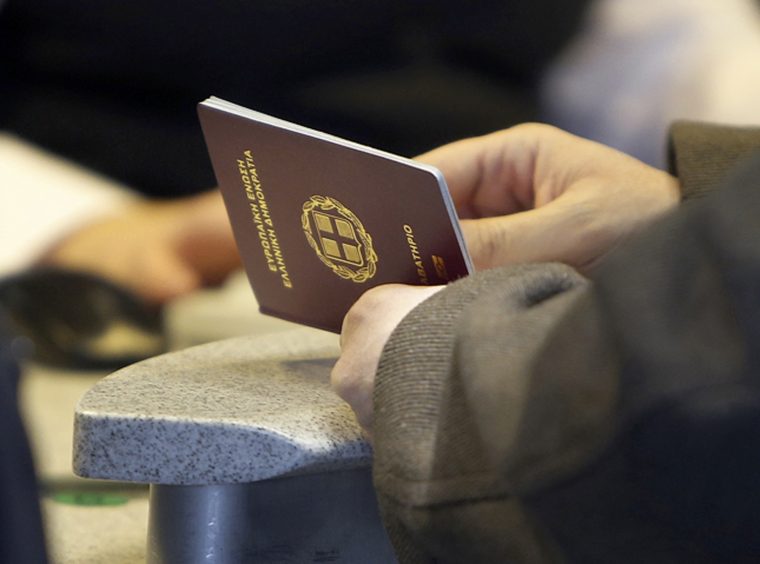 Грчките власти покренаа истрага против 6 полицајци и 27 други лица под сомнение за вмешаност во голема измама со лажни пасоши и лични карти, наменети за странски криминалци кои бегаат од законот.
Полициската служба за внатрешна контрола соопшти дека документите се огласени за неважечки – вкупно 31 пасош и 38 лични карти, издадени во периодот помеѓу 2016 и 2018 година.
Овие документи беа продавани на црниот пазар по индивидуални цени од 5.000 до 40.000 илјади евра.
Незаконски биле користени идентитети на Грци кои живеат во странство, а не го продолжиле важењето на личните документи во пропишаниот период.
Контролите на валидноста на пасошите се интензивираат во Грција во последните години, како резултат на зголемениот прилив на бегалци на кои не им е дозволено да одат во други земји на ЕУ, во согласност со ограничувањата што ги наметна Унијата во 2016 година.
Грција е сè уште најпопуларната дестинација за нелегален влез на бегалци кои се обидуваат да стигнат до ЕУ.
Во соопштението на полицијата не е наведено дали некој од 33-те осомничени лица е задржан во притвор.