Омилената маица за вежбање на принцезата Дијана продадена за 43.000 фунти
Принцезата Дијана во опуштено издание често ја носеше својата омилена фитнес-маица. Широката темносина кошула има лого на "Виргџн Атлантик Варга грл", а принцезата редовно вежбала во неа.
По смртта на Дијана во 1997 година, маицата како спомен ја добила нејзината лична тренерка Џени Ривет. Таа неодамна маичката ја стави на продажба.
Princess Diana's sweatshirt sold for $53,532 in RR's July Auction last night! #PrincessDiana #rrauction #auction #Royals pic.twitter.com/AvPbXy2fvg

— RR Auction (@RRAuction) July 11, 2019
"Иако се обиде да не биде впечатлива, на крајот тоа парче облека стана култно, нешто по што беше препознатлива. Секогаш ја носеше за вежбање", рече Ривет.
Таа објасни дека маичката на принцезата ѝ била како ќебе, ги покривала нејзините облини, а Дијана намерно ја носела за да се ослободи од фотографите, но и од коментарите за облеката што ја носела.
Беше купена на аукција од страна на таен обожавател за 42.700 фунти, со што маицата на Дијана стана најскапото парче облека за вежбање.
©Makfax.com.mk Доколку преземете содржина од оваа страница, во целост сте се согласиле со нејзините Услови за користење.

Водата на Аљаска е толку топла што веќе ни рибите не можат да издржат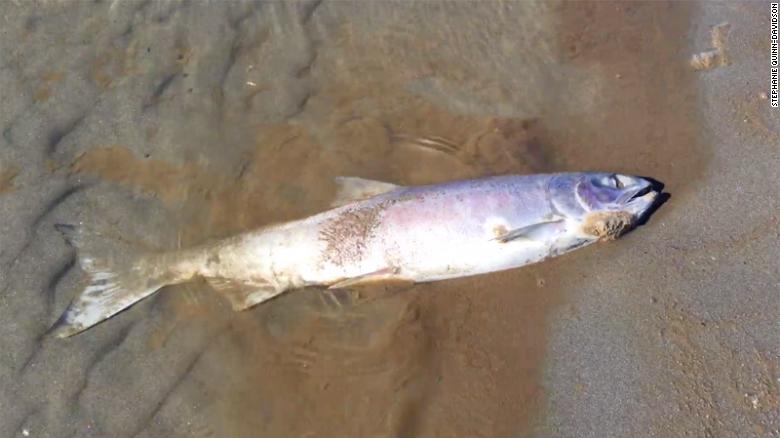 Аљаска ова лето беше на удар на незапаметени топлотни бранови. Научниците предупредуваат на влијанието на климатските промени на рибниот свет, бидејќи забележани се бројни угинати примероци на неколку видови лосос.
Стефани Квин-Дејвидсон, директорка на рибната компанија Јукон, рекла дека кон крајот на јули однела група научници на експедиција долж реката Којокук, каде мештаните ја предупредиле за угинати лососи.
Alaska has been in the throes of an unprecedented heat wave this summer, and the heat stress is killing salmon in large numbers https://t.co/vGn3x6cw1I

— CNN (@CNN) August 17, 2019
Тие избројале 850 мртви лососи, но процениле дека вкупниот број најверојатно е четири до десет пати поголем. Барале докази за можно труење или зараза, но ништо не нашле, а со оглед дека нивното угинување се поклопило со топлотниот бран, заклучиле дека топлотен стрес е причина за масовното угинување.
Топлотниот бран е посилен од што се очекувало.
"Температурата на водата достигна рекордна вредност истовремено со температурата на воздухот" велат експертите.
Научниците од 2002 година ја следат температурата околу заливот Кук, јужно од Енкориџа, и до сега таа не надмината 24,5 степени Целзиусови. Оваа година на 7 јули температурата достигна 27,5 степени.