Ботас на пиедесталот во Истанбул, втор е Ферстапен – Хамилтон дури петтопласиран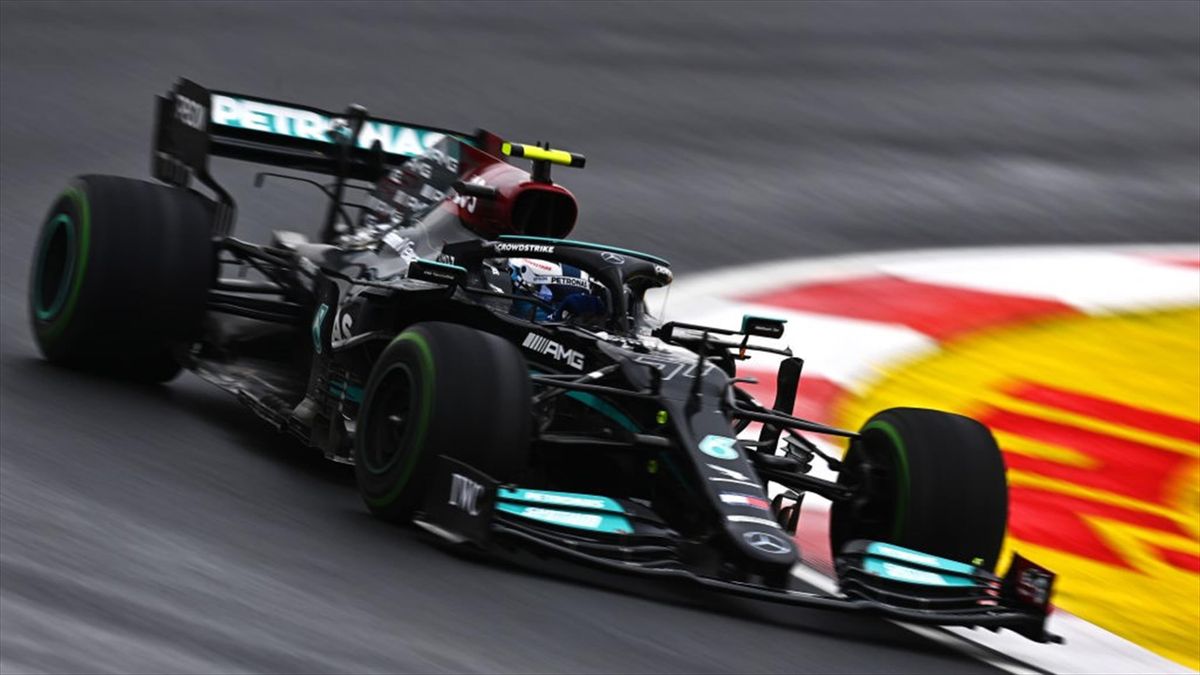 Финскиот Формула 1 возач – Вактери Ботас е победник на денешната трка во Истанбул за Големата награда на Турција. Возачот на Мерцедес, кој од пол-позицијата ја стартуваше дождливата трка во Турција, на крајот зад себе ги остави двата болида на Ред Бул.
Второпласиран денеска со задоцнување од над 14,5 секунди беше Макс Ферстапен, а место на подиумот има и за вториот "бик" – Серхио Перез кој доцнеше над 33 секунди зад победникот.
Четвртата позиција денеска беше резервирана за возачот на Ферари, Шарл Леклер, додека актуелниот Ф1 шампион, Луис Хамилтон, кој поради казната за промената на моторот мораше денеска да стартува како 11-ти, на крајот стигна до петтата позиција.
Бодови на денешната трка освоија и Гасли, Норис, Сајнц, Строл и Окон.
Денешната позиција на Ферстапен му донесе враќање на врвот во генерален пласман во однос на Хамилтон. Сега Холанѓанецот има +6 бода во однос на Британецот.
Борбата за титулата на 6 трки до крајот и понатаму е отворена.
Следната трка е закажана за 24. октомври на патеката во Остин, САД.
VALTTERI BOTTAS TAKES THE 🏁

He converts pole position into his first win of 2021!

Max Verstappen (P2) and Sergio Perez (P3) complete the podium#TurkishGP 🇹🇷 #F1 pic.twitter.com/Uhp6HRuDCO

— Formula 1 (@F1) October 10, 2021
©Makfax.com.mk Доколку преземете содржина од оваа страница, во целост сте се согласиле со нејзините Услови за користење.

Меси-фактор за ПСЖ, Гризман од херој до трагичар против Ливерпул
Лионел Меси постигна два гола за Пари Сен-Жермен да се врати за 3:2 победа над РБ Лајпциг, за да го заддржат првото место во групата А во Лигата на шампиони, додека Антоан Гризман прво беше херој на "Ванда Метрополитано" враќајќи го Атлетико од 0:2 до 2:2 со Ливерпул, по што имаше несфатлив фаул за директен црвен картон, а "црвените" на крајот победија со 2:3.
Интер и Реал Мадрид ги победија источноевропските аутсајдери Шериф и Шахтјор за да се вратат на вистински пат во ЛШ, Милан загуби во Португалија за да си ги минимизира шансите за пласман во осминафиналето, додека Ајакс ја декласираше Борусија Дортмунд со 4:0.
На "Паркот на принцовите", без Нејмар и Икарди во тимот, Килијан Мбапе рано ги донесе домаќините во водство уште во 9. минута со фантастичен гол, но бундеслигашот израмни преку Андре Силва во 28. минута, за во 57. минута преку Мукиеле да дојдат до неочекувано водство.
Тогаш на сцена стапи Лео Меси – прво имаше одлично проигрување од Мбапе во 67. минута да израмни, за седум минути подоцна од белата точка да донесе победа за ПСЖ. Килијан Мбапе во 94. минута имаше шанса од уште еден пенал да го зголеми водството, но не успеа.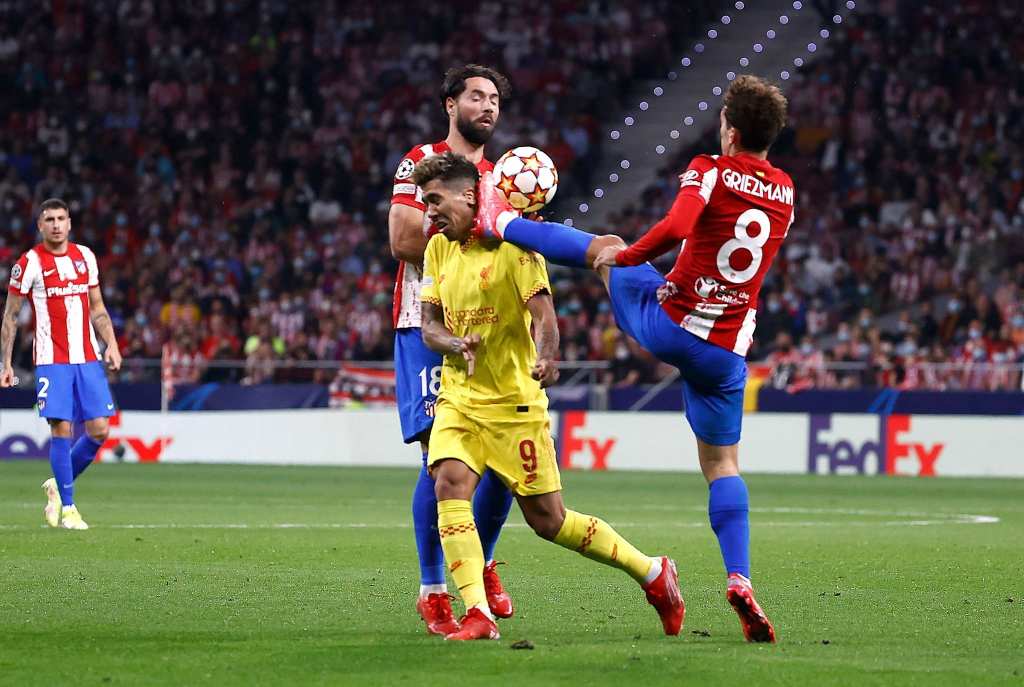 На "Ванда Метрополитано" не недостасуваше драма. Ливерпул почна моќно – Мохамед Салах во 8. и Наби Кеита во 13. минута ја шокираа домашната публика за 0:2 водство. Антоан Гризман за 14 минути направи супер пресврт со два гола во 20. и 34. минута за малку да ја придобие публиката која претходно ја разочара со трансферот во Барса.
Меѓутоа во 52. минута тој имаше несфатлив фаул над Роберто Фирмино за да ги остави Атле со играч помалку. Во 76. минута беше досуден пенал за Ливерпул, кој лесно го реализираше Салах, пред да има уште драма во 81. минута, кога прво беше покажан пенал за Атлетико, но по ВАР проверката домашните навивачи беа разочарани.
Шахтјор на момент најавија нова сензација на "Сан Сиро", кога израмнија на 1:1 по голот на Џеко на стартот на второто полувреме, но Видал и Де Фрај обезбедија три поени за Интер за прва година во ЛШ оваа сезона. Реал немаше вакви проблеми во Украина – ги победи Шахтјор со 0:5 со двата гола на Винисиус Жуниор.
ЛИГА НА ШАМПИОНИ
ГРУПА А
Пари Сен-Жермен – РБ Лајпциг 3:2
(function (el) { window.addEventListener("message", (event) => { if (event.origin.startsWith("https://www.sofascore")) { if (el.id === event.data.id) { el.style.height = event.data.height + "px"; } } }); })(document.getElementById("sofa-standings-embed-1462-36886"));
ГРУПА Б
Атлетико Мадрид – Ливерпул 2:3
Порто – Милан 1:0
(function (el) { window.addEventListener("message", (event) => { if (event.origin.startsWith("https://www.sofascore")) { if (el.id === event.data.id) { el.style.height = event.data.height + "px"; } } }); })(document.getElementById("sofa-standings-embed-1463-36886"));
ГРУПА Ц
Ајакс – Борусија Дортмунд 4:0
(function (el) { window.addEventListener("message", (event) => { if (event.origin.startsWith("https://www.sofascore")) { if (el.id === event.data.id) { el.style.height = event.data.height + "px"; } } }); })(document.getElementById("sofa-standings-embed-1464-36886"));
ГРУПА Д
Интер – Шериф Тираспол 3:1
Шахтјор Доњецк – Реал Мадрид 0:5
(function (el) { window.addEventListener("message", (event) => { if (event.origin.startsWith("https://www.sofascore")) { if (el.id === event.data.id) { el.style.height = event.data.height + "px"; } } }); })(document.getElementById("sofa-standings-embed-1465-36886"));