Grazie "Il Dottore" – Валентино Роси ја извозе својата последна Мото ГП трка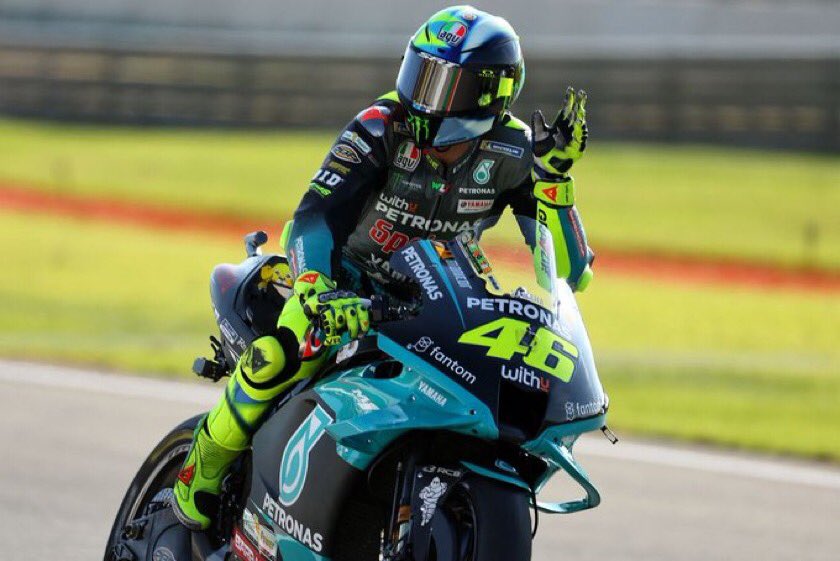 Со шампионатот веќе одлучен (трофејот оди кај Фабио Квартараро), последната трка од Мото ГП сезоната 2021 година, секако беше во знак на Валентино Роси, најголемата ѕвезда која ја произведе овој спорт, кој ја извозе својата последна, 432. трка во блескавата кариера.
Резултатот, секако, не беше важен, бидејќи "Докторот" одамна не е во конкуренција за победи и титули, но тоа не ги спречи навивачите на патеката "Рикардо Тормо" во Валенсија, да приредат неверојатна атмосфера и прописно збогување со Италијанецот. Посебен гостин беше неговиот идол, бразилската фудбалска легенда Роналдо, пораки пратија сите Ф1 возачи, и се беше подготвено за емотивно попладне.
Можеби најприкладно, победата во Валенсија ја забележа Франческо "Пеко" Бањаја, асот на Дукати, кој кариерата ја почна во академијата на Роси, а титулата отиде кај Фабио Квартараро, Французинот кој призна дека станал тркач откако го гледал "Докторот" како се бори на патеката. Роси, последната трка ја заврши на 10. место.
Grazie Vale#ValentinoRossi pic.twitter.com/CHBr713Eor

— ~ (@FrancescaKikka4) November 14, 2021
42-годишниот тркач од Урбино, со славниот број 46 на својот мотоцикл, е деветкратен шампион, од кои седум ги освои во елитната класа, во кариера која трае повеќе од 20 години.
Откако се пресели во елитната класас во 2000, Роси ја освои 500сс титулата со Хонда во 2001 година, како последен возач на "сателитски" тим со титула. Потоа во 2002 и 2003 година, тој ја освои титулата со фабричката Хонда, пред да направи неверојатен потег – го напушти доминантниот тим на Хонда, и се пресели кај лутите ривали, Јамаха.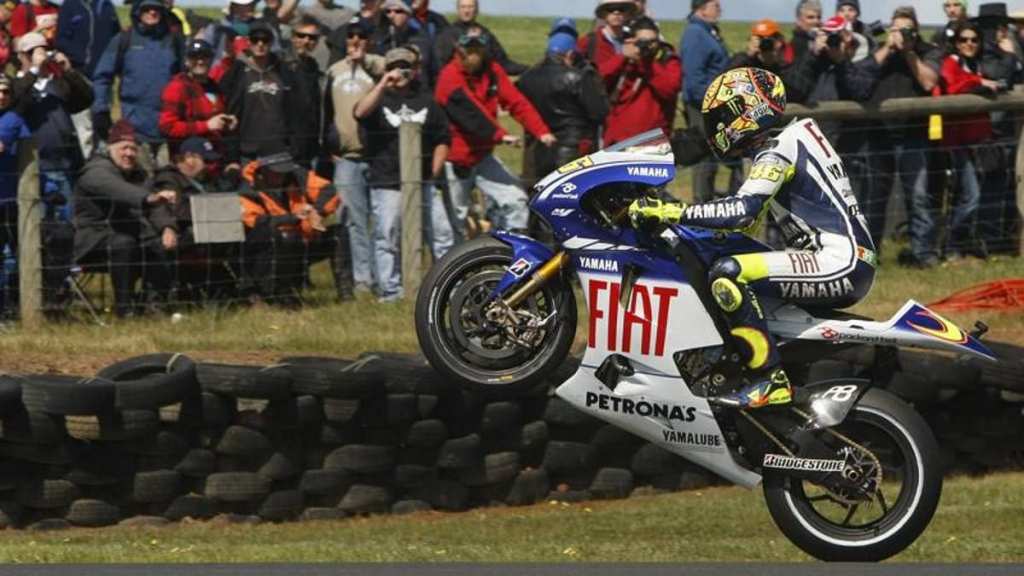 Успехот продолжи – во 2004 и 2005 година тој ги освои титулите со Јамаха, пред во 2006 да ја загуби титулата со пад во последната трка. Во 2007 тој заврши како трет во генерален пласман, пред да додаде уште две титули во 2008 и 2009 година. По 2010, во која скрши нога, Роси направи уште еден ризичен потег во кариерата – се пресели во Дукати, каде што го замени Кејси Стонер. Меѓутоа сезоните 2011 и 2012 беа можеби најлоши во неговата кариера, и тој се врати во Јамаха во 2013.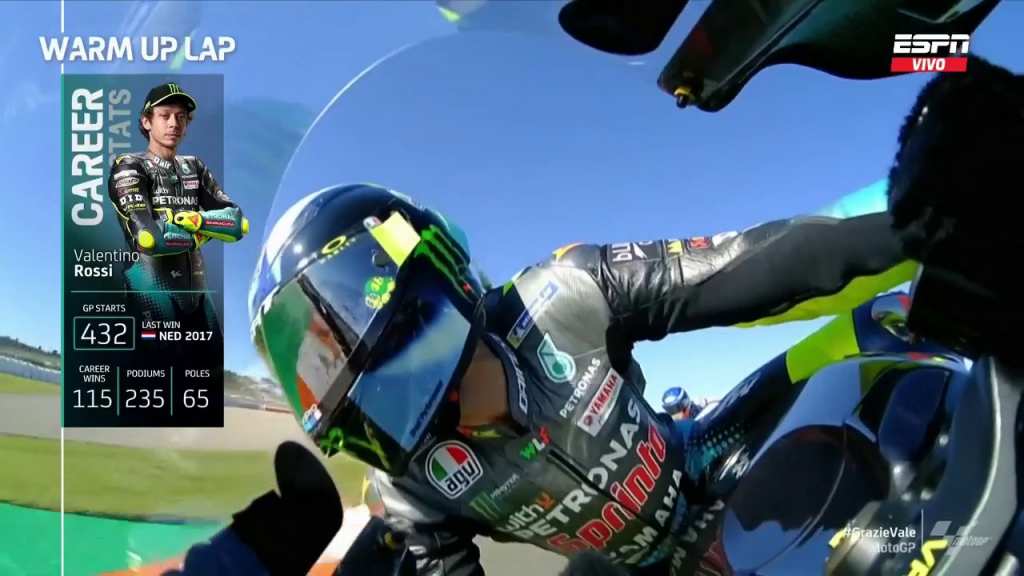 Тој трипати едноподруго беше втор во генерален пласман во 2014, 2015 и 2016 година. Во 2015 година водеше во генерален пласман во поголемиот дел од сезоната, која имаше контроверзен крај, кога го "шутна" Марк Маркез и беше казнет на последната трка, за титулата да ја освои Хорхе Лоренцо. Во 2017 година, тој последен пат победи на Холандското ТТ на 38 години, и тоа беше последната сезона во која освои над 200 поени.
+15, Grazie vale 💛@ValeYellow46 #GrazieVale #ValentinoRossi #ValenciaGP @MotoGP pic.twitter.com/yhSWZsmsd1

— cele🐴 (@cobaltammm) November 14, 2021
For the victories, for the rivalries, for the inspiration, for the laughs, for the celebrations, for the showbiz…

Thank you @ValeYellow46 💛#GrazieVale #ValenciaGP 🏁 pic.twitter.com/Wxl23g4U6S

— MotoGP™🏁 (@MotoGP) November 14, 2021
©Makfax.com.mk Доколку преземете содржина од оваа страница, во целост сте се согласиле со нејзините Услови за користење.

Конте подготвува чистка во Тотенхем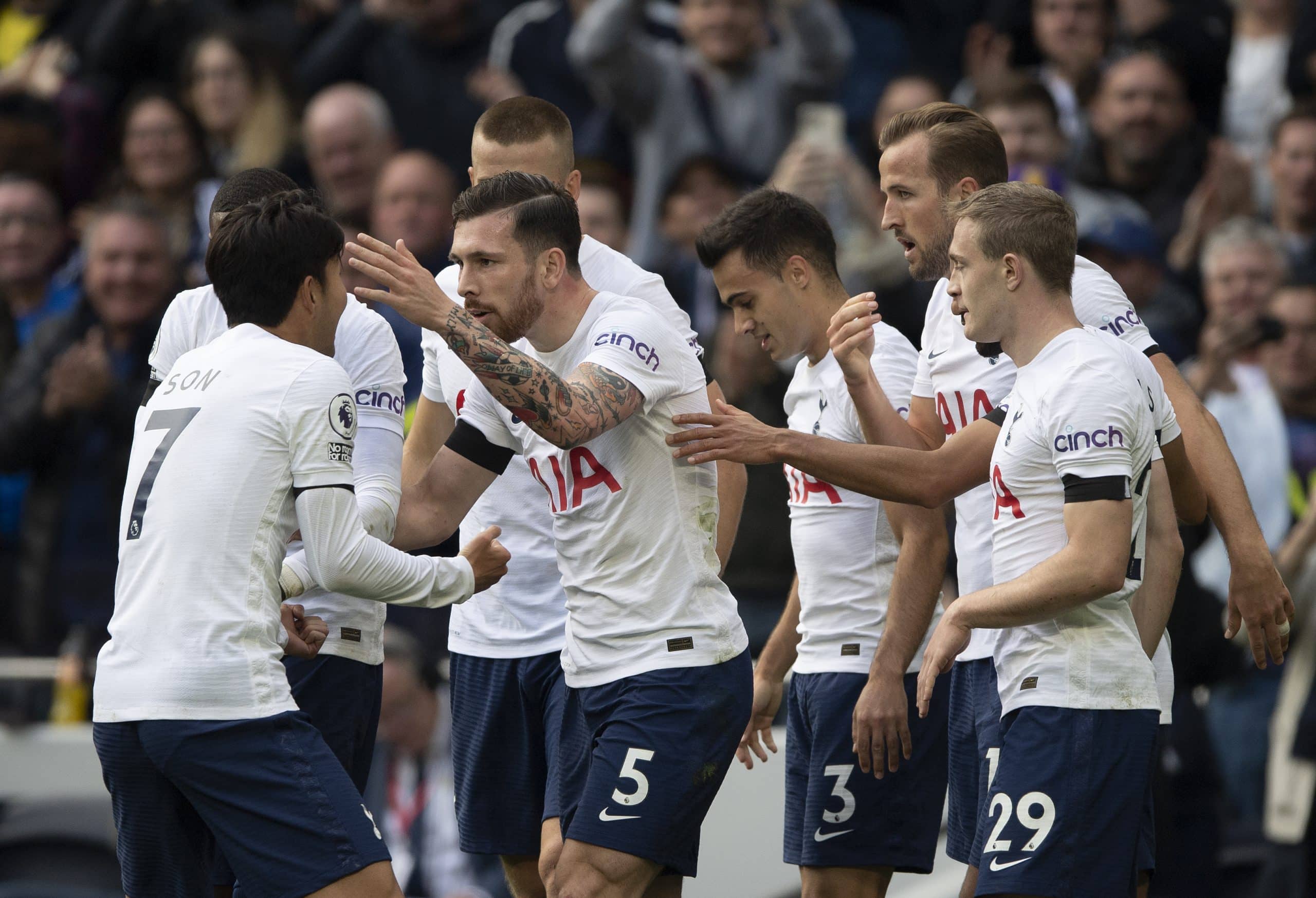 Понижувачкиот пораз од Мура, во Марибор, му ги отвори очите на новиот менаџер на Тотенхем, Антонио Конте.
"Тотенхем во овој момент е далеку од врвните тимови. Сега навистина видов во каква ситуација се наоѓаме.", изјави Конте.
Англиските медиуми тврдат дека Тотенхем ќе бара засилувања во зимскиот преоден рок, а според овие извори, Конте веќе ја направил листата на оние кои ќе го напуштат клубот.
Наводно на таа листа се Мет Дохерти, Деле Али, Дависон Санчез, Ден Дејвис, Хари Винкс, Танги Ндомбеле и Џек Кларк.
Листата може да биде проширена со уште некое име. Неколкумина имале рок до крајот на годината да му му докажат на менаџерот дека треба да останат во клубот.