НБА финалето со катастрофална гледаност, кој е виновен?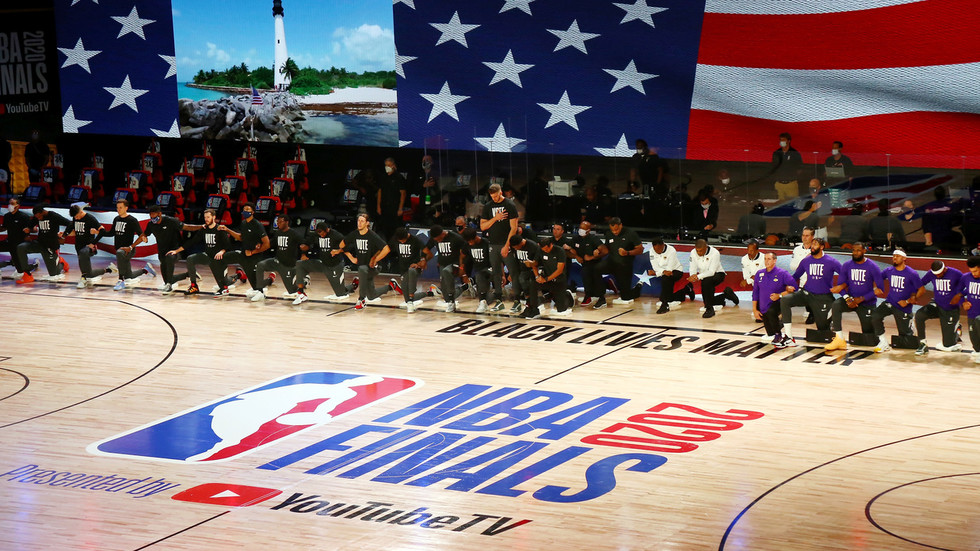 НБА финалето оваа сезона, односно првата титула на Лос Анџелес лејкерс по 10 години ја гледале драстично помалку луѓе од минатата сезона, со речиси 70 отсто намалување, нешто што сигурно ќе ги загрижи газдите.
Според "ТВ лајн", неделното финале помеѓу Лејкерс и Мајами хит, привлекло 5.5 милиони гледачи, во споредба со 18.9 милиони гледачи кои го гледале последниот меч од финалето во 2019 помеѓу Торонто и Голден Стејт. Петтиот натпревар пак, привлекол 5.7 милиони гледачи, речиси 70 отсто помалку од 18.2 милиони гледачи во истиот период лани.
Мечевите во НБА се играа зад затворени врати во таканаречениот "меур" во Дизниворлд во Флорида поради пандемијата на корона вирусот, а покрај тоа финалето се играше во директна "конкуренција" со најпопуларната американска лига, НФЛ, што обично не е случај бидејќи сезоната завршува во јуни.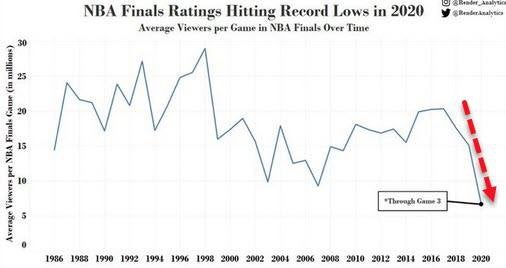 НБА лигата не е единствена што има проблем со гледаноста во САД. НХЛ плејофот имал 25 отсто помалку гледачи од минатата сезона, вклучувајќи дури 61 отсто пад за Стенли куп финалето, додека МЛБ плејофот имал 39 отсто помалку гледачи. Првите бројки од НФЛ сезоната, која започна неодамна, покажува најмал пад – од околу 14 отсто.
Дел од конзервативните коментатори во САД посочија дека главна причина за "крахот" на НБА се политичките пораки преку поддршката за движењето "Black Lives Matter". Во август, Милвоки бакс бојкотираа натпревар против Орландо меџик по застрелувањето на еден Афроамериканец во Висконсин, а се најавуваше и целосен бојкот на плејофот. Сенаторот од Тексас, републиканецот Тед Круз вели дека падот на рејтингот не изненадува.
"Лично, ова е првпат по многу години да не сум гледал ниту еден натпревар од НБА финалето. #GoWokeGoBroke", напиша Круз на Твитер.
Not surprising. Personally speaking, this is the first time in years that I haven't watched a single game in the NBA Finals. #GoWokeGoBroke https://t.co/ygIp60EKHi

— Ted Cruz (@tedcruz) October 6, 2020
НБА комесарот, Адам Силвер, по крајот на плејофот призна дека следната сезона пораките за социјална правда ќе бидат ставени во втор план.
"НБА е целосно посветена на социјалната правда и расна еднаквост, но следната сезона ќе има враќање на нормалноста, и тие пораки ќе бидат оставени да се направат надвор до кошаркарските терени", изјави Силвер.
Adam Silver says NBA social justice warrior messages on the court and jerseys will be gone next season. NBA sees the ratings collapse & knows they are destroying their business. https://t.co/vlRarwgB2U

— Clay Travis (@ClayTravis) October 6, 2020
©Makfax.com.mk Доколку преземете содржина од оваа страница, во целост сте се согласиле со нејзините Услови за користење.

Звезда по драматични продолженија ги урна "Армејците"!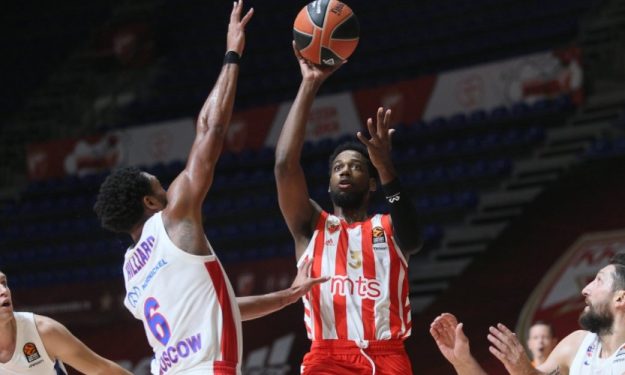 Црвена звезда првпат од 2016 година успеа да ја победи ЦСКА Москва со 86:84 по драматични продолженија во Белград за да го поправи скорот во Евролигата на 2-2, додека "Армејците" паднаа на 2-3.
ЦСКА Москва имаше периоди во кои доминираше во играта, на крајот Звезда славеше. Дејан Давидовац постигна тројка, па два поени за да донесе 71:70 водство на Звезда на минута пред крајот, по што Џордан Лојд имаше две слободни фрлања пред Даниел Хакет да врати со тројка и да примора продолжувања. Лојд на крајот на 54 секунди пред крајот ан продолжението донесе победа за белградскиот клуб.
Лојд имаше партија на кариерата со 29 поени, додека Кори Валден додаде 12, а Марко Јагодиќ 11 за Звезда.
Во Атина пак, Панатинаикос предводен од Немања Недовиќ и неговите 28 поени (од седум тројки), стигна до импресивна 82:68 победа над Фенербахче. Лоренцо Браун постигна 17 поени, а Ахмет Дувериоглу 15 за Фенер, чиј тренер Игор Кокошков беше исфрлен во првото полувреме поради две технички грешки.
ЕВРОЛИГА, 5.КОЛО
Панатинаикос – Фенербахче 82:68 (22:13, 15:17, 25:26, 20:12)
Жалгирис Каунас – Валенсија 82:94 (27:22, 18:15, 12:30, 25:27)
Црвена звезда – ЦСКА Москва 86:84 (18:20, 17:23, 11:8, 27:22, 13:11)
Зенит Санкт Петерсбург – Милано, одложено
Алба Берлин – Басконија, одложено