Пред мечот Италија-Швајцарија, пронајдена бомба во автомобил во близина на "Олимпико"!
Италијанскиот весник "Кориере дело спорт" тврди дека била пронајдена автомобил-бомба во близината на "Олимпико" пред мечот Италија-Швајцарија, кој стартува во 21 часот, и таа била уништена со контролирана експлозија.
Според весникот, бомбата била во паркиран Смарт автомобил на "Пјаца Манчини", во близината на фудбалскиот стадион, каде што фановите поминуваат пред мечот, на кој ќе има 25 отсто од капацитетот на стадионот.
Нивните извори велат дека случаен минувач забележан сомнителен обнјект во паркираниот автомобил и ја повикал полицијата, која направила контролирана експлозија во 18 часот.
According to the Corriere dello Sport, a suspected car bomb was discovered close to the Stadio Olimpico ahead of tonight's Euro 2020 game between Italy and Switzerland and destroyed in a controlled explosion https://t.co/STJO8auYAY #Euro2020 #ITASUI #ITA #SUI pic.twitter.com/znEDo1YcKS

— footballitalia (@footballitalia) June 16, 2021
©Makfax.com.mk Доколку преземете содржина од оваа страница, во целост сте се согласиле со нејзините Услови за користење.

ЛШ: Шериф извади реми кај Звезда, Лудогорец за малку до сензација кај Олимпијакос!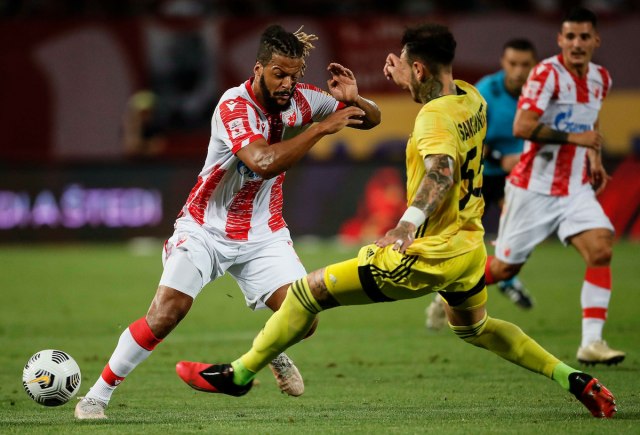 За да се оствари дуелот за влез во Лигата на шампионите помеѓу ексјугословенските фудбалски гиганти Црвена звезда и Динамо Загреб, прво "црвено-белите" ќе треба да се вратат со позитивен резултат од Молдавија, откако во првиот меч од третото квалификациско коло "извлекоа" само 1:1 со Шериф Тираспол.
Аутсајдерите од Молдавија дојдоа во водство 33. минута, кога по еден слободен удар на 18 метри од голот, Колумбиецот Франк Кастањеда го искористи киксот на голманот Борјан. Упорноста на Звезда донесе израмнување во финишот на полувремето преку Французинот Лоис Диони, но во 58. минута Канга доби втор жолт картон, оставајќи го српскиот шампион со играч помалку во поголемиот дел од второто полувреме.
Бугарскиот шампион Лудогорец, пак, го делеа минути од мала сензација, откако во Пиреја одиграа 1:1 со фаворизираниот Олимпијакос. Подобриот од овој меч за место во ЛШ ќе игра со победникот од дуелот меѓу Малме и Ренџерс, каде што во првиот меч, шведскиот клуб направи 2:1 предност. Клучен човек за Лудогорец, беше Кирил Десподов, кој го постигна гол во 50. минута, но Агуибу Камара во 87. минута спаси реми за Олимпијакос.
На чекор од баражот по првите мечеви се ПСВ Ајндховен, Монако и Шахтјор Доњецк. Францускиот клуб со 2:0 победи на гости кај незгодната Спарта Прага, Шахтјор исто така на гости со 2:1 славеше кај белгискиот Генк, додека ПСВ дома со 3:0 го совлада данскиот Митјиланд.
ЛИГА НА ШАМПИОНИ, 3.КВАЛИФИКАЦИСКО КОЛО, ПРВИ МЕЧЕВИ
Малме (Шве) – Ренџерс (Шко) 2:1
Спарта Прага (Чеш) – Монако (Фра) 0:2
ЦФР Клуж (Ром) – Јанг Бојс (Шва) 1:1
Генк (Бел) – Шахтјор Доњецк (Укр) 1:2
ПСВ Ајндховен (Хол) – Митјиланд (Дан) 3:0
Црвена звезда (Срб) – Шериф Тираспол (Мол) 1:1
Олимпијакос (Грц) – Лудогорец (Буг) 1:1
ЦРВЕНА ЗВЕЗДА – ШЕРИФ
МАЛМЕ – РЕНЏЕРС
СПАРТА – МОНАКО

ПСВ – МИТЈИЛАНД
ГЕНК – ШАХТЈОР