(Видео) Градот каде што изби пандемијата лудо се забавува
Илјадници млади Кинези за викендот го преполнија аква-паркот во градот Вухан, од каде почна заразата со коронавирус. Очигледно дека тие биле желни за забава, откако во градот полека се враќа животот во нормала. Популарниот аква-парк во Вухан беше исполнет со весели млади луѓе во костими за капење, кои танцуваа на електронска музика, некои во мали гумени чамци, некои само пливајќи, без притоа да се почитуваат мерките за заштита. Без маски и држење физичка дистанца.
Аква-паркот повторно е отворен во јуни, во рамки на постепеното отворање на градот по 76-дневниот карантин и строгите мерки.
VIDEO: 🇨🇳 Crowds packed out a water park over the weekend in the central Chinese city of #Wuhan, where the #coronavirus first emerged late last year, keen to party as the city edges back to normal life pic.twitter.com/SJFBmx5sU8

— AFP news agency (@AFP) August 17, 2020
Минатиот викенд аква-паркот бил исполнет половина од вообичаениот капацитет, а жените добиле и 50 проценти попуст.
Првите познати случаи на Ковид-19 се забележани минатата година во Вухан, градот од 11 милиони жители, по што вирусот се прошири во целиот свет.
Thousands of Chinese ignored the coronavirus and participated last weekend in a techno music macro party at a water park in Wuhan, where Coronavirus disease emerged at the end of 2019, which generated controversy this Monday on social networks. pic.twitter.com/tJKPQq8knW

— David (@DavidPrzMX) August 17, 2020
Во Вухан карантинот беше укинат во април, а од средината на мај нема официјално потврдени случаи на зараза во провинцијата Хубеј, чиј главен град е Вухан.
За да ја поттикне локалната економија, владата на Хубеј понуди бесплатен влез на 400 туристички локации на својата територија.
Кина во голема мера ја сопре епидемијата на коронавирусот, но повремените жаришта и сериозните летни поплави и натаму многу ја загрозуваат нејзината економија.
©Makfax.com.mk Доколку преземете содржина од оваа страница, во целост сте се согласиле со нејзините Услови за користење.

Трговијата со деца во земјите од Западен Балкан сеуште во пораст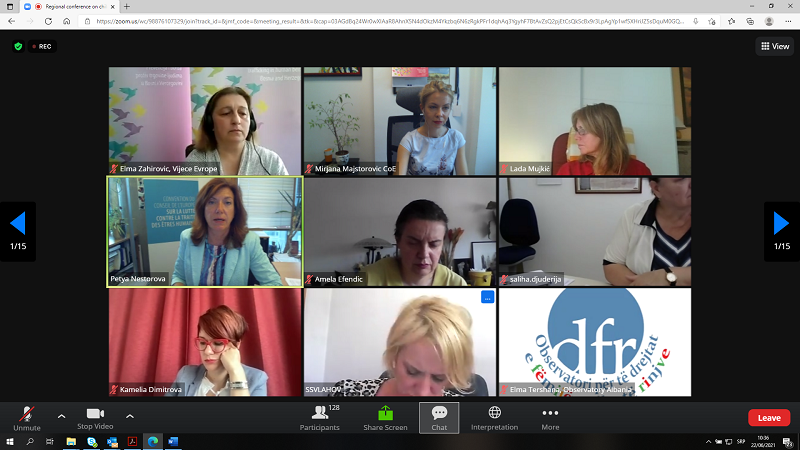 Трговијата со деца во земјите од Западен Балкан и покрај бројните правни и практични мерки преземени низ годините и понатаму е во пораст, заклучија учесниците на дводневната регионална конференција "Здружено дејствување во Западен Балкан за заштита на децата од трговија со луѓе и експлоатација", организирана во рамки на заедничката програма на Европската Унија и Советот на Европа "Horizontal Facility за Западен Балкан и Турција 2019-2022", на која учествуваа повеќе од 130 учесници од регионот и пошироко.
Според учесниците, пандемијата на Ковид-19, направи децата да бидат уште поизложени на трговија поради растечката економска несигурност, невработеноста и ограничувањата на движењето. Децата од земјите на Западен Балкан се предмет на трговија поради различни причини на експлоатација: сексуална експлоатација, вклучително и продуцирање и дистрибуција на материјал кој содржи сексуална злоупотреба на деца, присилни бракови, трудова експлоатација, присилно питачење и присилни криминални активности.
Петја Несторова, Извршна секретарка на Советот на Европа за борба против трговијата со луѓе, потсети дека Конвенцијата бара државите членки да преземат конкретни мерки во однос на децата. "Треба да ги зајакнеме нашите заеднички напори за адресирање на структуралните фактори кои лежат во основата на трговијата со луѓе и да промовираме трајни решенија за децата кои се подложни на трговија и експлоатација. Мерките против трговија со деца треба да бидат интегрирани во општиот систем за заштита на децата, со кој се опфаќаат социјалните, здравствените и образовните услуги", истакна Несторова.
Во своето поздравно обраќање, Самир Ризво, Помошник Министер и Државен координатор за борба против трговијата со луѓе и нелегалната миграција, потсети дека Западен Балкан се соочува со големи безбедносни и хуманитарни предизвици предизвикани од масовните и комбинирани напливи на миграција, каде трговијата со деца е навистина присутна.
Верена Тејлор, Директорка на Генералниот директорат за програмски активности на Советот на Европа ја потенцираше важноста на соработката помеѓу повеќе агенции, како и заедничките напори на државите во борбата против и спречувањето на трговијата со деца. "Само со заедничка работа можеме да ја спречиме трговијата со деца и да го поддржиме развојот на политики кои ќе се фокусираат на жртвите. Мораме да ги зајакнеме капацитетите за превенција и борба против трговијата со луѓе и да ги заштитиме правата на сите жртви", истакна Тејлор.
Александра Антониадис, Заменик шефицата на Одделението за политики за организиран криминал и дрога на Eвропската Комисија, истакна дека спречувањето и борбата против трговијата со деца е еден од приоритетите на Европската Комисија. "Илјадници индивидуи се жртви на трговија годишно, а Ковид пандемијата дополнително го засили ризикот од виктимизација и експлоатација. И покрај сите наши напори, сеуште постојат значителни недостатоци. Поради тоа Комисијата усвои нова стратегија против трговијата со луѓе со која се дефинира широк спектар на активности кои ќе овозможат сторителите да бидат доведени пред лицето на правдата, а жртвите да ја добијат потребната заштита и поддршка", забележа Антониадис.