(Видео) Стотина куќи изгореа во пожарите во Австралија, во тек е евакуација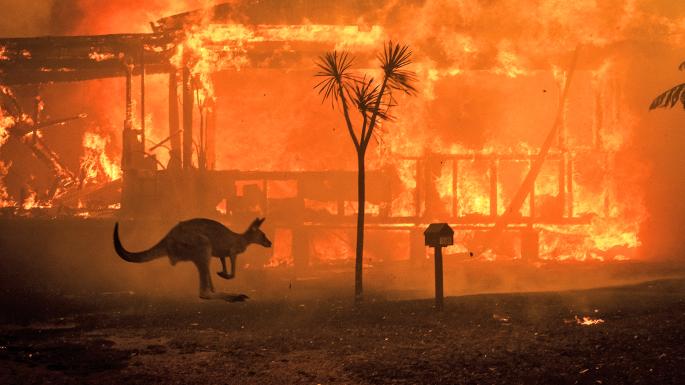 Илјадници туриста избегале денес од источното крајбрежје на Австралија зафатено од пожарите додека армијата почна да ги евакуира луѓето заробени на јужното крајбрежје, пренесува "Спутник".
Заладувањето кое трае од вторникот им помага на пожарникарите во совладувањето на пожарот, а на граѓаните да ги обноват залихите. Возилата формираа долги колони на бензинските пумпи и во супермаркетите, а сообраќајниот метеж доведе до колапс на повторно отворените автопатишта. Како што најавуваат надлежните власти, влошување на временските услови се очекува в сабота со засилување на ветровите и со пораст на температурите.
Властите информираа дека неделава биле уништени 381 куќи на јужниот брег на Нов Јужен Велс, а најмалку осуммина настрадале во таа и во соседната сојузна држава Викторија, каде што во моментот горат повеќе од 200 пожари.
Day turns to night in Australia as the worst wildfires on record continue to rage and thousands take shelter on the beach https://t.co/3har6t9huC pic.twitter.com/7wYBIer6fi

— ITV News (@itvnews) December 31, 2019
​Властите во Нов Јужен Велс им наложја на туристите да напуштат зона во должина од 250 километри по должината на јужното крајбрежје. Државниот министер за сообраќај, Ендрју Констанс, посочи дека ова е најголемото, масовно преселување луѓе од регионот некогаш забележано.
Во Викторија, каде што неделава изгореа 68 домови, војската им помагаше на илјадниците луѓе кои избегаа на крајбрежјето бегајќи од огнената стихија. Ним им беа доставени храна, вода, гориво и медицинска помош, а брод на морнарицата евакуираше околу 500 луѓе од крајбрежниот град Малакута.
"Веруваме дека таму има околу 3.000 туристи и 1.000 жители. Сите нема да сакаат да си одат, но не можат ниту да бидат евакуирани одеднаш со брод", рече премиерот на Викторија, Даниел Ендрјуз.
Wildfire in Australia. Yet, we no go get sense.pic.twitter.com/kXpqXMYy3K

— Oyinkansola Bakare ® (@MielBaker) January 1, 2020
Во пожарите во Австралија досега изгореа околу пет милиони хектари земја, најмалку 17 луѓе загинаа, а повеќе од 1.300 дома се уништени. Австралискиот премиер Скот Морисон изјави дека кризата ќе потрае најверојатно со месеци.
Поради чадот од пожарите, квалитетот на воздухот во главниот град Камбера денеска е најлош на светот, а ветровите го разнесуваат чадот кон Нов Зеланд. Во пожарите деновиве настрадаа и околу 8.000 коали кои се загрозен вид на кој му се заканува исчезнување.
©Makfax.com.mk Доколку преземете содржина од оваа страница, во целост сте се согласиле со нејзините Услови за користење.

Адвокатот на Трамп: Во лаптопот на синот на Бајден има фотографии од малолетни девојчиња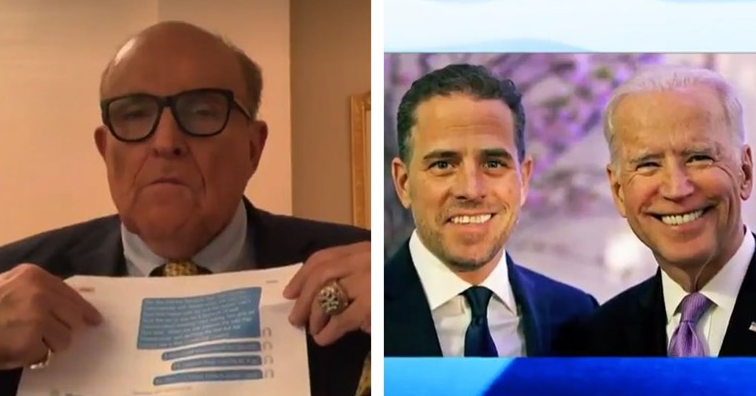 Голем скандал со електронската пошта на синот на поранешниот американски потпретседател и актуелен кандидат за претседател, Џо Бајден, избувна кога конзервативниот таблоид "Њујорк пост" објави ексклузивен извештај со содржината на електронските пораки, со бомбастични обвинувања против Бајден Јуниор, но и против татко му.
Харддискот со овие непроверени пораки, кои наводно доаѓаат од лаптопот што Хантер Бајден го оставил на сервис, но заборавил да си го подигне, до "Њујорк пост" ги доставил адвокатот на американскиот претседател, Доналд Трамп, и поранешен градоначалник на Њујорк, Руди Џулијани.
DEVELOPING: @RudyGiuliani displays a "very, very sensitive" alleged text message from Hunter Biden, which he claims to have handed over to the Delaware state police. @gregkellyusa https://t.co/VlT7z8drtO pic.twitter.com/nzbzAb9QbF

— Newsmax (@newsmax) October 20, 2020
Покрај обвинувањата за корупција, засновани на толкувањата на преписката на Хантер Бајден со деловни партнери во Украина и Кина, Џулијани сега отиде чекор подалеку тврдејќи дека на неговиот лаптоп пронашол многубројни фотографии од малолетни девојчиња, како и преписка на Хантер и Џо Бајден, каде што синот му се жали на таткото дека неговата партнерка на нивниот заеднички психијатар му рекла дека тој се однесувал сексуално несоодветно кон 14-годишно девојче.
Џулијани во интервју за конзервативниот портал "Њузмакс" изјави дека го предал лаптопот на полицијата во Делавер. Јавниот обвинител на таа сојузна држава, од каде што потекнува Бајден, изјавил дека полицијата го проследила материјалот до ФБИ и дека има континуирани прашања во врска со веродостојноста на овие тврдења што ФБИ ќе ги испита.
Трамп во меѓувреме побара од јавниот обвинител да ги испита обвинувањата што произлегуваат од електронската пошта со сомнително потекло за потенцијално нелегалните финансиски активности на Хантер Бајден, како и можниот судир на интереси и корупција на неговиот татко Џо Бајден додека тој бил потпретседател на Соединетите Американски Држави (2008-2016 година).
Од друга страна, многу американски медиуми и опозициски политичари изразија сомневање дека контроверзните електронски пораки биле хакирани и проследени до Џулијани како дел од новата кампања за мешање во изборите во САД – исто како во 2016 година кога американската разузнавачка заедница откри дека руски разузнавачи ја хакирале електронската пошта на претставникот на Демократската партија и шеф на кампањата на Хилари Клинтон, Џон Подеста, а потоа ги проследиле до "Викиликс", така што нивното излегување во јавноста, заедно со ширењето дезинформации и теории на заговор на социјалните мрежи, ги одвратило Американците да гласаат за Клинтон.