Нобеловата награда за физика оди кај тројца научници за космички откритија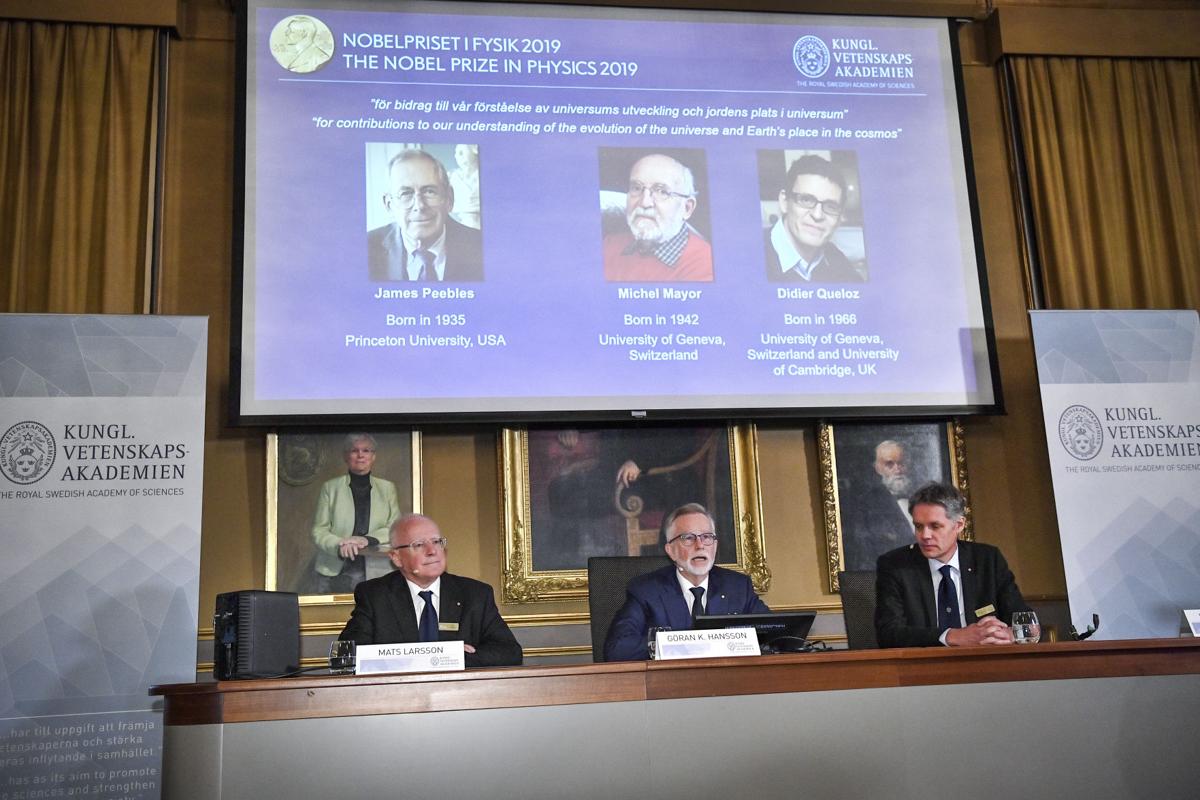 Тројцата научници, Џејмс Пиблс, Мајкл Мејлор и Дидијер Клоз, се добитници на Нобеловата награда за физика за 2019 година. Тие се наградени за "темелни" откритија за универзумот.
Тие ова престижно признание го добиле за своето истражување за историјата и структурата на универзумот, соопшти денеска шведската Кралска академија по науки во Стокхолм.
"Нобеловата награда им е доделена на Џејмс Публес, Мајкл Мејор и Дидијер Клоз, за унапредување на нашето разбирање на универзумот и нашето место во него", стои во соопштението.
BREAKING NEWS:
The 2019 #NobelPrize in Physics has been awarded with one half to James Peebles "for theoretical discoveries in physical cosmology" and the other half jointly to Michel Mayor and Didier Queloz "for the discovery of an exoplanet orbiting a solar-type star." pic.twitter.com/BwwMTwtRFv

— The Nobel Prize (@NobelPrize) October 8, 2019
Тие заедно беа наградени за работата на еволуцијата на универзумот и откривањето на далечна планета околу Сонцето како ѕвезда во 1995 година. Победниците ќе ја поделат наградата од девет милиони круни (738,000 фунти).
Ејмс Пиблс, од универзитетот Принстон во Њу Џерси, беше почестен за неговиот придонес во разбирањето на еволуцијата на универзумот и местото на Земјата во космосот.
На Мајкл Мејор и Дидиер Квелоз им беше доделена наградата за пронаоѓање на 51 Пегаси б, гасен гигант кој орбитира околу ѕвезда, оддалечен 50 светлосни години.
Мејор и Клоз се од Швајцарија, а Публс е Американец со потекло од Канада. Тие наградата ќе ја примат на церемонијата во Стокхолм на 8 октомври.
©Makfax.com.mk Доколку преземете содржина од оваа страница, во целост сте се согласиле со нејзините Услови за користење.

НАСА предупреди дека кон Земјата се приближува потенцијално опасен астероид
Астероид, класифициран како "потенцијално опасен", ќе се приближи до Земјата на 6 јуни, соопшти НАСА.
Како што е наведено, астероидот, чиј дијаметар е помеѓу 250 и 570 метри, се очекува да помине покрај Земјата на растојание од 5,1 милион километри со брзина од 11,1 километар во секунда, пренесува агенцијата ТАСС.
Во моментов астрономите откриле повеќе од 8.000 астероиди со дијаметар од над 140 метри во радиус од седум милиони километри од Земјата.
Според експертите на НАСА, вкупниот број на големи астероиди во вселената близу Земјата можеби достигнува 25.000, пренесува Space.com.