Нобеловата награда за физика оди кај тројца научници за космички откритија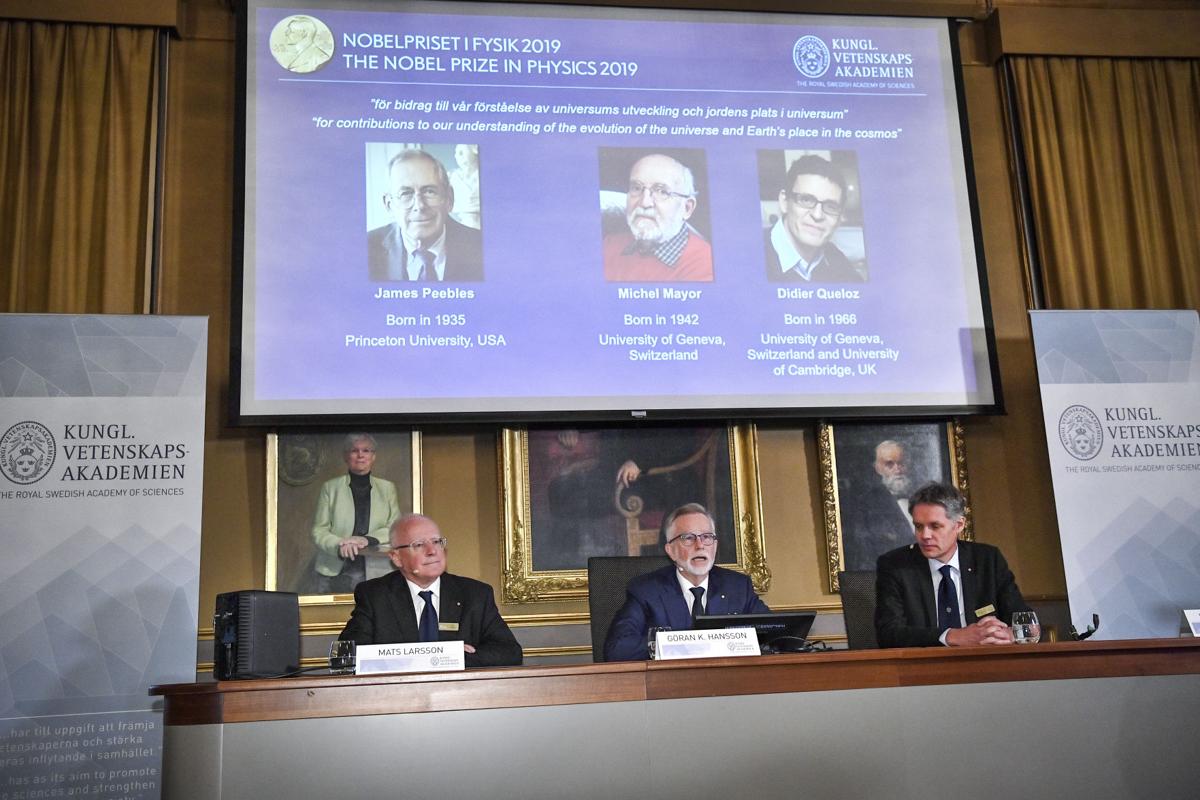 Тројцата научници, Џејмс Пиблс, Мајкл Мејлор и Дидијер Клоз, се добитници на Нобеловата награда за физика за 2019 година. Тие се наградени за "темелни" откритија за универзумот.
Тие ова престижно признание го добиле за своето истражување за историјата и структурата на универзумот, соопшти денеска шведската Кралска академија по науки во Стокхолм.
"Нобеловата награда им е доделена на Џејмс Публес, Мајкл Мејор и Дидијер Клоз, за унапредување на нашето разбирање на универзумот и нашето место во него", стои во соопштението.
BREAKING NEWS:
The 2019 #NobelPrize in Physics has been awarded with one half to James Peebles "for theoretical discoveries in physical cosmology" and the other half jointly to Michel Mayor and Didier Queloz "for the discovery of an exoplanet orbiting a solar-type star." pic.twitter.com/BwwMTwtRFv

— The Nobel Prize (@NobelPrize) October 8, 2019
Тие заедно беа наградени за работата на еволуцијата на универзумот и откривањето на далечна планета околу Сонцето како ѕвезда во 1995 година. Победниците ќе ја поделат наградата од девет милиони круни (738,000 фунти).
Ејмс Пиблс, од универзитетот Принстон во Њу Џерси, беше почестен за неговиот придонес во разбирањето на еволуцијата на универзумот и местото на Земјата во космосот.
На Мајкл Мејор и Дидиер Квелоз им беше доделена наградата за пронаоѓање на 51 Пегаси б, гасен гигант кој орбитира околу ѕвезда, оддалечен 50 светлосни години.
Мејор и Клоз се од Швајцарија, а Публс е Американец со потекло од Канада. Тие наградата ќе ја примат на церемонијата во Стокхолм на 8 октомври.
©Makfax.com.mk Доколку преземете содржина од оваа страница, во целост сте се согласиле со нејзините Услови за користење.

(Видео) НАСА успешно ја тестира најмоќната ракета во светот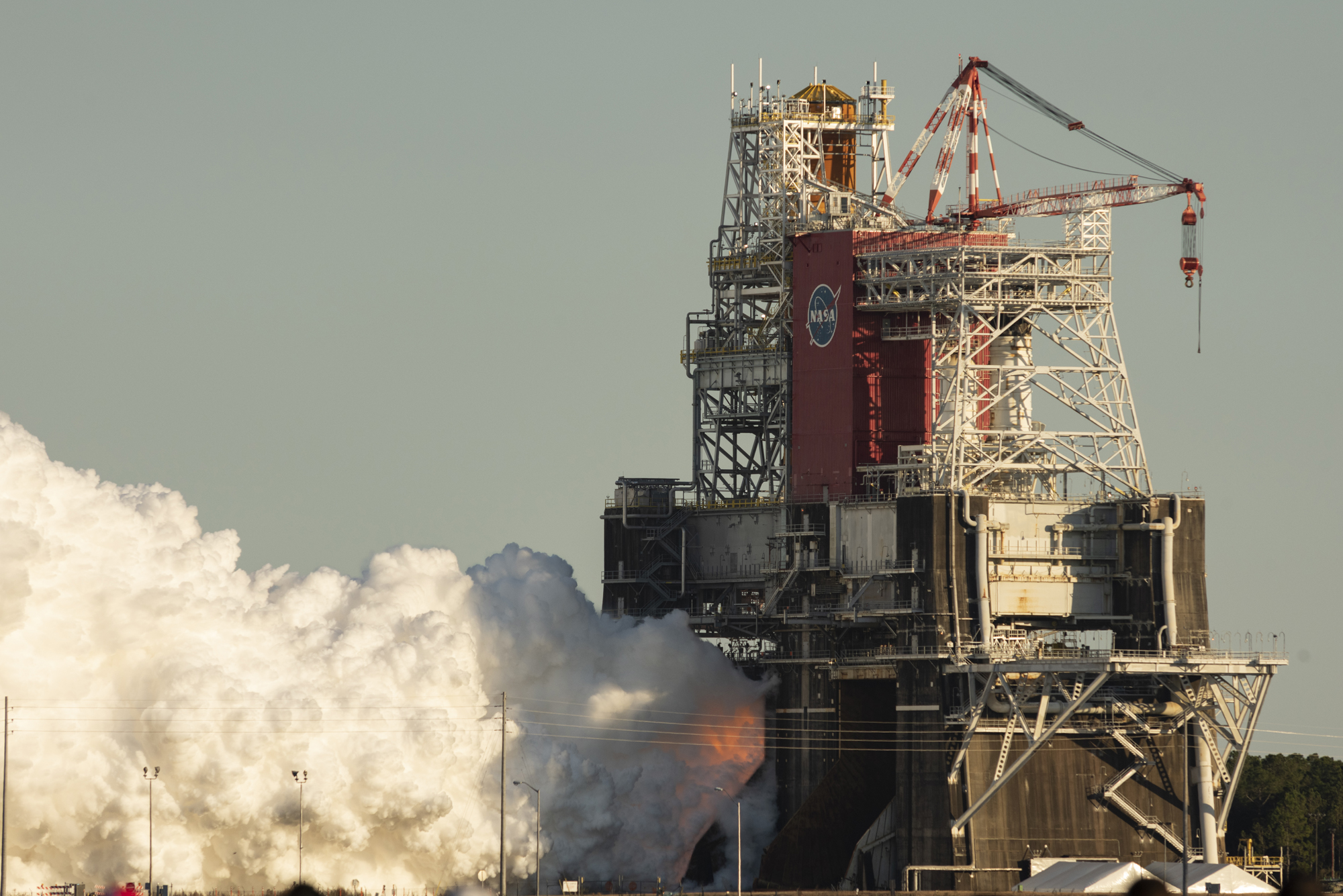 НАСА успешно го тестира главниот мотор на најмоќната ракета во светот – Space Launch System (SLS).
Моторите работеле повеќе од осум минути за да го симулираат времето што е потребно за ракетата да стигне до вселената од површината на Земјата. СЛС би требало да превезува луѓе на површината на Месечината, првпат од 1972 година.
Експертите го тестираа главниот мотор на ракетата. СЛС се состои од јадро со четири моќни RS-25 мотори и два придвижувача. Пред да почне тестирањето, инженерите го наполниле главниот мотор со повеќе од 2,6 милиона литри гориво, кое се состои од течен водород и течен кислород, пишува Би-би-си.
Моторите тестирани вчера биле дел од 21 успешно полетување шатлови. Два од нив биле користени во последната мисија СТС-135 во 2011 година, а третиот во мисијата во 1998 година кога беше лансирана најстарата личност во вселената – американскиот сенатор и астронаут Џон Глен, кој во тоа време имаше 77 години, а четвртиот за време на летот за сервисирање на вселенскиот телескоп "Хабл".
Моторите беа поправени по тие мисии. По првото полетување на СЛС подоцна оваа година, НАСА ќе ги отфрли и повеќе нема да ги користи.
SLS припаѓа на мисијата "Артемис-1", чија цел е да ги посети Месечината и другите планети во нашиот Сончев систем.