Вселенската 'Арка' се враќа на Зeмјата
Вселенската капсула "Бион-1М" со нејзините многубројни "патници", глувци, гуштери, риби, микроорганизми и растенија по 30 дена минати во Вселената во недела рано наутро малку по 5 часот по македонско време треба да атерира во Оренбуршката област, во југоисточниот дел на Русија.
Како што прецизирал за РИА Новости, претставник на Институтот за биомедицински истражувања РАН, предвиденото место на слетување е 82 километри северно од Оренбург, во областа на селото Бураново.
Еден час порано, во 4.13 часот по македонско време, моторите на леталото "Бион-1М" ќе бидат вклучени во позиција на кочење, половина час подоцна "космичката зоолошка градина" ќе се оддели од инструментарно-агрегатниот оддел, а уште половина час подоцна, на надморска височина од околу 10 километри треба да се отвори неговиот падобран.
Сателитот "Бион-1М", прв од 2007 година руски биосателит, беше лансиран од рускиот космодром Бајконур во поранешната советска република Казахсатан, со ракетата носач "Сојуз-2.1a" точно пред 30 дена, на 19-ти април.
На Земјата, "астронаутите" ќе ги пречекаат инженери и специјалисти на Институтот за биомедицински истражувања РАН, кои се одговорни за научниот дел од проектот. Во областа на слетувањето е поставена мобилна лабораторија, односно шатори со гумени рамки, а еден од нив веднаш по слетувањето ќе биде распнат над сателитот.
"По слетувањето на апаратот со него ќе започнат да работат инженерите кои ќе ги отворат вратите а потоа ќе ги извадат инструментите (во кои се наоѓаат биообјектите) и ќе ги предадат на медицинските стручњаци кои ќе ги отворат решетките и бравите од засебните инструменти. Во мобилната лабораторија животните ќе бидат прегледани, измерена нивната тежина, а на самото место ќе бидат извршени повеќето основни истражувања", вели за РИА Новости Евгениј Илин, заменик раководител со проектот.
Според него, на групата на научници од Институтот кои се во Оренбург им се придружиле и нивните германски колеги од Универзитетот во Хоенхајм кои го подготвуваа експеримент "Омегахаб" во чии рамки во орбитата беа лансирани риби цихлиди, алги и полжави во посебен аквариум.
Во неделата навечер инструментите, животните, растенијата и микроорганизмите со авион ќе бидат транспортирани во Москва, во Институтот за биомедицински истражувања, каде што научниците веднаш ќе започнат со проучување и ќе ги следат целата ноќ за да организмите сѐ уште немаат време да се прилагодат на условите на Земјата.
"Сепак, целосната обработка и анализа на податоци може да трае со месеци", вели Илин./крај/мф/сн
©Makfax.com.mk Доколку преземете содржина од оваа страница, во целост сте се согласиле со нејзините Услови за користење.

Некои од најгласните политичари против ЛГБТ-правата честопати биле прикриени хомосексуалци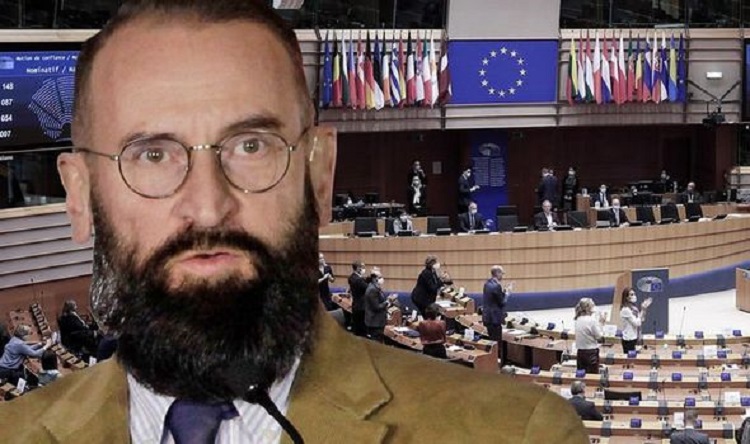 Пред девет години беше објавена психолошка студија во престижниот магазин "Journal of Personality and Social Psychology", што уште еднаш го потврди она што одамна е познато во психологијата и пошироката јавност – некои од најгласните противници на ЛГБТ-правата и ЛГБТ-заедницата се всушност хомосексуалци кои самите одбиваат да го признаат тоа.
Според пишувањата на хрватски "Индекс", таа студија била заеднички спроведена од експерти од Универзитетот во Рочестер и Универзитетот во Есекс во Велика Британија, како и Универзитетот Санта во САД, при што истражувачите го донеле следниот заклучок: "Хомофобијата е поизразена кај луѓе со непризнаена привлечност кон истиот пол и кај луѓе кои пораснале покрај авторитарни родители поради кои ги потиснале таквите желби".
"Личностите кои се идентификуваат како хетеросексуалци, но покажуваат силна привлечност кон истиот пол во психолошките тестови, се чувствуваат загрозено од хомосексуалци и лезбејки затоа што ги потсетуваат на нивните слични склоности", објасни Нета Вајнстин, предавач на Универзитетот во Есекс и главна авторка на студијата.
"Во многу случаи, ова се луѓе кои војуваат со себеси и го насочуваат тој внатрешен конфликт кон надвор", додава коавторот Ричард Рајан, професор по психологија на Универзитетот во Рочестер.
Ова, се разбира, не значи дека сите хомофоби се потајно хомосексуалци, но значи дека тоа е едно од научно заснованите објаснувања за нечии  ставови против ЛГБТ.
Не недостигаат примери на жестоки хомофоби, за кои подоцна се покажало дека имаат хомосексуални тенденции, па написот на хрватски "Индекс" потсетува на некои политичари и верски лидери за кои се покажало дека ја изразиле својата т.н. автохомофобија, со ширење омраза и нетрпеливост кон ЛГБТ-луѓето.
Најсвежиот пример е скандалот што изби во Брисел кон крајот на минатата година, кога близок соработник и европратеник од партијата на Виктор Орбан беше фатен во геј-оргија.
Како што тогаш објавија белгиските медиуми, полицијата прекинала нелегална корона-забавата на која присуствувале 25 лица. Консумирале алкохол и дрога, а имало и групен секс. Кога упаднала полицијата, неколку учесници биле голи, а еден се обидел да избега и притоа се повредил.
Тоа беше Јозеф Сајер, еден од најпознатите и најистакнати политичари на Фидес, парија која ја основал заедно со унгарскиот премиер Виктор Орбан. Сајаер ги поддржуваше и ги артикулираше хомофобичните политики на Фидес, за на крајот да се открие дека тој всушност се борел против сопствената сексуална ориентација.
Пред неколку години, сенаторот од сојузната американска држава Охајо, Весли Гудман, поднесе оставка откако се дозна дека имал секс со маж во неговата канцеларија.
Оставка даде и поранешниот сенатор од Оклахома, Ралф Шорти откако беше обвинет за детска проституција поради наводно барање секс од 17-годишно момче. Подоцна Шорти одлучи да се изјасни за виновен по обвиненијата.
И Гудман и Шорти се оженети мажи, кои биле јасни политички противници на ЛГБТ-заедницата додека извршувале политички функции.
И меѓу верските водачи постојат примери на луѓе со цврсти ставови против истополови односи за кои потоа се покажало дека се хомосексуалци.
Во САД најпознат е случајот со пастор на фундаменталистичката црква, Тед Хагард, кој во американската јавност беше познат како гласен противник на хомосексуалците.
Откако сексуалниот работник Мајк Џонс откри дека Хагард бил негов клиент, пасторот се бранеше во јавноста на следниов начин: "Го повикав за да купам дрога, која потоа ја фрлив. Бев во искушение, но не зедов".
Дрогата што Хагард ја споменал била метамфетамин, позната уште и како кристал мет, инаку многу опасен опијат, така што објаснувањето на Хагард одговара на ставот дека е подобро да се биде зависник од дрога отколку хомосексуалец.
Сепак никој не поверувал во изјавите на пасторот, па тој бил отстранет од сите должности и отфрлен од неговата верска заедница.