Со 'Големиот Гетсби' започнува филмскиот фестивал во Кан
Со прикажувањето на филмот "Големиот Гетсби" на австралискиот режисер Баз Лурмен во средата навечер започнува 66-то издание на филмскиот фестивал во Кан, кој секоја година кон средината на мај, од 15-ти до 26-ти, станува центарот на филмскиот свет собирајќи стотици филмови, актерски и режисерски ѕвезди коишто ги очекуваат престижните признанија Златните палми.
Филмот на Баз Лурмен, "Големиот Гетсби" (The Great Gatsby) со холивудската ѕвезда Леонардо Дикаприо во главната ролја, всушност е веќе четвртата екранизација на истоимениот роман на Френсис Скот Фицџералд, а ќе биде прикажан вон конкуренција.
Тоа е сторија за порочното американско општество од 1920-те во кој ликовите на Ник Карау и неговата братучетка Дејзи Бјукенен ги толкуваат Тоби Мегваер односно Кери Малиган, а насловната ролја на самиот Гетсби – Леонардо Дикаприо. Тој во Кан не се појави од 2007 година кога го претстави својот филм посветен на еколошките проблеми "Единаесеттиот час" (The 11th Hour). "Големиот Гетсби" ќе биде вториот во историјата на фестивалот филм кој на отворањето ќе биде прикажан во 3Д формат. До овој филм на Лурман, во таков формат Канскиот фестивал беше отворен во 2009 година со анимацијата "Up".
Годинешната конкуренција на еден од најценетите филмски фестивали во светот, ќе претстави дваесетина филмови, од кои само еден го режираше жена, а голем е бројот на афирмираните режисерски имиња, како браќата Коен, Роман Полански, Џим Џармуш, Паоло Сорентино, Александер Пејни и Стивен Соденберг.
Со фестивалското жиро годинава ќе претседава славниот Стивен Спилберг, кој всушност е првиот американски режисер кој ја доби оваа чест, а најавено е и доаѓањето на славните холивудски филмски ѕвезди, како Никол Кидман, Леонардо Дикаприо, Роберт Редфорд, но и на европските, како што е француската актерка Марион Котијар.
Браќата Жоел и Етан Коен во Кан годинава ќе го презентираат филмот "Inside Llewyn Davis" со Џастин Тимберлејк и Кери Малиган, посветен на њујоршката фолк сцена од 1960-те.
Новиот филм на Џим Џармуш на негов особен начин се придружува на трендот на ткн вампирски филмови и како и претходниот зборува за музиката. Во филмот "Само љубовниците преживеаја" (Only lovers left alive) во улогата на вампирот Адам се јавува Том Хидлстон а неговата љубена, нормално, со име Ева ја толкува Тилда Свинтон.
Стивен Спилберг ќе се претстави со "Зад канделабрите" (Behind the Candelabra), приказна која почива на автобиографскиот роман за врската на славниот американски пијанист Валентино Либераче и неговиот многу помлад љубовник, двојката што ја глумат Мајкл Даглас и Мет Дајмон.
Роман Полански се враќа во Кан со два филма, адаптацијата на оф-Бродвеј претставата "Венера во крзно" (La Venus a la Fourrure) со Емануела Сение и Матје Амалрик, и со документарниот филм кој ќе биде прикажан вон конкуренција "Weekend of a Champion" посветен на возачот на Формула 1, славниот Џеки Стјуард.
Драмата "Небраска" на оскаровецот Александар Пејни, го следи остарениот татко и оттуѓениот син на пат од американската сојузна држава Монтана до државата Небраска каде треба да ја подигнат наградата од милион долари. Уште еден американски режисер влегува во конкуренцијата со филм чие дејствие е сместено во дваесеттите години од минатиот век, Џејмс Греј "The Immigrant" во кој настапуваат Хоакин Феникс и Марион Котијар.
Постојаниот гостин на Кан, Франсоа Озон учествува со филмот "Jeune et jolie" во кој продолжува да се занимава со темата од претходното остварување "Во домот" за тинејџерите, кој зборува за тинејџерка од високиот општествен слој која станува проститутка.
Во конкуренција влегуваат и криминалниот трилер "Wara no tate" на Такаши Миике, социјалната драма "Допир на гревот" (Tian zhu ding) на Тјан Чжанк, "Боргман" (Borgman) на Алекс ван Вармердам, "Минатото" (Le passe) на иранскиот оскаровец Асагар Ферхади со ѕвездите на оскаровскиот "Уметникот" Беренис Бежо, Хели Амат Ескаланте, "Џими Пикард" (Jimmy P:Psychotherapy of plains indian), на Арно Деплешен со Бенисио Делторо, "Животот на Адел" (La vie d'Adele) на Абделатиф Кешиш, "Каков татко, таков син" (Soshite chichi ni naru) на Хирокаѕу Корееда, "Grisgris" на Махамат-Салех Харун од Џад, "Големата убавина" (La grande bellezza) на Паоло Сорентино за кризата на високото општество, "Микалел Кохлас" (Michael Kohlhaas) на Арно де Палера со минатогодишниот добитник на Златната палма за најдобра машка улога Мадс Микелсен, "Само бог простува" (Only God Forgives) на Николас Виндинг Рефн со Рајан Гослинг во насловната ролја, и "Замок во Италија" (Un chateau en Italie) на Валери Бруни-Тедески, во кој игра самата режисерка со познатиот француски актер Луј Гатрел.
Во конкуренцијата на кусите филмови годинава се натпреваруваат девет, а меѓу нив првпат е и едно палестинско остварување, додека програмата "Извесен поглед" донесуваа 18 долгометражни филмови,. Меѓу кои се и новите дела на режисерките Клер Дени и Софи Копола.
На репертоарот на полноќните проекции ќе бидат прикажани "Monsoon Shootout" "Blind Detective" и "Hommage Jerry Lewis: Max Rose", а ќе се одржат и програмите "La Quinzaine des realisateurs" чија цел е откривање млади автори и оддавање почест на веќе признатите, како и секцијата "La Semaine de la critique" паралелен избор на филмови кои откриваат новите таленти, прикажувајќи ги само првите и вторите долгометражни филмови.
Многумина очекуваа дека на фестивалот ќе ја претстави својата најнова работа и шпанскиот мајстор Педро Алмодовар, но неговиот филм "Јас сум многу возбуден", не влезе во конкуренцијата и ќе го мине Кан само во селекцијата на меѓународната дистрибуција. Во селекцијата за главната конкуренција меѓу учесниците не се јавува ниту Ларс фон Трир кој пред две години во Кан беше прогласен за персона нон-грата поради провокации. Без разлика на тоа што организаторите на филмската смотра објавија дека го очекуваат режисерот, неговото дело "Нимфоманка" не влезе во конкуренцијата, бидејќи не е финализирано./крај/мф/сн
©Makfax.com.mk Доколку преземете содржина од оваа страница, во целост сте се согласиле со нејзините Услови за користење.

Режисерот Арсенијевиќ: Уште пред 20 години јас и Јелена се вљубивме во фестивалот "Браќа Манаки" и Битола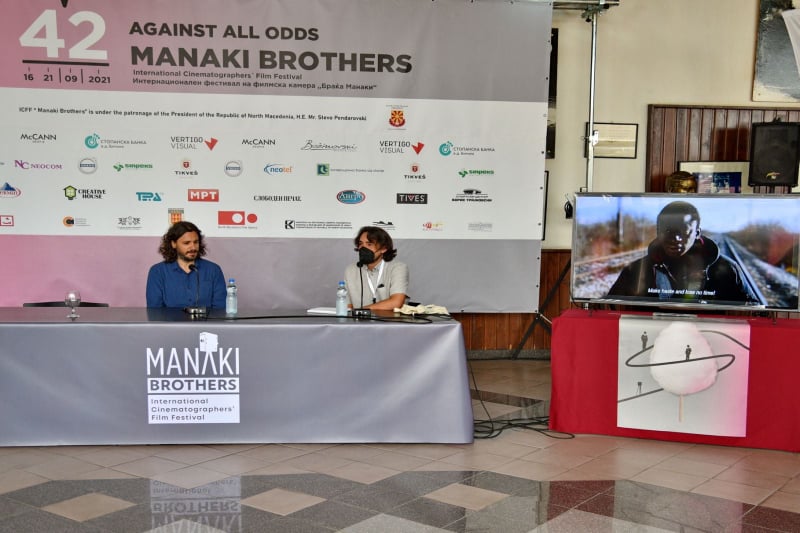 Филмот СТРАХИЊА БАНОВИЌ (ДОДЕКА МОЖАМ ДА ОДАМ)/STRAHINJA BANOVIC (AS FAR AS I CAN WALK) на српскиот режисер Стефан Арсенијевиќ е умешно реализиран како поетска приказна за вечната тема на патувањето во потрага по подобар живот, но на моменти и како документарен приказ на судбините на бегалците од африканските и блискоисточните земји кои во современиот свет се придружени со неверојатно суров и трагичен елемент.
Синоќа публиката на "Браќа Манаки" можеше да го види филмот на Арсенијевиќ, а денеска тој на прес-конференција со новинарите откри детали за снимањето, инспирацијата, соработката со кинематограферката Јелена Станковиќ.
"Драго ми е што филмот е селектиран на ИФФК "Браќа Манаки" и тоа пред да ја добие наградата во Карлови Вари. Овде бевме за првпат пред 20 години со студентски филм кој беше награден и се вљубивме во Фестивалот и во Битола и повеќе пати доаѓаме на фестивалот и нашата голема желба да имаме филм во конкуренција за главната награда се исполни годинава", рече Арсенијевиќ.
Главниот лик на овој филм, иако е бегалец од Африка кој решава да остане во Србија, сепак повторно влегува во ризична авантура и поаѓа на патот на бегалската рута кон Западна Европа, решен да ја најде својата љубов.
"Белград се наоѓаше на рутата на бегалците и бевме сведоци како секој ден минуваа низ него стотици мигранти и ги гледавме тие загубени луѓе по улиците и имав чувство дека како филмаџија треба нешто да направам за оваа најголема мигрантска криза по Втората светска војна. Во исто време размислував за некоја модерна верзија, филмска адаптација на песната 'Бановиќ Стахиња' и тие две работи се споија во едно. Тие се луѓе исто како нас, добар дел од нив беа прилично образовани, но биле принудени да ги напуштат своите домови. Конкретно инспирација ми беше едно момче од Гана, чија приказна е идентична со главниот лик во филмот. Го учи јазикот, се обидува да остане во Србија, тренира за еден локален клуб, но не може да игра бидејќи нема државјанство…Проблемите на главните ликови во филмот не се мигрантски, тие се љубовни, сакав да покажам дека и тие се луѓе и имаат некакви љубовни проблеми, дека мигрантите не се сведени на идентитет мигрант, дека тоа е понижувачко", раскажа Арсенијевиќ.
Кинематограферката Јелена Станковиќ е заслужна за прекрасната визуелизација на оваа хуманистичка љубовна приказна, за што беше наградена од жирито на филмскиот фестивал во Карлови Вари.