Египет го ослободи братот на водачот на Ал Каеда
Египетскиот воен суд во понеделникот го ослободи Мохамед ал-Завахири, братот на водачот на глобалната терористичка организација Ал Каеда, осуден на првото судење на смртна казна за планирање атентати, пренесува AFP повикувајќи се на неговиот адвокат и син.
Египетскиот воен суд во понеделникот го ослободи Мохамед ал-Завахири, братот на водачот на глобалната терористичка организација Ал Каеда, осуден на првото судење на смртна казна за планирање атентати, пренесува AFP повикувајќи се на неговиот адвокат и син.Воениот суд на Египет го ослободил покрај Мохамед ал-Завахири, го ослободил и Мухамед Шавки ал-Исламбули која исто така беше осуден на смрт по истото обвинение за подготвување атентати. Инаку братот на ал-Исламбули во 1981 година го уби египетскиот претседател Анвар ел-Садат."Очекуваме негово пуштање на слобода следните денови", изјавил за агенцијата адвокатот на ал-Завахири, Камел Мандур, не наведувајќи ги мотивите на судот за ослободувањето на неговиот клиент.Завахири и Исламбули во 1998 година беа осудени во отсуство поради тоа што во Албанија минале обука и планирале напади во Египет. Мохамед ал-Завахири во 1999 година беше уапсен во Обединетите Арапски Емирати, по што им беше предаден на египетските власти и затворен. Со одлуката на Врховниот совет на оружените сили на Египет кој раководи со земјата, тој беше ослободен во март 2011 година, еден месец по падот на режимот на египетскиот претседател Хосни Мубарак, заедно со уште десетина политички затвореници. Меѓутоа, само по неколку дена беше вратен повторно во затвор, а египетскиот воен суд на 28-ми јули 2011 година го повтори процесот на коешто беше осуден на смртна казна, на што Мохамед ал-Завахири поднесе жалба. Ал Каеда речиси истовремено објави дека нејзин прв човек по ликвидацијата на Осама бин Ладен кој на почетокот од мај беше ликвидиран од американските маринци во Пакистан, стана Египќанецот Ајман ал-Завахири.Мохамед Шавки ал-Исламбули, минатата година се врати во Египет од егзилот во Иран, како и другите египетски политички осуденици, кои се вратија во татковината по падот на Мубарак. Ослободителната пресуда којашто за двајцата е изречена во понеделникот, се однесува и на другите поранешни исламистички активисти, изјавил адвокатот Мандур, меѓу коишто е и Сајед Имам Фадл, поранешниот духовен лидер на Египетскиот исламистички џихад и ментор на Ајман ал-Завахири. Како и другите ослободени, и Фадл во 1990-те се откажа од насилството. Откако Врховниот совет на оружените сили на Египет управува со земјата, ослободени се многу исламистички активисти, како што се Абуд ал-Зомор, поранешен припадник на Џама Исламија, организацијата која е вмешана во атентатот на поранешниот египетски претседател Анвар ел-Садат. Зомор потоа формираше партија којашто е застапена во египетскиот парламент во кој огромното мнозинство го имаат исламистите./крај/мф/сн
©Makfax.com.mk Доколку преземете содржина од оваа страница, во целост сте се согласиле со нејзините Услови за користење.

(Видео) Тројца работници повредени во експлозијата во фабриката во Чачак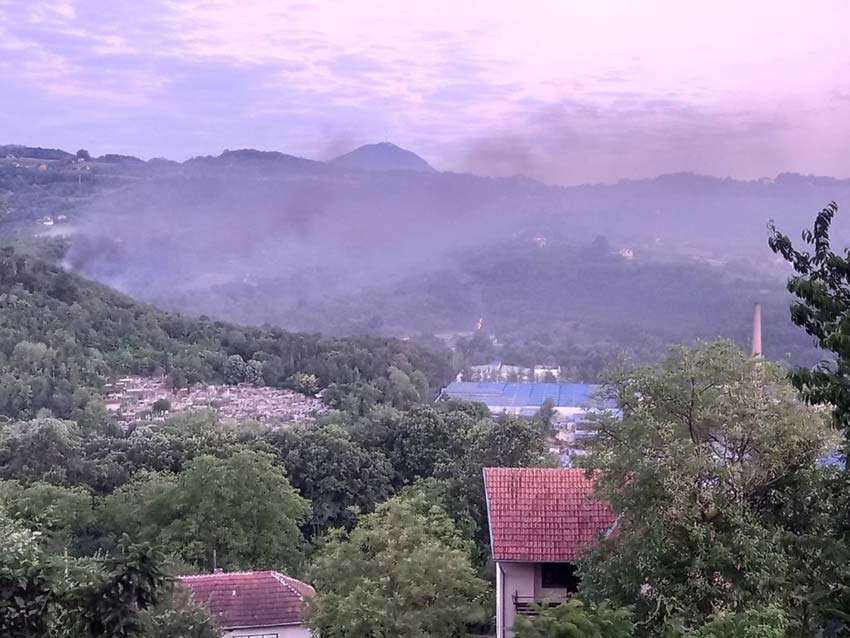 Тројца работници се полесно повредени, а еден е задржан на одделение за интензивна нега на лекување, по вчерашните низа експлозии во фабриката "Слобода" во Чачак, пренесуваат српските медиуми.
Евакуирани се околу 350 лица кои живеат во близина на фабриката. Во текот на ноќта беше изгаснат пожарот, по што дел од евакуираните се вратија во своите домови.
Explosions rocked the plant of Serbian ammunition manufacturer Sloboda in the city of Cacak. pic.twitter.com/ocniJcfipy

— Никола Миковић / Nikola Mikovic (@nikola_mikovic) June 19, 2021
Според првите податоци, синоќешната детонација предизвикала пожар надвор од кругот на фабриката на две места.
Детонацијата ги искрши прозорците во еден погон на фабриката, при што тројца работници се здобиле со исеченици.
Ноќта мина без нови детонации и инциденти, а беспилотни летала го надлетуваа кругот на фабриката.