Филмаџии од Холивуд ќе инвестираат во проектот "Битола филмски град"
Снимање на документарен филм, снимање на игран филм во кој ќе настапи светски познатата филмска ѕвезда Мерил Стрип и изградба на филмско студио во Битола понудил Перси вон Лепински, претставник на американската компанија за производство и дистрибуција на филм "Infinity Pictures – Hollywood Media Bridges".
Тој во четврток оствари средба со градоначалникот на општина Битола, Владимир Талески, а потоа и двајцата на прес конференција соопштија дека филмаџиите од Холивуд ќе инвестираат во проектот "Битола филмски град".
"За време на дводневната посета на Битола се уверивме дека во овој град постојат најдобрите услови за реализација на нашите филмски проекти, бидејќи за тоа има конкретен план и проект", посочи продуцентот Лепински.
Нашата компанија, додаде, произведува филмови во Романија, но сега сакаме тоа да го правиме во Македонија. Тој рече дека ќе инвестираат со нивни пари, но дека очекуваат и владина поддршка.
"Македонија е атрактивна за нас, има локации на кои може да се снима во урбана или природна средина кои се погодни за снимање на различни теми. Битола е најпогодна за нашиот бизнис и очекувам наскоро градоначалникот Талески да биде наш гостин во Холивуд каде ќе ги договориме деталите за нашата инвестиција", изјави Лепински.
Општина Битола, согласно урбанистичкиот план во поранешната касарна, на површина од четири хектари има соодветен простор за изградба на филмско студио, а на располагање се и други 50 хектари слободни површини, потсети градоначалникот на средбата со Лепински.
"Сакаме Битола да биде филмски град, а во тоа ќе ни помогне оскаровецот Лепински кој понуди снимање на документарен филм, снимање на игран филм во кој ќе настапи светски познатата филмска ѕвезда Мерил Стрип и изградба на филмско студио. Ние сме најподготвената општина во Македонија што може веднаш да пристапи кон изградба на филмско студио, а инвеститорите забележаа дека токму овде има ресурси и други потенцијали за снимање филм. Договоривме конкретна и креативна работа, лобиравме нивната дејност од Романија да се пренесе во Македонија, односно во Битола, во градот кој има јасен концепт за вистински филмски град", изјави градоначалникот Талески.
Талески и Лепински потврдија дека со реализацијата на овој проект директно и позитивно ќе се придонесе во развојот на хотелиерството, угостителството, туризмот и други дејности кои директно или индиректно се поврзани со филмската индустрија.крај/мф
©Makfax.com.mk Доколку преземете содржина од оваа страница, во целост сте се согласиле со нејзините Услови за користење.

Каспер Туксен, дански кинематографер: Светлината е клучен елемент во филмот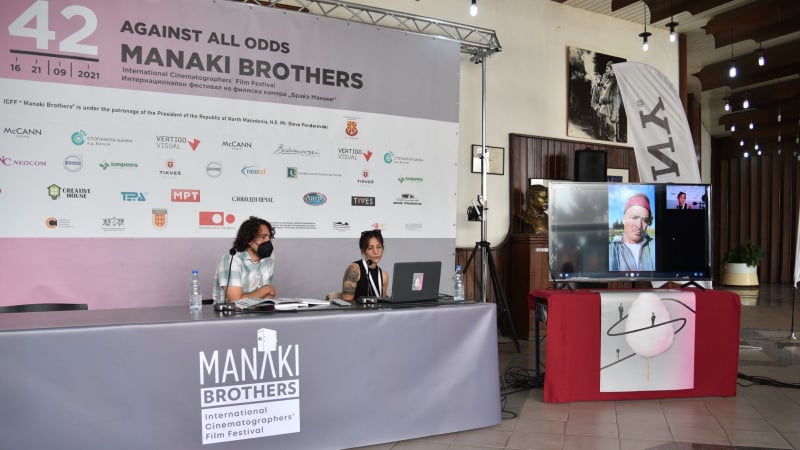 Реномираниот дански кинематографер Каспер Туксен има солидна филмографија од над 50 филмски наслови, меѓу кои и неколку комерцијално успешни филмови од кинорепертоарите (последниот од нив е "Јавачи на правдата", со Мадс Микелсен во главната улога). Филмот со кој Каспер Туксен се претстави на фестивалот "Браќа Манаки" е "Најлошата личност на светот"/ THE WORST PERSON IN THE WORLD, кој е всушност последен од "Трилогијата од Осло" на норвешкиот режисер Јоаким Триер, по филмовите "Реприза" од 2006 година и "Осло, 31 август" од 2011 година.
-Жал ми е што не можев физички да присуствувам на Фестивалот, поради пандемијата и се надевам дека од следната година веќе ќе може да патуваме и би сакал да присуствувам на "Браќа Манаки". Светлото е клучно во овој филм бидејќи се претставуваат многу сезони од годината. Иако сум од Данска, не е многу различна од Осло. Таму поминав 4 месеци само во проучување на светлината и всушност имав можност да го видам светлата на Осло во една година и беше добра тактика цел ден да се помине на местото каде што ќе се снима и да го гледам светлото, да го проучувам и да испланирам како ќе се снима секоја сцена во кој било дел од денот. Сценариото зависи од светлото од самиот почеток бидејќи филмот почнува со сцена од зајдисонце, има многу периоди каде се менуваат делови од денот и сето ова се реализираше на овој начин бидејќи и режисерот сметаше дека светлото е клучно за визуелизацијата на неговата приказна, рече Туксен на денешната прес-конференција.
Во филмот "Најлошата личност на светот" следиме неколку епизоди од животот на една шармантна и интелигентна млада жена. Пред неа се можностите за речиси сè што може да посака, живее во едно од најнапредните општества, но сепак изгледа дека почнува да ги испушта шансите кои ѝ ги дава животот и времето почнува да ја притиска. Особено е впечатлива смрзнатата сцена која претставува вистинска магија.
-За таа сцена вештачко светло се употребуваше само кога девојката си оди во станот и се враќа и светлото во станот. Сè останато е изведено со снимање во право време и на право место. Ова е многу интересен пристап, луѓето требаше само да седат мирни, тоа во последно време е често употребувана метода, но нагласувам дека најголемиот дел од таа сцена е изведен под природно светло, објасни Туксен.
Селекторот Слаѓан Пенев го замоли Туксен да каже што мисли за системот за осветлување на Кристијан Бергер, кој е годинашен лауреат на "Златна камера 300" за животен опус на "Браќа Манаки" и кинематограферот истакна дека е запознат со ситемот на Бергер, но многу малку гафери знаат да ги работат неговите огледалца.
-Во Шведска имав можност да ги користам. Иако не беа неопходни беа корисни за рефлекција на Сонцето. За мене осветлувањето на еден филм е успешно направено кога не им пречи на актерите. Отсекогаш сакав да снимам со Јоаким бидејќи и тој верува во додавање на боите во светлата, да се потенцира руменилото на образите и светлината во очите на актерите, раскажа Туксен.
Ова е филм кој лесно ве вози низ приказната, нудејќи доволно содржини за забава и за тага, а прекрасно фотографираните интериори и екстериори на еден од врвните архитектонски градови, Осло, ја дополнуваат пријатната атмосфера на убавините и удобствијата на средната класа во напредните општества.
-Ми беше чест што работев на филм за борбата на една млада жена низ животот, што ме натера да помислам на сопругата, на сестра ми, на сите мои жени пријателки, поранешни девојки…, рече Туксен.
Главната актерка, Ренате Реисве, ја доби наградата за најдобра актерка на Филмскиот фестивал во Кан.